Metrics and KPIs. Simple words that can cause a range of emotions – depending on what is used and how they are managed in your contact centre.
This topic was broached by Luke, who posted a poll in our LinkedIn Community asking:
'There are many different contact centre KPIs in terms of answering customers, and together they can tell the complete story. But which one is most important to you and the senior team in telephony?'
571 industry professionals responded, and we wanted to share the results with you.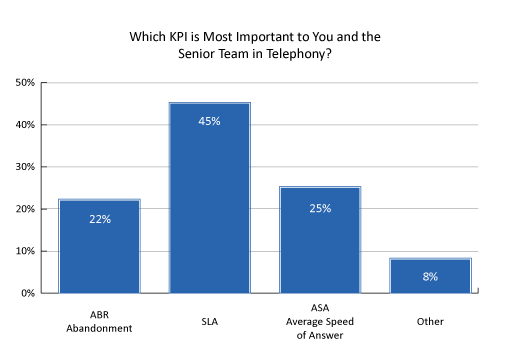 | Contact Centre KPI | Response % |
| --- | --- |
| ABR – Abandonment | 22% |
| SLA | 45% |
| ASA – Average Speed of Answer | 25% |
| Other | 8% |
45% of respondents selected 'SLA' as the most important to them and their senior team, with just 22% selecting abandonment and 25% choosing Average Speed of Answer.
★★★★★
However, with these metrics being so interconnected, a number of respondents also commented on the poll, providing additional information and insights to consider:
Equally Important
All three should be equally important. You can't sacrifice one for the other and achieve great customer experience. We live in a period where instant gratification is in demand. High speed to answer leads to increased AB rate, which leads to SLAs not being met.
Thanks to Samantha
Happy Customers
The most important metric for a call centre should be "happy customers", whether that is NPS, CSAT or other survey metrics. With that said, abandonment really gives a great insight into the customer journey.
Thanks to Rodrigo
An Interesting Topic
This is always an interesting topic. SLA is the obvious answer when a contract is in place that dictates that you must be able to answer X% of calls within X seconds.
ASA and ABR are directly tied into SLA and are pointless to attempt to separate; if you take too long to answer (ASA) then you will be out of SLA.
ABR is tricky because you need to know if the contract stipulates within x seconds, or over x seconds. It would be ridiculous to count dropped calls or misdials etc. as ABR, but some contracts do.
But the real key factor is the quality of the engagement with the customer. If you have staff that can answer the phone but they do little to support the customer, then you will continue to have repeat calls. This approach is not cost-effective.
The real key factor is the quality of the engagement with the customer.
It is also very stressful for the CSR/agent that is handling that call. If an agent is preoccupied with their AHT (the key to matching FTE to SLA), then you will have terrible outcomes.
When I was on the phones, I never paid attention to AHT, but I have managed some people who were so preoccupied with it that they just fumbled endlessly down a rabbit hole with each customer.
Thanks to Adam
Grade of Service per Interval
This question, as I read it, is about speed of answer.
There is one metric that incorporates everything you need, when you're meeting it…
Grade of service, per interval.
That is, did you meet the targeted % of calls within the targeted answer speed for any given 15-minute interval?
Not many are measuring at this level, even after my more than 20 years in the industry.
Thanks to Luke
Different for CX and Resource Metrics
I'm going with FCR, Repeat Rate and Quality for CX metrics. And call volumes, average handle time, grade of service, cost/call, and shrinkage for resource and forecasting metrics.
Thanks to Bonnie
Hard to Answer
I do think FCR should be embedded, often used in training, but… I'm going to go against the grain here, maybe an unpopular opinion, but in my experiences, it's not really needed as a KPI.
I've worked with staff that had a mindset of FCR on every call where possible, but this was just as much as other service metrics, and the customer journeys were still fantastic.
SLR should impact ABR, more so than ASA.
Thanks to Lee
It Depends on Business Goals
It really depends on the business goals. All of these KPIs are connected, so problems in one area will cascade, while improvements will lift all.
All of these KPIs are connected, so problems in one area will cascade, while improvements will lift all.
I pick abandon rate. Abandon rate is a KPI that I looked at every day when managing operations. It is a metric that tells you how many people wanted to buy, get help, etc… and were not able to. It's a 100% lost opportunity.
Thanks to Carl
New KPIs
I believe FCR, Error rate, and Customer effort score are amongst the new KPIs that should be used in any contact centre or servicing business unit.
The ABR, SLA and ASA are only representative of your staffing situation, whereby the KPIs mentioned above will provide you with a better understanding of your S.W.O.T. (Strengths, Weaknesses, Opportunities and Threats.)
Thanks to Eric
Use the AHT of an Entire Case
I think you should use the AHT of an entire case – measuring the initial contact + follow-up contact.
It's way better to see where you stand with your team effectiveness than measuring only AHT.
Thanks to Marcin
ABR Should Be the Top
ABR should be the top, as an inaccessible contact centre is frustrating. Followed by ASA, as a contact centre that keeps customers waiting definitely doesn't provide any value either. SLA comes in third.
Why? If you sort out your Abandonment Rate and ASA, SLA automatically catches up.
Thanks to Morris
Abandon Rate
From a business angle, Abandon Rate is deemed the most important measure because it relates directly to how your organization is being perceived both for new and existing customers.
Thanks to Nick
Value Demand and Failure Demand
Value Demand and Failure Demand let you know of how many of the calls you answered are the result of a failure to do something, or do something right from the customer's point of view.
It gives insight as to what value demands are creating the most failure. Also, where leadership needs to work with those helping to serve your customers in redesigning to eradicate these additional calls.
Firstly, you help agents understand purpose and what matters in customer terms. Then when they take a call, they are seeking to understand how you can help them live, work or play and what's important to them.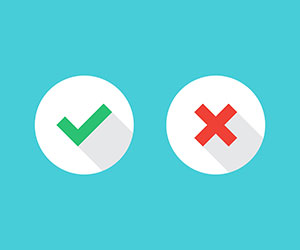 They are listening to understand. At the end of each call, as part of their wrap, they capture was it value or failure? For example, if a customer is calling to "chase" a shipment, then we have failed to do something or do something right.
When the new value demand of "I want to join…" was placed on us, we should have found out what was important to them to prevent future calls and acted accordingly.
Understanding type and frequency of value demand and what matters to the customer allows you to focus on improving where it would be most helpful, so it's a strategic innovation too!
Thanks to Ali
Quality
Quality, first call resolution!
If they have to call back for the same service enquiry, then your CX is broken.
Thanks to Elizabeth
My Three
Cost to serve – £ per your widget
What customers say –e.g. NPS
What customers do – unique to each business sector
…The rest is nice-to-know facts.
Thanks to James
The Most Important "Service Based" Metric
If you still think KPIs are important based on a channel, you completely misunderstand the current customer service world.
The most important "service based" metric in isolation should be "first contact resolution", as it's one of the biggest indicators of low customer effort, which is the biggest lead indicator for high C-Sat.
Thanks to Leon
You Need 5
You can't have only one.
You need at least 5 KPIs to properly measure performance.
Thanks to Amr
We have some great articles on KPIs if you are looking to improve yours. Start by reading these articles next: