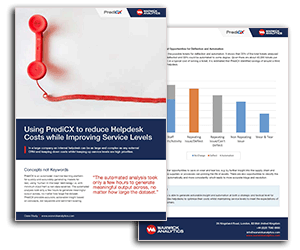 Title: Using PrediCX to Reduce Helpdesk Costs While Improving Service Levels
Helpdesk can be as large and complex as any external CRM, and keeping down costs whilst keeping up service levels are high priorities.
Read on to learn how Warwick Analytics generates actionable insight and automation at a strategic and tactical level for helpdesks.
White Paper written by: Warwick Analytics
Click here to download your copy of the White Paper.
---