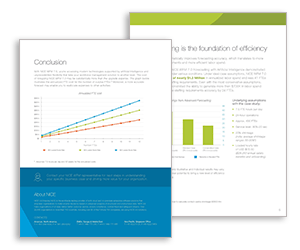 Unreliable forecasts that fail to accurately model the conditions of a contact centre can have undesirable effects on workforce schedules and service levels.
This forecasting tool with artificial intelligence provides staffing levels and budgeting that are more accurate than those delivered by any other WFM solution.
This white paper focuses on understanding the business value and ROI.
White paper written by: NICE
Published On: 10th Sep 2019 - Last modified: 14th Apr 2020
Read more about - Archived Content, NICE
---