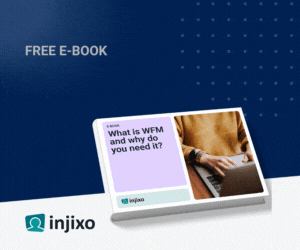 Carolyn Blunt writing for injixo outlines focus points to optimize omnichannel customer experience.
When developing a strategy to improve omni-channel customer service, it makes sense to define some focus points which are aligned with what customers consider important.
Applying a customer-centric approach helps ensure that whatever channel the customer chooses, they'll have a consistently satisfying experience.
My research has identified the following metrics that contact centre customers use to measure their satisfaction with the experience:
Timely response and issue resolution
Usability of the customer service channel
Reliability
Knowledge of customer service agents
Level of personalization
Let's examine how these focus points can be applied to customer service via calls, social media, web chat, and email.
Calls
Timely
Customer satisfaction peaked when calls were answered within a "reasonable" amount of time. The most common definition of "reasonable" was just over one minute, which achieved a 90% satisfaction rate. How does your contact centre compare?
Easy
A phone is fairly easy to use but IVR (Interactive Voice Response) can complicate things. Test your system regularly to ensure that calls are being routed correctly. If the routing options are difficult to understand or the voice message is unclear, customers will find it difficult to navigate.
Reliable
Is your system reliable or do calls get dropped? Do your customers experience invasive background noise? These seemingly minor things can make a big difference when it comes to achieving an excellent customer experience.
Knowledgeable
Do customer service agents provide accurate information that is useful to customers? Poor knowledge is the fastest way to lose customers, but customer satisfaction skyrockets when questions are effectively resolved on the first call.
Personalized
Customers appreciate engagement with a friendly helpful voice on the other end of the line. Conversations are enhanced when agents introduce themselves and address the customer by name.
Social Media
Timely
Typically, people expect their questions to be answered within 30 minutes. Centers that respond more quickly than this can boost their social media profile.
Easy
For short and simple questions, social media is an increasingly popular customer service channel. Customers appreciate it when they don't have to repeat themselves and when the responses are jargon-free.
Reliable
Because social media operates in the open, unreliable companies shoot themselves in the foot. Simply having a Facebook page or a Twitter account isn't enough. Social media should be handled with the same rigor as traditional channels when it comes to workforce management.
Knowledgeable
Again, because social media is very open, agents need to provide accurate information or risk public embarrassment. Agents should be well-trained to answer questions accurately, effectively, and concisely.
Personalized
When customers log a question, they don't want a generic response, they want one that addresses their specific issue. A friendly, helpful, and tailored response will increase customer satisfaction scores and boost the company's reputation.
Web Chat
Timely
Web chat is sometimes called live chat and that reflects customer expectations. Waiting longer than 5 minutes is unacceptable, while a maximum wait of 15 seconds is becoming the norm.
Easy
Of all the customer service channels, web chat is one of the simplest to use. Questions are short and to the point, which helps agents respond accurately and effectively.
Reliable
Web chat systems are technically simple, which means they tend to be reliable. Agents must avoid misreading questions and making typing mistakes in the name of speed, however.
Knowledgeable
Because customers use web chat to obtain a quick solution, customer service agents need to be knowledgeable. On average, web chat agents achieved satisfaction scores above 78%, which is only possible with training.
Personalized
Web chat provides a great opportunity to engage with customers. Agents who are friendly, polite, and proactive in resolving questions are most valued by customers.
Email
Timely
Customers expect questions submitted by email to take longer to resolve than calls, but they are distinctly unimpressed when the response takes more than 24 hours. A response within an hour is considered good and a response within ten minutes is outstanding.
Easy
Although email is convenient and simple to use, it is important that customers receive clear and jargon-free replies. Customers also value responses that offer an alternative contact channel, should they need to escalate their issue, without having to play 'email tennis'.
Reliable
Security of information, followed by accuracy are the priorities for customers. It's crucial to check how customer names are spelled and agents should never use short-form names until customers have used the abbreviation themselves.
Knowledgeable
Good technical and product knowledge is expected. In the survey, 93% of customers said their questions had been completely resolved. The benchmark is therefore high.
Personalized
Customer service agents who are friendly, provide their names as a reference, and thank the customer for their email received the highest customer satisfaction scores.
Conclusion
The five measures that matter to customers are timeliness, usability, reliability, knowledge, and personalization. Focusing on these five simple metrics will help you deliver great customer service across all contact channels.
This blog post has been re-published by kind permission of injixo – View the
Original Article
For more information about injixo - visit the
injixo Website