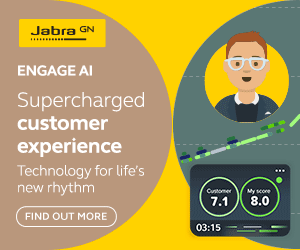 Our panel of experts give their opinions on the main contact centre pain points and provide suggestions on how to solve them.
Rising Agent Attrition Rates
Agent attrition rates in call centres have always been high – it simply comes with the territory – but with more people considering different careers or leaving their jobs altogether, attrition rates are only getting higher.
This 'Great Resignation' trend has forced organizations to increase their focus on driving positive employee experiences, particularly for those in customer service industries.
There are a few ways to do this, but the best way is to listen to your employees and give them the tools and training they need to be successful.
By capturing and analysing the interactions they have with customers, call centre supervisors can better identify areas of improvement, implement data-driven training and performance feedback, and even uncover what agents are doing well to share those best practices across the team.
When agents feel like they know what they're doing right or have clear direction on how to improve, they feel happier, more fulfilled, and less likely to search for a new job.
Thanks to Frank Sherlock at CallMiner
Increasing Pressure on Teams
One of the main pain points we see within the industry is how call centres will adapt in a world where they're tackling staff and skills shortages.
Our recent research showed us that 72% of customer-facing contact agents feel burnout, 84% feel under pressure to deliver quantity rather than quality. Not surprisingly, it's not remote working that's causing problems, but 52% suggest it's the increased workload since the pandemic.
We know it's not always commercially viable for all organizations to simply offer agents more money and better packages to persuade them to join the industry or move from another call centre.
But leaders need to consider other avenues if this isn't an option. How can you help someone progress their careers? Does your senior leadership team value the teams? You need to have clear answers to questions like these.
In the meantime, solutions like chatbots, payment IVRs that enable self-serve or those that help your teams easily handle multiple conversations at once, like webchat, WhatsApp, Facebook Messenger, SMS and email, are all channels that could be promoted to customers first, helping to reduce the immediate strain on your teams.
Thanks to Ben Booth at MaxContact
Customers Getting Passed From One Rep to Another
There are several factors that can create a bad customer experience. According to the Global Customer Service Index 2021, getting passed from one representative to another (34%) and having to wait too long to reach a representative (26%) are the largest customer service pain points.
Thanks to technology, call centre professionals have solutions available to put these pain points in the past.
For example, integrating contact centre capabilities with an organization's unified communication systems allow agents to reach subject-matter experts who can provide them with the information they need to solve a customer's problem.
In addition, integration with a CRM can also reduce customer frustration by providing the agent with an overview of rich customer data, information and history to create seamless interactions and reduce average handle time, making the customer feel valued rather than another cog in the machine.
Thanks to Jason Griffin at Five9
Communication Dead Ends
When customers reach out to your business, they expect to be able to connect with someone directly. If they find a dead end in the lines of communication, they will be confused and irritated.
In these cases, 46 percent of consumers are extremely likely to stop buying from your business or stop using your services, and 18 percent are likely to do so. It's important to offer them an omnichannel experience that includes chat, social media, messaging apps, and video.
This way, they will always have a clear path to reach you even when the main channels are unavailable.
Stranded in Self-Help
Customers appreciate it when you give them self-help tools, such as live chat messaging and chatbots, to answer their questions. They still expect to be able to talk to a customer service representative when a self-help chatbot can't solve their problem.
If they can't, they're essentially stranded. When they feel stuck here, 18 percent of consumers are likely to cut ties with your business, and 44 percent are more than likely to do so.
Make sure your self-help chatbot can provide the option of connecting customers with human agents if they are unable to solve the issue.
Thanks to David Evans at Vonage
Changing Work Environments
The global pandemic has transformed the way we work, leading us to reassess priorities and question what we want from our jobs.
More employees expect their employer or prospective employers to have a flexible or hybrid working policy. Jabra's research reveals that flexible working has overtaken salary as the top benefit to employees (59%).
With call centre attrition rates increasing, businesses are focusing on retaining staff and how to attract the best talent.
Like many businesses, call centres are still navigating the shift to hybrid working. The challenge is maintaining customer service and performance while listening to staff's needs.
Giving employees the flexibility and support to work from anywhere is key. It is also about recognizing the importance of the office. It's about creating an environment that inspires staff and brings teams together to collaborate.
We expect to see video emerging as a new channel of communication in call centres. Video-conferencing keeps teams engaged with customers. It's also integral to internal collaboration, helping staff to feel motivated and enabling meetings and training to feel natural and inclusive.
Thanks to Nigel Dunn at Jabra
High Contact Volumes
Every day, agents and administrators are tasked with processing a huge amount of information, large volumes of inbound and outbound calls, market analysis and scripts, and best practices across multiple business segments.
Call centre expert predictions for 2022 anticipate the flow of information and customers to remain constant as analytics, digital omnichannel, and CX specialists continue to drive demand and contact rates.
But too often, high contact volumes lead to unhappy customers, advisor burnout (see COVID Fatigue) and high abandon rates. Excessive call volume also negatively impacts customers, employees, and the wider business.
To neutralize high contact volumes in 2022, call centres must lean on new and established technology, such as digital and omnichannel, keep messaging and communications consistent and cohesive and closely monitor agent and staff schedules so as not to overwork or burn out employees.
Emphasize an increased use of WFM mobile apps to make scheduling and rescheduling available and encouraged, for whatever reason. Companies that have a mobile-enabled WFM solution can more easily modify agent schedules to address their work-at-home or part-time employees' needs.
Ever-Evolving Technology
In addition to external pain points, some pain points can be self-imposed. Technology is one of the areas that creates constant stress while simultaneously providing endless opportunities for growth, all while playing a pivotal role in improving CX and CSAT.
Keeping your digital communication channels and WFM platforms cutting edge is no longer optional.
In terms of customer service, assistance, and administrative efficiency, it is an absolute must and an easy way to facilitate directional changes and create organizational momentum.
Your WFM and learning capabilities should ensure that everyone involved in customer contact operations, from the front lines to administration, has the solution knowledge and resources to support continuous delivery of a consistent, exceptional customer experience.
The needs of customers will require more specialized responses with increased agent technological expertise.
Thanks to Jamie White at Alvaria
Fluctuating Customer Demand
Changing customer expectations, buying behaviours and hybrid working pose real challenges for contact centres. Now, more than ever, managing the workforce efficiently using automated workforce management (WFM) technology is critical to organizational success.
When contact centre leaders are able to quickly galvanize teams, erratic customer demand is easier to manage.  Use the latest advances in cloud-based WFM to schedule the right number of correctly skilled agents, at the right time, to accommodate fluctuating contact volumes but be creative with shifts.
With remote working, make the most of no commute time to schedule team meetings and agent coaching sessions. Then, experiment with different types of shifts. For example, split-shifts are good for training, and if contact volumes are higher than usual, micro-shifts offer 1-hour windows for crucial 1-2-1 catch-ups.
These keep remote frontline staff connected and motivated. For longer-term preparedness, make the most of powerful "What-If" scenario planning to model the impact of unexpected events on future contact volumes.
Keeping It Simple and Human
Contact centres are complex beasts and digital platforms aren't always the answer.
A recent report on Embracing Double-Edged Customer Expectations outlined that omnichannel is still a struggle and nearly 50% of contact centres say there are still channel disconnects.
Solve the tricky business of pain points in complex contact centres by:
Thinking before you digitalize – rather than simply replacing systems and processes with 'like for like' digital equivalents, think about what you are trying to achieve by making the change
Value not cost – ask yourself, 'how do we add more value and get great results?' Cost-cutting is not the only answer
Involving the right people – ask frontline employees for their opinions. And, when introducing new services, learn from customer feedback
Reassess success criteria – focus on evaluating the human factor of change rather than treating employees and customers like statistics.
Thank to Magnus Geverts at Calabrio
Providing 24-Hour Service
They say you shouldn't let your customers go to bed angry, which is why your contact centre should be available to support them 24/7.
And fortunately, there's a cheaper way to accommodate that than by staffing a night shift. AI-powered self-service can bring customers immediate satisfaction through capabilities like:
Leverage bots and save customers the hassle of waiting in call queues or waiting until business hours to complete something that may be a simple task.
It's not your typical portal of customer help documentation. Knowledge management uses AI to put the exact content the customer needs wherever they need it, day or night.
Optimize the customer journey with AI-powered routing, which uses data from past and present interactions (such as customer personality or voice analytics) to pair the customer with an agent most suited to take care of them. Smart routing can also point customers toward the right channel or information they need to get the job done themselves.
With smart self-service in place, your customers can rest easy knowing the ability to resolve their own issues whenever they need to is always available.
Agent Knowledge Gaps
Imagine the frustration you'd feel if you sat on a long hold, then were connected with an agent who couldn't help you. That's not necessarily the agent's fault – it's their experience. Customer experience is often directly affected by agent experience, and when it isn't frictionless, exceptional CX is a lost cause.
Agents don't need to know all the answers, but they should have easy access to them through one unified set-up, cutting out wasted time searching in multiple locations for information.
They should be able to access the customer context, knowledge article, or internal messaging system needed to solve customer issues in a single place.
Given the increasing complexity of customer interactions, augmenting and elevating agent performance with AI-powered guidance is a great way to improve customer satisfaction.
These types of tools provide real-time instruction and predict the precise answers and customer context needed, automate routine tasks (like updating contact information), and coach agents on in-the-moment behavioural changes to impact positive outcomes.
This kind of empowerment not only results in improved CSAT, but agents will also like it more.
Thanks to Brian Mistretta at NICE CXone
Response Times
One of the main contact centre pain points is the time customers spend waiting for a response to their query. When customers phone an organization or send a message, they are frequently left waiting in a queue for an unreasonable amount of time.
Modern customers have busy lives, so they expect organizations to respond to their questions and concerns immediately.
Solving this call centre pain point is paramount – in a 2021 PwC report on the Future of Customer Experience, 60% of customers had stopped using a company as a result of poor customer experience.
At the end of the day, customers want to be heard and understood, and by using analytics to understand customer sentiments and emerging trends, new processes and procedures can be put in place to improve customer service and the overall customer experience, leading to happier customers, agents, and managers.
Thanks to Mayur Pitamber at 8×8
First Call Resolution (FCR) Targets
Today's modern consumers expect their issues to be resolved promptly and effectively.
FCR is a key call centre metric used to assess customer service standards. It's a way of understanding how effectively your team is handling customer requests the first time around, without the customer having to call back a second or even a third time.
A high FCR score not only indicates how well your agents provide an excellent customer experience, but it's also a key source of competitive advantage. However, what can be done when FCR scores are low, causing frustration for your customers and low morale for your agents?
Relevant and timely training should be at the core of everything you do. Ensure your agents receive full training on all your organization's products and services and that they are fully briefed on new product launches.
Access to a knowledge base and customer FAQs can be of great benefit to call centre agents. It's essential that they have instant access to all the information they need to successfully answer a customer query.
Role-playing and refresher training sessions are just some of the ways you can support your agents and build company culture.
As with the interview and selection stage, it's crucial to review your induction, training, and development processes to make sure they are up to date and reflect the role and the organization's goals and values.
Out-of-Date Technology
Since the global Covid-19 pandemic, customers and businesses alike are more reliant on contact centres than ever to assist when a problem arises.
New technological improvements are advancing the ecosystems within call centres and business support centres. You may have spent a great deal of time and effort in selecting, recruiting and training the right agents, but do they have the necessary tools and technology at their disposal to allow them to fulfil their role to its full potential?
Without current, up-to-date contact centre technology tools and systems in place, not only could you be hindering your agents, but you could also be putting your organization at a competitive disadvantage.
The emergence of artificial intelligence (AI), data analytics and visual support tools have each been significant drivers of innovation in the call centre industry.
Call centres need to embrace as many as possible of the technologies that are available to them, to increase the levels of both first contact resolution and customer satisfaction, as well as lowering call handling time and agent attrition.
These solutions can revolutionize any contact centre and help to bring it into the modern world and can be very helpful when operating in a remote work environment.
Thanks to Caroline Leonard at Spearline
Low Agent Morale
Employee-focused business practices have always been vital, but perhaps never more so than the year we have ahead of us. Customer service – along with plenty of other industries – are facing the Great Resignation as employees look for their ideal work situation.
One of the biggest pain points CX leaders continue to face is keeping agent morale up. Paying close attention to stress and looking for ways to keep agents happy will become even more of a priority.
But how do contact centres go about this? Findings show that increasingly complex customer queries and large volumes of calls all at once are the main sources of agent stress and low morale.
The place to start is finding out if your agents are overwhelmed with calls and queries. From there, it's worth looking at whether the technology you have is alleviating pressure, or simply adding to it.
Thanks to RingCentral
Staff Absence
A significant pain point across the contact centre industry remains Covid-19, and as new strains spread and agents face isolation following positive cases, it is imperative to a business that operations continue to run smoothly.
The first quarter of a year is always a busy one, with post-Christmas gift returns, finances tight, and the travel industry facing a surge in people looking for a holiday. Losing agents at this time can result in poor service, leading to negative reviews, resulting in lost customers.
With staff resources stretched thin, a collaborative and flexible approach to work is needed, such as an all-in-one platform that can be used to facilitate agent monitoring, training, engagement, and motivation.
Customers have little loyalty, and we know it is far more expensive to obtain new customers compared to retaining existing ones. The customer service experience, especially in stressful times such as a new year, is imperative to retain buyers. Something that Covid-related absences can severely damage unless remedied.
Thanks to Jurgen Hekkink at Playvox
Legacy Systems and Infrastructure
Positive contact centre customer experience is key to customer satisfaction, retention, and loyalty.
Too often, organizations are missing revenue from digital transformation because they're investing in standard operational and traditional IT services for maintenance purposes – rather than automated cloud-based communication.
Switching from an on-prem, legacy call centre infrastructure to an omnichannel cloud contact centre is an approach to combat your most common pain points, including enabling remote work, decreasing long-term costs, improving agent performance and efficiency, and increasing CSAT scores through interactive options.
Your agents can continue to provide superior customer service from remote locations. They will be able to stay connected, no matter where or when they log on, without the need for additional equipment.
Real-time analytics gives contact centre managers live, meaningful insight, so they can continuously track customer query resolution and agent productivity.
Common, non-complex FAQs are ideally suited for a customer service chatbot that's designed to understand intent and connect people with answers, around the clock. Then when a more complex, human response is needed, agents have access to full chatbot conversation histories, so they can easily take over.
Thanks to Eric Leboeuf at Infobip
Creating Human-Like Experiences in a Digital World
One pain point that many call centres are currently facing is how to ensure human-like experiences for their customers in our new digital world.
Over the last two years, the landscape has shifted dramatically and call centre agents are now expected to utilize more channels that ever before to deliver their services and advice.
This is not set to change any time soon, with recent research revealing that over half (55%) of UK adults believe they will interact with brands more through digital channels than face-to-face moving forward.
While many of today's post-pandemic consumers prefer online communication, the importance of that 'human touch' still cannot be overlooked. Whether a customer chooses to communicate via phone or chatbot, organizations need to maintain tailored services and provide a smooth, human-like interaction.
This is where modern technologies – such as biometrics – come in. Through biometric technologies, agents are able to communicate with their customers and deliver a more convenient and personalized experience than ever before.
Thanks to Seb Reeve at Nuance
Homeworkers Feeling Isolated
High turnover in a competitive job market can lead to staffing gaps and long waiting time for customers to receive service. Agents working from home also feel isolated, alone and lack support from superiors and colleagues.
As a result, they're less engaged, which leads to a reduction in service quality and could result in attrition.
AI-powered workforce management capabilities provide continuous, personalized feedback to agents as well as gamification that boost engagement and empower their success, thus reducing attrition.
These capabilities also allow contact centres to accurately anticipate business demands, precisely forecast staffing and optimize the workforce.
Real-time interaction guidance provides agents with in-the-moment contextual coaching and guidance on what to say, tips on phrases spoken or omitted, AI-driven soft-skills behaviours and more on every conversation.
Intelligent virtual attendants provide agents with next best action guidance in real time, bring up relevant information as needed during an interaction and work in the background on manual tasks.
Driving engagement, the capabilities reduce the feeling of isolation and stress, support agents in real time and build a more meaningful, satisfying career while decreasing agent turnover.
Thanks to Matthew Addison at NICE
Scheduling for Flexibility
Customers ideally want to make contact with organizations when it suits them and using their coms channel of choice; contact centre employees would prefer to work the hours that suit them.
Matching the requirements of customers with the availability of suitably skilled personnel, at all times, has always been a challenge for workforce planning teams. And even more so now in the new world of work.
Customers today are demanding longer opening hours and the addition of new channels such as social and webchat.
Employees are increasingly demanding flexibility in their workday schedules around their other daily priorities – no doubt reacting positively to their experiences of homeworking during lockdown. The job of creating schedules that ensure contacts are answered in a timely and consistent manner across all channels has just got harder.
The answer is a new approach to workforce planning.
Not one that necessarily replaces traditional planning tools and models but one that builds on them by ensuring employees can (at least partially) self-select their own work hours, and planners can build in flexibility in a cost-effective way (i.e. can create resourcing schedules that better fit expected customer demand curves without high levels of under- or overstaffing during the day).
Thanks to Simon Hunter at Sensee
Read these articles next to discover more great insights from our panel of experts: