Looking for a bit of inspiration in your contact centre? You might learn a few things from the award-winning British Gas Contact Centre.
Jonty recently revisited British Gas (he first visited them in 2009) to see what had changed and to glean some ideas that other contact centres can use.
1. Life beyond NetPromoter Scores
Well, the first thing that seems to have changed is the NetPromoter Score. This has risen from +30 three years ago to +50 and higher.
But whereas in 2009, NetPromoter was the only metric that was tracked, there are now two measurements that their staff are rewarded on– their Right First Time and their individual NetPromoter Scores (NPS).
"The problem with the NetPromoter Score was that so much of it was outside of the customer service advisor's control," said Lynda Campbell, General Manager at British Gas. "Every time that we put up our prices the NetPromoter Score would drop by 10 points."
From next year, British Gas are looking to shift their people's reward to incorporate the loyalty-building experience questions instead of individual NPSs.
Rather than the standard question "How likely are you to recommend us to your family and friends?" there will be a range of 8 loyalty-building questions. Two of these questions are used randomly in the surveys.
These loyalty-building experience questions were created by Lyn Etherington from Cape Consulting and are much more likely to concentrate on the right behaviours that an agent should adopt.
I was given enough time and I didn't feel rushed
It was easy to get through to someone who could help me
The interaction was concluded to my complete satisfaction
The person I spoke to gave me a chance to ask questions
The person I spoke to gave me the impression they enjoyed serving me
The person I spoke to listened to what I had to say
The person I spoke to seemed to have a good level of knowledge
The person I spoke to sounded positive and eager to help answer my questions
"We will measure our people based on the percentage of surveys where they get 10/10 for their loyalty-building questions. That translates to perfection in the eyes of the customer, which is really all that should matter to our people… getting their service right," said John Connolly, Head of Innovation and Best Practice – Credit Energy at British Gas.
2. What drives your customers crazy?
A big success has been the customer and staff feedback scheme that they have called "What Drives Your Crazy World"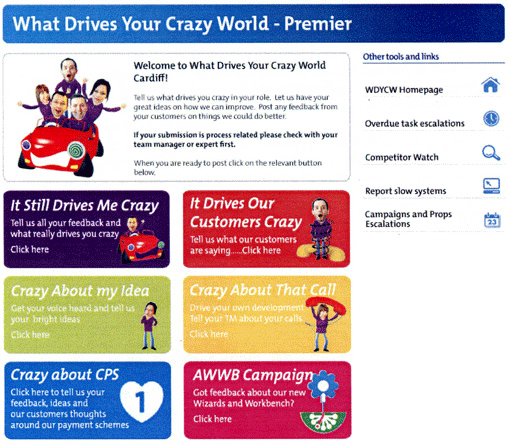 This intranet application consists of 4 main areas:
It drives our customer crazy. A way of providing feedback into the organisation of customer-affecting issues – very useful in identifying new service related problems.
It drives me crazy. A way of providing feedback about working conditions and life at British Gas, for example, problems with facilities, journey to work, etc. In the early days this made up the bulk of feedback.
My crazy idea. A novel take on the staff suggestion scheme.
My crazy call. A way that advisors could flag calls to their team leaders that they would like to highlight – for example, if they needed some development. In the past 3 years over 50,000 calls have been through the system.
Perhaps what is most noticeable between this and other feedback systems is the amount of senior management effort that has gone in to making it work. Currently there are between 250 and 350 submissions per week. All ideas are flagged up to a team who make sure that they provide feedback to the originator of the feedback. If an idea does not look achievable they will go back to the originator and have a conversation with them.
3. 'Simply Thank You' cards
A simple idea for saying 'thank you'.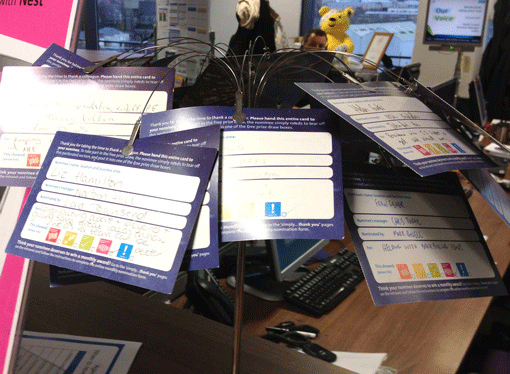 This started out as a physical postcard system. Everybody on the floor was able to fill in a card to say thank you to somebody else. Cards would be filled in and at the end of the week they would be gathered up. A weekly email was sent to everyone highlighting all of the feedback.
The system has now been automated and put onto the intranet site. Now when you go in you can either select a standard greeting or you can add in free-form text. A message is then sent to the person and a copy is also sent to the manager. A panel selects who got the best feedback of the month.
The team can recognise each other through the Simply Thank You system against one of the British Gas brand values. This is a good way to demonstrate what bringing these values to life looks and feels like.
Quite often there is a disconnect between day-to-day behaviour and the brand, so this is a good way to keep this at the forefront of people's minds.
4. Chill-out areas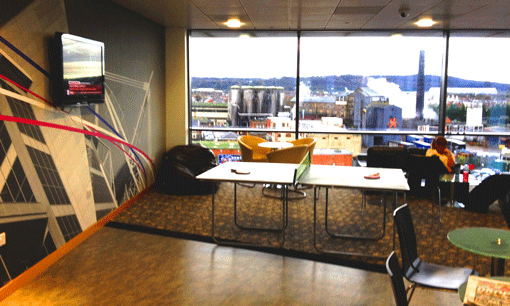 Free breakfast and fruit is still provided to all staff in the break-out areas. In addition to the free meals and use of microwaves, there is a Plasma TV, bean bags and also a ping-pong table.
5. Making scripts sound more natural
Like many contact centres that have to cope with FSA compliance, there are now some parts of the call that have to be read out loud, for legal purposes. The challenge was how to make them sound less robotic.
Reading poetry and even nursery rhymes is now practised to make the scripts sound much more natural. It's important to use the right vocal tone, pitch and pace to keep the customer engaged.
6. YouTube self-help videos
A nice touch was the use of YouTube videos to help customers to understand part of the service offering. There is a British Gas YouTube channel.
As well as the standard marketing videos there is quite a nice set of "how to" guides.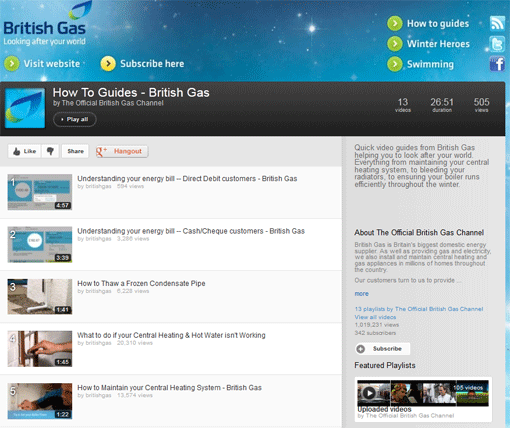 These include information on how to check your water pressure or how to bleed a radiator, as well as some nice touches such as how to read your gas bill.
7. Getting team managers off email
There is a great tendency in any large company to think that doing your job properly is to respond to internal emails as quickly as possible. While this may be fine for internal communication, it is not great for customer satisfaction.
Team managers are encouraged to spend 90% of their time coaching their team. "After just checking emails first thing in the day, it's a question of closing the lid on the laptop and spending time with the team. If there is an issue, it is much more effective to walk across and talk to somebody about it," said one team leader.
"We're currently running a trial to measure the standards of our team managers' coaching and communication approach," said John Connolly.
British Gas are doing this through
Peer to peer observations and observations of scheduled coaching sessions
Observations of team briefings to benchmark communication style
Observations of general day-to-day behaviour such as approachability and any tips to improve their day-to-day diary
Capturing feedback on all of these things by asking the recipient of the coaching or briefing for feedback and opportunities to improve
"We see the Team Manager role as the key to our ongoing success, so by constantly benchmarking the effectiveness of our leaders every day, we're hopeful we can keep our performance moving forward," said John Connolly. "We plan to introduce coaching effectiveness as a measure for our leaders' quarterly reward next year".
---
British Gas won European Contact centre of the Year in 2009 and 2010. This year they came second in the Global Contact Centre awards.
---
What ideas have worked in your contact centre? Please leave your ideas in an email to Call Centre Helper