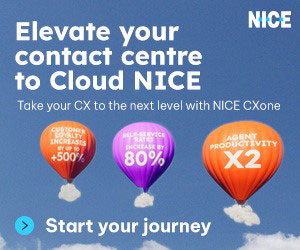 Our panel of experts share their favourite staff engagement strategies and explain how they can be implemented successfully in the contact centre.
1. Spot People Doing Good Things
There's nothing worse for a member of your team than feeling that their work or presence is unnoticed.
Recognition of work done and accomplished keeps your employees motivated and engaged, which promotes productivity.
Making a habit of recognizing advisors with a simple "well done" or "thank you" is enough to give them little bits of motivation throughout the day. Over time, this simple idea can become a powerful staff engagement strategy.
But to keep this strategy moving forward, you must find lots of ways to spot people doing good things, and in the video below Gavin Scott, the Director of Loaf Training, discusses an exercise to demonstrate the importance of this.
If you notice that you are finding it difficult to spot good things to engage certain advisors, simple acknowledgement of effort can suffice.
2. Offer Something Unique
Finding something new that differentiates you from other employers will not only make your company unique but will help contribute to company culture as well.
A unique set of benefits will also attract a unique set of employees.
You don't have to offer outrageous and eccentric benefits like those 90s Silicon Valley companies, but a unique set of benefits will also attract a unique set of employees.
So the key here is to select the benefits to support the culture you promote.
Video happy hours, virtual lunch and learns, equipment upgrades or even digital gift cards for a specific store or purpose can be an easy way to keep your employees connected and invested.
3. Never Stop Onboarding
Employees turning over in 90 days or less is a common problem, driven by a lack of staff engagement during contact centre onboarding.
One way to think differently about this is to treat onboarding not as a process that lasts 90 or 120 days, but rather as a continuous responsibility of the management.
To further the analogy, once they're on board, you must keep them from jumping ship. This involves educational programmes, best practice info, knowledge sharing, 360-degree reviews, and team-building exercises.
Prioritizing career development through a continuous onboarding-style engagement demonstrates investment in their futures and encourage them to stay with your organization longer.
With thanks to Alicja Robertson at Aspect Software
4. Empower Advisors in These Three Ways
Putting smiles on contact centre advisors' faces is not just about making them happy, it's about empowering them to perform their jobs to the best of their abilities.
To engage staff, you want them to feel proud of the work that they are doing. This pride comes from having a voice in:
When they work
How they work
What their work actually is
You can incorporate each of these elements into an empowerment strategy which offers flexible working hours, lowers script adherence and provides special development strategies.
Salaries, though important, are no longer the primary factor in job satisfaction for millennials. So new strategies structured around advisor empowerment may be even more beneficial in terms of staff engagement and customer experience too.
With thanks to Neil Titcomb at Odigo
5. Get Flexible With Your Schedules
Today's advisors want flexibility in all aspects of their lives, including their work schedules.
Yet introducing schedule flexibility doesn't have to mean a complete overhaul of your staffing model. Small, easy changes can make the difference between sanity and chaos for an advisor juggling children's school schedules, continuing education, or caring for an ageing parent.
Something as simple as a longer lunch period or later start time could reduce an advisor's stress, keeping them engaged and performing at their best.
Workforce management techniques like block scheduling, split shifts, or optional voluntary time off can also help your advisors balance their personal and professional responsibilities.
Talk to each of your advisors to understand their unique situation – kids at home, their spouse's work schedules, etc. – and see if and how there are any accommodations that can be done.
6. Act on Advisor Feedback
From scheduling, to operational processes, to HR policies, advisors want a voice in how their workplace is run, and they want to be able to provide feedback without fear of retaliation.
That's why more and more contact centres are becoming increasingly flexible in how they implement employee feedback systems.
But nothing hurts engagement more than asking an advisor for input, to then just blatantly ignore the feedback and continue operations the same way they've always been run.
So, after gathering advisor feedback, your contact centre leaders need to make sure they take action.
One way to do this is to create a full circle update back to the advisors to show them how you've valued their input and taken action.
Even if acting on their feedback is not feasible, make sure you still circle back to explain to them why their suggested changes are not being adopted and mind-map potential other ideas.
With thanks to Lauren Comer at NICE inContact
7. Use Games
Staff engagement in the call centre isn't just about advisor satisfaction. Of course, you want a happier team, but you also want to improve customer experience in the process.
Gamification system aims to do both, and many workforce management (WFM) systems come equipped with a gamification module. With this, advisors are positioned as players of a game.
The system then rewards performance (by handing out medals) based on pre-determined parameters and metrics. These medals/rewards can be traded in for prizes such as being first in line for the next holiday bid or maybe the chance to win an iPad.
As a result of using gamification, advisors are encouraged to reach specific targets to improve their performance, helping to improve staff engagement as well as staff turnover.
With thanks to Neil Draycott at Business Systems
For a set of great games to play with your remote teams, read our article: The Best Motivational Games for Employees and Remote Workers
8. Treat Your Advisors Like They Matter
Advisor engagement is influenced by many factors, some that are very specific to the individual and others that are more widespread across teams or even the entire organization.
One thing that you can be sure of, however, is that managers and leaders often dramatically affect how they feel. There's an adage: "Employees don't quit companies, they quit managers."
Managers are often inattentive and get so wrapped up in their own projects that they miss out on key signs of disengagement.
These managers are often inattentive and get so wrapped up in their own projects that they miss out on key signs of disengagement among contact centre advisors.
But a good manager is always thinking about new ways to support advisors, in both a functional and an emotional capacity.
One idea these managers might consider is implementing speech analytics. This will help to identify where advisors – remote or otherwise – need more support, but it will also ensure your advisors are being assessed fairly.
9. Make Employee Well-Being a Key Goal
If you enable advisors to help customers so they go away happy, not only will this improve customer loyalty, but it will also make your advisors feel good and they will perform better too.
Most customers arrive on a call in a negative frame of mind. The volume and frequency of this negativity can have a debilitating effect on the mental well-being and work performance of your employees.
Giving advisors access to the information, tools and coaching they need not only increases their ability to own their role but will also provide a sense of accomplishment.
You can also improve well-being by promoting the subject around the contact centre, building emotional resilience and training team leaders to have important conversations.
With thanks to Frank Sherlock at CallMiner
For more on the topic of staff engagement in the contact centre, read our articles: