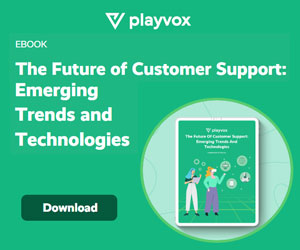 Culture within a contact centre should broadly be understood as a 'state where people are proud to come to work and deal with customers'.  Where the culture is bad, the employees don't look forward to coming to work and this can have far-reaching consequences.  It is often very difficult to see what is, and what isn't lacking about a culture, but you know when the culture isn't right.
To many, 'culture' is a fluffy term, commonly used but rarely understood.  What we should all know about culture in relation to contact centres is that it is often the cause of long-standing issues that have had a negative impact on the company's reputation for customer service and consequently, its bottom line.
Poor culture = poor customer service
The culture in a contact centre can be having a negative impact on the customer service standards and company reputation for at least six to nine months before it becomes evident on the company balance sheet that something isn't right.  Many contact centres rely heavily on numerical indicators as a temperature measure of their customer-service standards.  It is often only these numbers that contact centre managers or more senior members of management take note of.
Stop managing by numbers
By design, most contact centres all over the world today are set up to be a repository for things that have gone wrong in the business. Managing by numbers such as service levels or average call handling time (AHT) for customer calls is a common failure of many contact centres.  If the agents don't feel that their managers are giving them the framework to do their job properly, they start to resent this; and a 'them and us' mentality starts to form.  The longer a bad culture is left to ruin, the harder it becomes to bring it back.
Old habits die hard – Management of team leaders and agents
It is very difficult to coach agents through a change of approach from managing by numbers to managing people as individuals and understanding what is actually important to customers. This is a fault of the industry, as a team leader often has had no support and the statistics are often the only thing they know how to interpret and control.
Too few companies do development work with team leaders and consequently the team leaders really vary in quality.  This sink-or-swim mentality is why there is so much inconsistency at this level, both within each contact centre and throughout the industry as a whole.  Team leaders can be the biggest barriers and disruptors to culture improvement in a contact centre; you have to get them on board to make it work.
Even in a place where the culture is bad, agents don't want to come to work to deliberately do a bad job; it is the management and leadership that has failed, not the staff, because they haven't noticed the signals.
Poor culture = poor leadership
No one builds a contact centre with a poor culture; it emerges over time through poor leadership. Achieving a good contact centre culture does not come about by managing by numbers, actions plans or disciplinaries.  Team leaders and contact centre managers have to get out of their offices, be visible and communicate with the agents and their managers.
The team leaders have to be prepared to act on what the agents tell them, no matter how uncomfortable it is.  The agents are the people who are on the front line talking to customers every day, not the managers, and therefore these people must feel a sense of positive culture and working environment to do a great job.
How to create a good culture – Advice for call centre managers:
Be visible. And accessible. Working from home is the biggest mistake for a call centre manager to make. We have proved time and again that you can't manage a call centre by sitting in an office looking at the numbers all day. Well, you certainly can't do it if you are 10 miles away at home!  It actually leads to resentment amongst front-line staff who feel there is one rule for them and another for their manager.
Ask the people – When you are looking at making improvements; involve them. I get asked so many times by managers "what can we do about this?". Well, try something really radical, and ask the people who it actually affects. At the very least, have an open and honest discussion with them about the issue and its effects. This gives context to the improvements and your front-line staff will at least then have an understanding of why certain changes are being made.
Improving culture doesn't cost you money
There are a whole host of things you can do for free, and many more where just a few pounds will make a difference:
Link your incentive/reward schemes to quality, but ensure key factors such as absence are not missed.
If you are unable to run a formal incentive or recognition scheme, you can reward by giving time off in periods of high availability.
Fix the broken microwave.
Improve the rest area. It's always a sign something is wrong when people don't even use it.
Improve the lighting, or at least put bulbs back in that have blown.
Keep the air conditioning maintained.
Get on the phones and take a call yourself – can you still do it? Or do you feel it is beneath you now?  Try it, even if it's just for half an hour, the message this sends out to your team will be enormous.
Be consistent – be consistent in applying your policies, and be seen to be consistent.
Develop your team leaders – develop your team leaders to work together instead of against each other, and ensure they are consistent as well. Avoid people feeling they want to move teams because they think they will get treated differently by another team leader.
Don't be a control freak – empower your team leaders to make more decisions, and support them when they have made them. But coach them if you feel they could have handled a situation differently.
Be a mentor – get them to think and act like managers, not super-agents.
Take an interest – encourage your team members' development outside of work, and take a keen and active interest in how they are getting on.
Be fair and consistent – get the basics right. Be fair and consistent when they get their breaks, be fair and realistic about the productivity you expect, be fair and consistent with your QM (quality management) programmes, but combine your QM with focused and supportive coaching and development. It's not a school test!
What's in it for me?
Most importantly, don't forget, culture to the individual is down to personal interpretation. They will see it as "my desk, my space, my telephone, my personal environment, how much light I get, how many breaks I get, how my shift pattern is, and how my team leader manages me".  This view will mean different things to different people and therefore strong leadership is the only way to achieve consistency of culture across a site.
Culture is intangible and very fragile. It can take a very long time to build up and change – but it can be destroyed in an instant.  You destroy it by being too top down, but you can grow it by being bottom up and really getting involved with the team.
---
Keith Gait is Founder and Principal Consultant of contact centre and customer service consultancy, Orchid Consulting www.orchidconsulting.co.uk