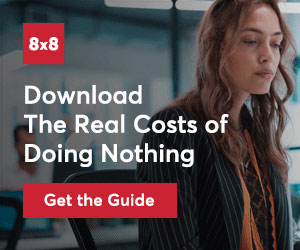 8×8 has announced enhancements to the 8×8 XCaaS (eXperience Communications as a Service) integrated cloud contact centre and unified communications platform to enhance the agent, administrator, and customer experience.
Key feature enhancements include:
AI-Powered Self-Service – Recently launched, 8×8 Intelligent Customer Assistant is a powerful, user-friendly, conversational AI solution that enables businesses to create automated self-service interactions across digital channels. It provides tremendous value to contact centre operations while improving customer experiences. It offers organizations the following:

Quickly increases first contact resolution with end-to-end automation.
Reduces agent workload by handling routine tasks.
Personalizes customer interactions with pre-built integrations.
Optimizes decision-making with advanced, built-in analytics for managers.

Enhanced Agent Visibility – the updated 8×8 Agent Workspace Dashboard provides a single view of both agents and queues, along with the ability to see coworker availability and service demand levels with a single click.
Deeper Integrations for Improved Agent Productivity and Customer Experience:

The integration with Microsoft Dynamics 365, now in limited availability, includes the Customer Service module, enhancing agent productivity by embedding communications and contact centre functionality into key workflows and allowing agents to personalize every interaction for improved customer engagement and retention.
A new generally available integration with Salesforce Sales Engagement allows agents to handle interactions faster while delivering more contextual and consistent experiences across every channel to meet and exceed customer expectations.
"Taking advantage of AI-based technologies for self-service has shown great potential, but in practice have been frustrating to deploy and use," said Gary Boucher, Acer Program Manager.
"We chose 8×8 Intelligent Customer Assistant over other vendors because of its robust features and ease of use.
The overall simplicity belies its complexity on the back end. Additionally, it offers us the option to escalate to live assistance, when necessary, with a seamless handoff from the automated interaction to the contact center agent."
New generally available feature updates for 8×8 Unified Communications include:
Mobile Administration Enhancements – the 8×8 Mobile Admin helps boost operational efficiency and confidence in their services by surfacing key metrics, configurations, and parameters using the 8×8 Work for Mobile app. This new capability allows system administrators to execute everyday operational tasks directly from their mobile devices in addition to providing immediate visibility into incidents and updates, including activity metrics for inbound and outbound call volumes.
Unified Communications Audit History in the 8×8 Admin Console – system administrators can now access historical configuration details for complete audit visibility, including what changes were made, when, and by whom.
SMS 10DLC Application-to-Person (A2P) Registration – US and Canadian organizations can comply with new SMS requirements and improve message deliverability by utilizing the streamlined process for campaign registration.
New Phone and Accessory Certifications – a wide selection of new phones, headsets, and accessories compatible with the 8×8 service have been certified, including Yealink T5 series desk phones, Poly Edge E series desk phones, Poly and EPOS headsets, and SYNC series of USB accessories
"8×8 Mobile Admin surpassed our expectations, providing valuable insights into business statuses at a glance no matter where our team is located," said Mark Weingarten, VP of Patient Services at Affiliated Physicians.
"We can now track and manage all of our active sites, users, and ring groups without having to be tethered to a desk and laptop. This will save us time to focus on other business initiatives."
"Organizations are constantly evolving, so it's imperative that their technology vendors anticipate and prepare for those changes by evolving themselves," said Hunter Middleton, Chief Product Officer at 8×8, Inc.
"We are continuing to innovate and advance our 8×8 XCaaS cloud contact centre and communications platform to ensure that our customers always have the tools and resources they need to guarantee exceptional employee and customer engagement."
It includes integrated cloud contact centre, business phone, video meetings, team chat, and SMS capabilities in a single-vendor solution.
8×8 XCaaS is built on the resilient, secure, and compliant 8×8 eXperience Communications Platform, which offers the highest levels of reliability with financially backed, platform-wide 99.999 percent uptime SLA across an integrated cloud UCaaS and CCaaS solution.
For more information about 8x8 - visit the
8x8 Website