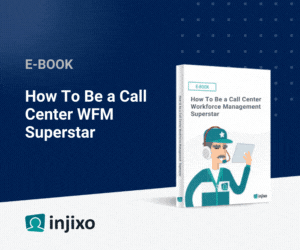 Here are some ideas we picked up on a site visit to the Connect Assist contact centre in Cardiff.
1. Don't assume that agents hate covering night shifts
Connect Assist Fact File
Agents
70 seats
75 FTE
Call volume – per day
Inbound calls: 1,200
Outbound calls: 100
Webchat: 300
Email: 300
Technology
ACD
ShoreTel
Headsets
Plantronics
Wallboards
ShoreTel
WFM
injixo
Agent Desktop
Oracle Service Cloud
Call Recording
OAISYS
Call Scoring
In-house system
Don't assume that your agents hate covering the night shifts. Instead, talk to them about which shifts suit their lifestyle.
You may find that some of your agents are keen to permanently take on a higher proportion of night shifts as this suits their childcare or study arrangements.
"We have always been open with our agents about their shift patterns, especially when it comes to covering the night shifts," said Sharon James, Operations Director. "Currently we have 2 agents who have opted to cover a higher proportion of night shifts. This suits our team at the moment, but we will review this arrangement if someone leaves."
2. Share information about yourself before asking a personal question
It can be uncomfortable for agents to ask customers personal questions about their ethnicity, gender or marital status.
If not handled sensitively, these questions can alienate your customers and prevent agents from building rapport.
One way to overcome this is to train agents to offer information about themselves before asking a personal question.
For example, "I describe my marital status as 'living with my partner', how would you describe your marital status?".
This two-way sharing of information should help your customers feel at ease about answering such questions, as well as increase your agents' confidence.
3. Assess tone and language to stop agents being too robotic on webchat
Mark agents on tone and language as part of their Webchat Quality Assessments.
This should discourage your agents from relying too heavily on stock responses – and help customers to feel that they are talking to a human rather than a robot.
4. Host a 'Bring a Plate Day' to make lunch time more fun
One way to spice up your agents' lunch break is to host a 'Bring a Plate' day.
Simply ask each agent to bring in a dish of their choice then set up a buffet for everyone to enjoy.
5. Run on-site events for several hours to cater for all shift patterns
In a 24/7 operation, or a contact centre which operates with different shift patterns (morning/afternoon/evening), it can be difficult to include everyone in on-site social events.
One way to overcome this is to run an event, such as a barbecue in the car park, for several hours – catching the agents finishing their morning shifts, as well as those coming in to start their evening shifts.
"By running events from midday to midnight, we've been able to include everyone," said Rachael Overland, Contact Centre Manager. "We've even had some agents who've joined the party at the end of their morning shift and stayed on until midnight!"
6. Match agents to call types where they can offer natural empathy
Moving agents onto calls where they can offer natural empathy to your customers can help build strong rapport.
Natural empathy is generated from personal experience with an issue, for example ex-servicemen and women will have natural empathy for customers calling the The Royal British Legion helpline.
If you are looking to harness more natural empathy in your contact centre, you could also consider adding "desired criteria" to your job listings to help attract candidates with experience relevant to your current call types.
7. 'Agent of the Month' ballots should contain actions not names
To help ensure that your next 'Agent of the Month' is chosen for their work and not their popularity, make sure your ballot sheets name actions rather than agents.
You can then ask your agents to vote on the list of actions (e.g. gave up their lunch hour to help coach a struggling agent) to determine a winner.
If there are multiple stages to your voting process, allocate a letter to each agent to help keep things organised AND anonymous.
8. Let your agents trial homeworking and return to the office if they want
Allow your agents to trial homeworking and come back to the office if it doesn't suit them.
Removing firm commitment from the process should increase agent uptake.
9. Keep an eye on website deals to get the most out of your social budget
If you don't have a large budget for social events, or are worried about stretching your agents' pockets, keep an eye on daily deals websites.
When you find a good deal for your local bowling alley/comedy club/restaurant, you can then share it with your agents and enjoy a cheaper night out.
Taking advantage of last-minute deals can also help to keep your social calendar interesting – rather than just going to the pub once a month.