Many agents progress to team leaders in the contact centre, but the transition isn't always managed well.
That's why Paolo asked our LinkedIn Community of industry professionals 'when it comes to promoting an Agent to a Team Leader, what's best practice?'
530 people responded to the poll and we wanted to share the responses with you below: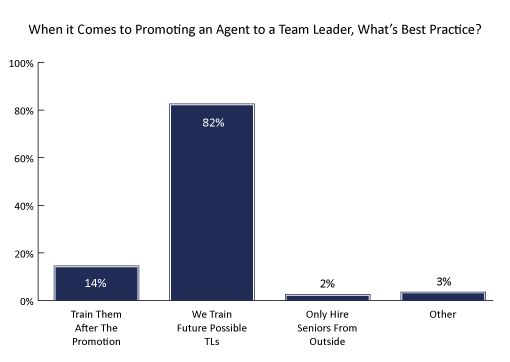 | Best Practice | Response % |
| --- | --- |
| Train Them After The Promotion | 14% |
| We Train Future Possible TLs | 82% |
| Only Hire Seniors From Outside | 2% |
| Other | 3% |
'Training future possible team leaders' was by far the clear winner from these available options, with 82% of respondents choosing this option.
This could demonstrate that many contact centre leaders understand the need for clear career paths and opportunities within the organization, which is supported by the fact that only 2% of respondents said they 'only hire seniors from outside'.
A surprising 14% of respondents, however, stated that they train team leaders AFTER the promotion. In some ways, this is a risky strategy, as there's no guarantee the individual will excel in the training and go on to be successful in their new role.
However, this choice could also be indicative of cost-saving initiatives in place to only train those who are promoted – and not those who may leave the business before a team leader opportunity opens up for them.
☆☆☆☆☆
A number of respondents also commented on the poll, providing further insights, and we have collated these for you here:
Promotions Can Help Retain Talent
Promoting an agent can sometimes be an opportunity to retain talent. However promotion into the right role needs to be carefully thought through, as promoting an agent into a role that's fit-for-purpose will result in a happy employee.
The opposite will result in a loss of talented and experienced agents. There needs to be a development roadmap for both leadership roles and specialists as well.
Thanks to Kashen
Look for Those Already Showing the Qualities and Skills
The same is true now as it was 30 years ago when I first started managing teams of agents handling customer contacts.
The best agent candidates for promotion to team leaders are generally the ones who are already demonstrating many of the qualities and skills required to do the job – but simply without the title.
Whether working in an office or remotely, they will be the ones supporting their colleagues, offering insight where others do not, and generally looking to engage wherever possible.
Sure, they'll need training in the team leader processes and expectations for their new role, but in terms of built-in behaviours, they will already be well on their way to succeeding in the new team leader position.
The best agent candidates for promotion to team leaders are generally the ones who are already demonstrating many of the qualities and skills required to do the job – but simply without the title.
Major caveat alert! You'll need to have the right leadership team in place to get the most out of promoting your best agents, so make sure they all share the desire to help others succeed and move up the ranks.
Thanks to Simon
Internal Succession Planning Is Critical
Internal succession planning is critical to fostering and growing rich talent within the business. If you can afford it, allow staff to learn from mistakes, and provide them with the environment to actively learn on the job.
Thanks to Emrah
It's a Mixture
It's a mixture of promoting from within and bringing in some experienced leaders. If you go hard with 100% internal growth, then you may struggle in certain areas and end up not achieving the targets you initially set out.
Thanks to Vinolin
All of the Above
I think it's a mix of all of the above, really. Of course you always need to be succession planning and developing your next leaders.
If you don't have the right talent within, sometimes you do have to look externally.
But also, when they move into that new role officially, make sure you have an onboarding programmethat will set them up for success and establish their confidence in the role.
Finally, if you don't have the right talent within, sometimes you do have to look externally.
Thanks to Meggyn
Provide a Leadership Academy
Provide a leadership academy that aspires agents to learn, so when the opportunity presents itself they're ready and external recruitment is possible too.
Thanks to Ferrisea
Always Promote From Within
Try and get the agents experience before they take on the role, and always promote from within.
Thanks to Wayne
Address Talent Development as a Team
Senior learning leaders should have this as a top priority. They should collaborate with senior operations leaders, HR and recruiting!
These leaders should address talent development as a team, and each leader has a specific and important role to play.
Frontline leaders should develop strong working relationships with their staff and truly understand their skills, passions, strengths, opportunities, goals, and feelings.
This can be used to provide a more personalized development plan and it can help inform larger organization development strategies and goals.
Thanks to Courtney
Looking to train your team leaders to best support your agents, read this article: Train Team Leaders Well
It Depends on Company Culture
It all depends on the culture of the company and the leaders themselves.
There is always a capable person that has to be groomed, challenged and empowered to build that confidence in them to move up or be on standby for any upcoming opportunities.
Thanks to Dalya
Celebrate an Employee's Strength
Provide talent-development opportunities that celebrate an employee's strength. Too often, top performers are moved into leadership positions based on their ability to achieve metrics.
Quality leaders may not be top performers in terms of metrics, but they are proactive with a growth mindset.
Call centres need to rethink their management model. While education does not automatically equate to a quality leader, a lack of education in senior management is easily identifiable.
Thanks to Tovjivanese
Always Be Training and Coaching
Always be training, coaching and keeping an eye out for the best all-around talent.
Can they be trained for the role?
Can they handle the role under pressure?
Do they have or are they working towards gaining respect from their peers?
Are they driven for results and not ego-centred?
It's imperative to be prepared to advance your current team members. Have a structured evaluation and training protocol. Celebrate their successes.
Thanks to David
Everyone Should Be Given Opportunities
All employees who meet their goals should be given the chance to train for future opportunities.
If you are trying to change the environment of your centre, then hiring externally can help with that – but if you have a team that is already performing exceptionally well, hiring internally will help keep it running well.
Thanks to Marshall
Don't Risk Being Caught Out and Unprepared
What I've seen happening more often is managers getting caught unprepared for the ramp-up, like "oh, we don't have/can't find enough team leaders."
I'm positively surprised that 80% of the people are answering this poll saying they prepare future possible team leaders, which for me is the best possible practice.
Having a training programme for potential leaders is a great tool for the growth of the company and for retention of talent too.
Thanks to Paolo
For more advice on team leaders, read these articles next: