We look at the skills needed for great team leadership and where a good team leader focuses most of their time in helping to run a contact centre.
The Role of the Team Leader
A contact centre team leader is in charge of improving employee engagement, boosting advisor performance and overseeing change management. This all helps to deliver customer satisfaction.
Yet there are many more responsibilities that a team leader may have some input in. These can be grouped within four key imperatives:
Lead – Aligning people behind a vision of how to serve customers and setting expectations.
Engage – Getting the team to enjoy their work in a way that also improves customer experience.
Perform – Helping the team get better and setting targets that link to the service vision.
Connect – Connecting with people across the organization to improve business performance.
The chart below highlights how team leader responsibilities can be grouped within these four imperatives, providing a new and interesting view on each task.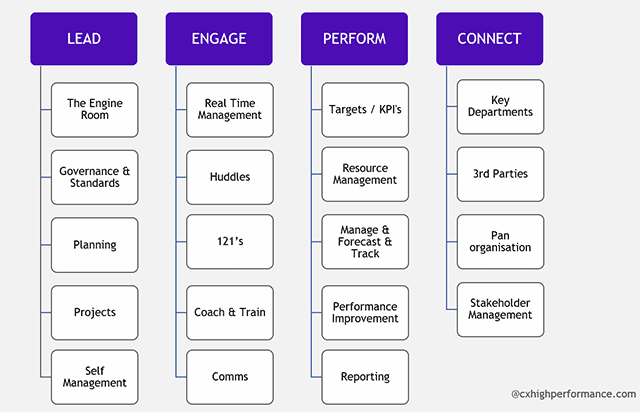 While team leaders only have a small part to play in some of these tasks, we are already seeing a shift in who "owns" each responsibility, according to Natalie Calvert, founder of CX High Performance, who shared the chart with us.
"A lot of the 'LEAD' role will be taken by technology. The 'CONNECT' role will be taken over by better integration and knowledge systems, while the 'PERFORM' side will also be taken over a lot by analytics systems and automated technologies," says Natalie.
"So, where the team leader role really starts to have a massive impact is in engaging people."
With this in mindm let's take a closer look at some of the key engagement responsibilities of a team leader:
Real-Time Management – Supporting advisors across all channels and motivating the team.
Holding Team Huddles – Huddles are used to bring people together, give key messages and spread good energy.
1-2-1s – These can be used formally and informally to support performance improvement, develop progression goals, discuss challenges and create stronger, more personal relationships.
Coach and Train – Helping advisors on live calls, developing targeted training exercises and supporting the quality team in delivering an excellent customer experience.
Communication – Liaising with other departments to solve issues and reduce silo working to ensure a better way of working.
In order to do a good job in performing each of these key tasks, it's important to have the following leadership capabilities to help you on your way.
5 Team Leadership Capabilities
Let's take a look at the following team leadership capabilities and think about how we can improve in each area.
1. A Customer Champion
A team leader should be the customer champion for every frontline team member. This doesn't mean that we just collect the Voice of the Customer, in terms of data and insight, it is about picking up customer causes to drive business improvement.
Team leaders can often be insular in their thinking and focus completely on the employee experience, as they were advisors once and they appreciate the struggle. But there needs to be a balance with customer experience.
Think "outside in", not "inside out" when it comes to improving customer experience.
"A good contact centre won't be primarily led by the thoughts of its employees. Instead, its leaders will listen to customers and think about how that impacts employees," says Natalie.
"Think 'outside in', not 'inside out' when it comes to improving customer experience – remembering that stressed customers result in stressed employees."
For example, a bad knowledge system means that customers will phone you and that then stresses advisors, because undoubtedly they have poor knowledge systems too.
2. An Ability to Break Down Complexity
Technology is coming in from lots of different angles. Our advisors are all motivated by different things. Mental health issues are a growing problem within society. The team leader role, in many organizations, is growing in complexity.
Yet, as a leader, it is much better to actively manage complexity, as it reduces stress. You will also gain more influence in the contact centre and, eventually, you'll have no choice.
As a leader, it is much better to actively manage complexity, as it reduces stress. You will also gain more influence in the contact centre and, eventually, you'll have no choice.
For us to deal with complexity as leaders, we have really got to make things easier for advisors, and we can do that better by understanding customer priorities.
By doing that, we can deliver through better conversations easier customer journeys that will make things easier for our organization.
To better understand customers, you can try:
Bringing customers into the contact centre and getting them to have open discussions with advisors
Reviewing feedback on third-party sites and social listening engines
Following customer journeys and mystery shopping
For more ideas on increasing customer understanding, read our article: Understanding Your Customers: 5 Practical Techniques
3. A Collaborator
While we must, within the contact centre industry, do our bit to understand our customers, we should also be thinking about whether we understand our employees too.
To do this, it is important to collaborate with our teams and delegate assignments to advisors who show interest, so we – as team leaders – can spend more time coaching and engaging.
By collaborating in such a way, we will pick up lots of useful information, like how certain advisors learn and what motivates them. Knowing this is key to helping the team to develop.
However, this collaboration shouldn't start and end with only our advisors. Look to other leaders for inspiration. What have they recently done that has helped to lift performance and morale?
Having this desire to learn from others is a key skill that transcends the team leader role into other more senior positions.
If you lead the whole contact centre, as a manager or director, remember that increasing the communication between departments is essential. Don't be the victim of organizational silos, be the leader in enacting positive change through collaboration.
For more on the topic of positive collaboration with other departments, read our article: Call Centre Management: From Cost Centre to Strategic Resource
4. A Leader of Humans and Machines
If you are not a machine person, go and learn. Once your contact centre starts to bring in technologies, you will need to know about them, so you can have intelligent conversations with your IT team and deliver good multichannel service in the contact centre.
If you go to your IT team with a problem that your team are struggling with, they will tell you why you and your team need to adjust to the problem. But if you can hold your own in these conversations and demonstrate your knowledge, you can better represent your advisors.
Their (the IT team's) role is to enable you with fabulous technology – but the role of managers and leaders is to design the machine.
As Natalie tells us: "I'm seeing an emergence of the IT department leading on managing machines. But that's not their role. Their role is to enable you with fabulous technology – but the role of managers and leaders is to design the machine."
The same way that HR doesn't run the contact centre, don't fall victim to allowing your IT department to try and do the same thing. Let them be the enablers, but you – as a leader –  know what works (and what doesn't!).
You wouldn't let your IT come in and rewrite your IVR. The same logic applies to other technologies.
5. A Community Spearhead
As a leader, you want to foster a customer-focused and kind culture. A big part of developing that involves bringing your people and customers together.
One way to do this involves looking outside of your contact centre to find ways in which your contact centre, remote agents and outsourced partners can do some work that benefits the wider community. People love work that comes with a purpose.
Why not spend some time out in the community, volunteering for charities – as selected by your advisors?
So, why not spend some time out in the community, volunteering for charities – as selected by your advisors? Bring that feel-good factor into your contact centre.
Yet community also extends across your business. Can your advisors work on projects that will bring them closer to other departments? This can make your advisors feel increasingly important and attached to your business.
Gousto have great systems in place to engage advisors with the wider business. Find out how they do so in our article: 20 Award-Winning Tips From the Gousto Contact Centre
Supporting Management
While some team leaders, particularly in larger contact centres, will mostly be in charge of the "engagement" part of things – others will be asked to take on additional responsibility.  These leaders will have more of a strategic role.
In some contact centres, a strategic team leader would be expected to help the manager in understanding:
Customer Experience – Instead of looking at the feedback at the end of an interaction, leaders may be expected to know where contact lies within the customer journey and the implications it has.
Employee Experience – This doesn't just involve thinking about how to engage your employees on a weekly and monthly basis; you can map out the employee journey and plan out a much more engaging experience for them.
Return on Investment (ROI) – What value are you delivering in terms of ROI? For every customer interaction, what is the ROI your team delivers back to the business? This goes beyond cost cutting.
Technology – Do you understand the technology that's available today, as well as what is just around the corner? What would help to best support your advisors?
On top of this, a leader may also have to think about how data is managed to help the business grow and change, as well as how it is communicated to the rest of the organization.
So, there is the question of how team leaders can balance all of these responsibilities, without losing their key focus on supporting advisors.
We must remember that the most important responsibility of a team leader is in understanding employee engagement and applying it to achieve better performance results.
Understanding Engagement
As shown below, Natalie has put together a CX Employee Engagement Model. This model is based on extensive research across the private and public sector, with both front- and back-office teams.
Natalie and her team have established that high-performing customer teams focus on the six key areas of this CX Employee Engagement model.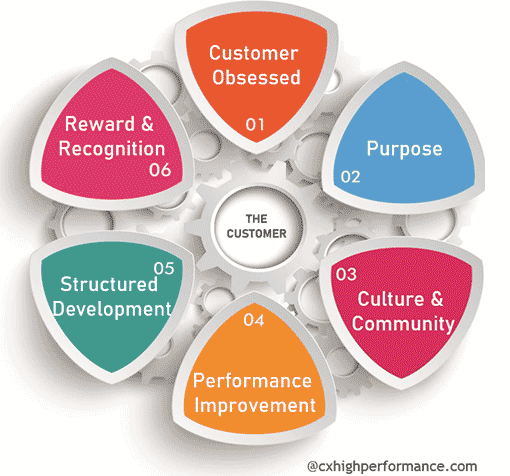 The employee engagement model has six quantifiable dimensions which, as Natalie says, "Provide a complete view of the organizational CX (customer experience) engagement and capability, based on 45 integral indicators."
But how can we as team leaders help to build this employee engagement model into our culture?
Well, the starting point, according to Natalie, is to recognize the importance of huddles.
Team Huddles
"For a traditional team leader and a strategic team leader, team huddles have become THE most important thing to get into your business," adds Natalie.
Why? Because you can run effective huddles remotely, in the contact centre and in amongst your outsourcers too – but they are something that many contact centres shy away from.
Some contact centres will say that they don't have the time. Others say that the idea may be too uncomfortable for shy advisors.
Managers tell me that they have made a significant difference in employee retention and communication.
Yet when they do it – and do it well – Natalie tells us, "Managers tell me that they have made a significant difference in employee retention and communication. Huddles are the key to that, I guarantee it!"
Even in times of incredible contact volumes, huddles can be critical, as they help to keep communication flowing.
However, there is some uncertainty regarding what makes a great team huddle. The table below shows some of Natalie's key pieces of advice, many of which can be adapted for the virtual environment also.
| Avoid | Successful Team Huddles |
| --- | --- |
| Discussion/problem solving | Engagement/purpose |
| A meeting | Briefing 2-15 mins |
| Sit down | Stand up |
| Around a desk | Away at a board |
| Ad hoc | Set day, time, place |
From many of these points, one key takeaway here is to remember that team huddles are about cultivating focus and bringing people together. They are not slow, they are quick and engaging.
Final Thoughts
"Sometimes the smallest things take up the most room in your heart."
That is a famous quote from Winnie-the-Pooh, which has such a great relevance in terms of team leadership.
As a leader, remember those things like saying "thank you", post-it notes to show recognition, and the "well done!" email. Don't lose sight of those things.
As Natalie says, "Those simple, personal and nice touches are the things your advisors will really remember most."
Good luck!
For more from us on team leadership in the contact centre, read our articles: