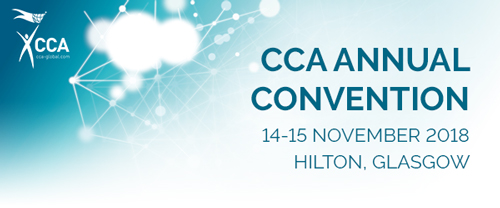 About the Event
THE DATE: 14/11/2018
Making the critical decisions about your future customer service and experience is essential for your brand's success and survival. Senior customer service executives need to be armed with the latest thinking, information and insight to make the best decisions about technology investments, people programmes and strategies.
For almost 25 years, CCA Annual Convention has been the critical voice of our marketplace, providing cutting-edge thought-leadership, proven strategies and leading examples of innovation and success. More than 15,000 delegates have benefited from participating in this ground-breaking event creating new mindsets, new approaches and new service propositions for customers.
Our future world today will support you and your brand to make informed decisions about where to invest, how to learn from others who are succeeding, what questions to ask when building your future and what clear choices you need to make to succeed.
10 things you will learn:
Our future world today – what it means for you and your brand
Who is living the future already? Examples of digital success
AI in action – how can this work for you?
Inside the minds of today's consumer and their expectations for tomorrow
How to deliver on your brand promise from one of the country's leading banks
The business of trust and its importance to your success
Strategies for managing vulnerability and mental health in the workplace
How to build an empowered and self-driven workforce
What technologies can best support your future ambitions
How to deliver agile and responsive service
THE ORGANISERS: CCA
THE WEBLINK: https://cca-global.com/content/events/?selEventID=84
Date and Time
Starting:
Wednesday 14th November 2018
Location
Date and Time
Starting:
Wednesday 14th November 2018
Location