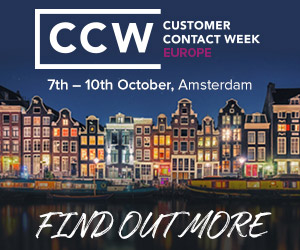 About the Event
CCW Europe 2019 is where the best practices of people, technology and process come together to deliver world-class service. Join us in Amsterdam if this is what you are looking for. You will walk away with practical takeaways and, more importantly, be inspired to take the next steps like hundreds of your peers.
In order to deliver world-class customer service, CCW Europe draws executives and advocates enterprise-wide to further explore the convergence of CX and customer contact, and the enterprise-level collaboration required for a brand to speak, act and serve with the same vision and same voice.
Download the agenda to see:
How you can enhance your future customer contact strategy
What's new for 2019?
The key to a better customer experience
The list of Europe's future shaping customer contact executives that will be joining us in Amsterdam
ZOOM will be on booth number 20 and introduce you to Elevēo – Workforce Engagement Management & Customer Experience Solutions for Contact Centers and Back Office Teams.
Date and Time
Starting:
Monday 7th October 2019

Ending:
Thursday 10th October 2019
Date and Time
Starting:
Monday 7th October 2019

Ending:
Thursday 10th October 2019