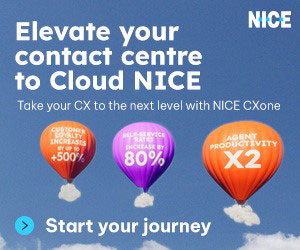 We uncover the keys to creating a great contact centre chatbot with the help of our panel of experts.
Why Have So Many Chatbots Disappointed Customers?
We've all had some disappointing experiences with chatbots. Some have provided unhelpful answers, answered the wrong query or failed to provide an answer at all.
But chatbots are not a "disappointing" technology when you use them in the right way. Marketing professionals just got too eager when they were first released, spreading misconceptions like:
Chatbots are a plug-and-play technology
Chatbots can be used in complex situations
Chatbots are great at detecting tone
Further disappointment in their potential stems from a stubbornness to admit that chatbots will inevitably need support, as it is impossible to have a pre-programmed response to every conceivable scenario.
The key is to ensure that a chatbot is capable of handling clearly defined operations and programmed to recognize when it needs support.
To find out more common chatbot misconceptions, read our article: 7 Things They Won't Tell You About Installing a Chatbot
The Key Is to Spot Where a Chatbot Adds Value
To be successful, a chatbot will work in a pre-defined scenario. This is because when we design a chatbot that is specific to a scenario, rules can be encoded much more easily.
These scenarios should not be emotional, as no matter how sophisticated a chatbot becomes, it is still a machine. It doesn't like emotional problems, it likes data and rules.
This point is discussed by Nicola Millard, a Principal Innovation Partner at BT, in the video below, in which she also discusses how to overcome some common challenges of installing a chatbot.
While highlighting that chatbots work best when steering customers through "known-knowns", Nicola gives some examples of where a chatbot might add value. These include:
Airport check-ins
Checking transport times
Making reservations
Meter readings
Tracking deliveries
Some companies have already successfully implemented good chatbots to cover these contact reasons by taking the time to train them and ensuring that they have access to lots of quality data.
3 Interesting Examples of Companies Using Chatbots
Our experts share three of their favourite examples of how organizations are using chatbots.
1. NRMA
The National Roads and Motorists' Association (NRMA) in Australia have developed a chatbot called "Arlo", a chatbot that has been designed specifically for Facebook Messenger.
Arlo started off simply, with simple, upfront responses to customer requests – but the artificial intelligence (AI) made Arlo much smarter over time.
The NRMA were also able design conversations to reduce repetitiveness, to keep customers engaged and to give the conversation a more natural feel.
The NRMA added lots of engaging elements to Arlo's make-up, including jokes and quizzes.
Yet what makes this bot unique is that the NRMA added lots of engaging elements to Arlo's make-up, including jokes and quizzes.
Another engaging feature is that Arlo appears on-screen as a koala bear which customers can give a virtual hug or even a "boop" on the nose.
The chatbot has surpassed expectations in terms of customer engagement, to the extent that 80% of users wanted to know if Arlo was "okay" during the 2019 Australian bushfires.
2. Teleflora
Teleflora, a US floral service company, deployed messaging chatbots that enabled customers to:
Browse exclusive deals and floral arrangements
Place same-day delivery requests for special occasions
Track order status
Where this chatbot becomes really innovative, though, is that all this is conveniently accessible through the customer's messaging inbox on their phone. The customer doesn't need to download a special app or search the website.
Having this capability creates a personalized experience, all while streamlining the order process through messaging instead of needing the customer to call.
3. BAC Credomatic
BAC Credomatic is a financial group that didn't just implement one chatbot but developed over 30 bots supporting 11 different services.
BAC Credomatic… developed over 30 bots supporting 11 different services.
These bots all operated within the one platform, with a built-in analytics system, which made reporting on key customer experience metrics much easier.
While they originally offered live assistance through voice, email, and SMS, customers were interested in communicating with BAC through additional channels and wanted to self-serve.
Since developing these bots, 30% of interactions are completed outside contact centre service hours. Their digital collections have also increased by 12%.
What Key Product Features Should a Chatbot Have?
There are a number of key things to look out for when considering implementing a chatbot in the contact centre. These include:
An Escalation Path – By adding an escalation path, you allow a customer simply to click a button to have their query answered on another channel if the chatbot has not done a good enough job.
Built-In Analytics – Your chatbot should include built-in reporting capabilities that will allow you to assess the performance of your chatbot over time. Treat it like an advisor.
Fraud Prevention – With biometric recognition, some chatbots now allow customers to authenticate themselves with a quick voice message or by taking a selfie.
Information Collection – A chatbot will ideally be able to store data from a customer interaction and pass that onto an advisor if the call is escalated. This prevents the customer from having to repeat information and is made possible by integrations with other contact centre systems.
Natural Language Processing (NLP) – NLP is a system that learns to recognize real language and analyse the customer's tone, allowing the chatbot to engage more conversationally.
The Future of Chatbots
Although many in the contact centre will feel uneasy about the future of chatbots, there are lots of reasons to be optimistic. Take these three for example:
Reason 1 – They help mobile operators or banks coping with outages to respond to a large volume of incoming questions very quickly.
Reason 2 – They help retail consumers get a fast and relevant response about when their package will be delivered, or what happened with the availability of their eagerly awaited new product.
Without chatbots, a customer may be waiting days or, way too often, wouldn't get a response at all.
Reason 3 – They help companies that are notoriously unresponsive to their customers to improve their service just a bit by responding automatically. Not an ideal solution, but let's say any improvement here is better than nothing.
Yet one key point is that while the technology behind chatbots is getting smarter, we must also become smarter in terms of conversational design, because sitting behind a chatbot is a lot of work to build conversations that actually work for a customer.
One way that contact centres are doing this is by using chatbots for agent assistance, as your advisors provide you with a safe testing ground – according to David Naylor, Founder of Humanotics.
"These chatbots watch the conversation that an agent has with the customer in the background and then make suggestions. So it can be quite supportive and can supercharge the agent's capabilities," adds David.
To hear David discuss the future of chatbots and other AI contact centre solutions, check out the following episode of The Contact Centre Podcast.
The Contact Centre Podcast – Episode 4:
Contact Centre Ai: What Are Your Options?
For more information on this podcast visit Podcast: Contact Centre AI: What are your options?
Final Thoughts From Our Readers
To close this article, we are going to share five best practices for using chatbots, as recommended by our readers, who have brought them into their contact centre.
1. Get It Hooked Up to the Right Resources
A bot is just an interface. If it's hooked up to the right resources, then it can be very useful.
For example, if it's linked up to a search function which has indexed all your company's documentation, it can create instant access to useful information. That can be a sure-fire way to improve First Contact Resolution (FCR).
2. Don't Overly Humanize Your Chatbot
If you're creating a chatbot, generally it's a bad idea to make people think it has the conversational abilities of a human.
By doing this, you will only encourage people to ask a whole host of unhelpful questions – so make it very clear that it's a chatbot with finite abilities. Then customers will use it as the door it's designed to be.
With thanks to Bilbo
3. Start Simple
The key for me is to not start "outside the box" when thinking about the process of building up your chatbots and start with the simplest solution and scale up.
We should also start with a focus on adding value to that customer experience and ensure that we don't move away from that as we go forward.
With thanks to Dale
4. Pass Chatbot Insights Through to Advisors
Your advisors will inevitably have to pick up conversations that the chatbot doesn't 'contain'.
When this happens, make sure that you have a solution in place which allows the transcription of the chat to be transferred over to the advisor in real time. This ensures that the customer won't have to repeat themselves.
With thanks to Nerys
5. Don't Force Your Chatbot Upon Your Customers
The most important thing is customer satisfaction, so don't force the chatbot onto your customers.
Remember that it is limited and cannot handle all queries, and some customers will always prefer to talk to a person, so don't be afraid to pass conversations over to an advisor.
With thanks to Jo
In addition to our readers, we'd like to thank our industry experts who helped supply the information for this article (photographs left to right):