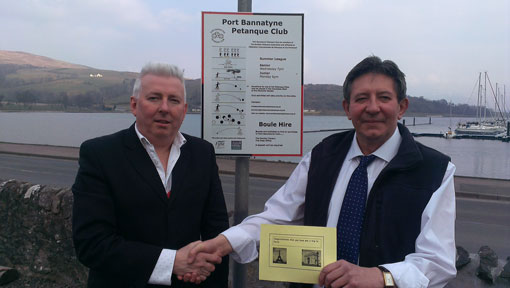 A Webhelp TSC team member is preparing for a dream break after beating off competition from hundreds of his colleagues.
Alan Rew is set to swap the company's Rothesay contact centre for Paris where he and his partner will be treated to a luxury weekend bed and breakfast break, complete with spending money.
The competition was launched in February to give staff in the UK a chance to see the home of the new global headquarters. Entrants were asked to tell bosses in 100 words or fewer exactly why they believed they and a friend deserved to go on the trip.
61-year-old Alan impressed the judges after revealing that he is the chairman of a local Petanque club on Bute. The game is quintessentially French and involves throwing hollow metal balls, known as boules, as close as possible to a wooden ball called a cochonnet.
Alan said: "I thought it was a really imaginative and engaging way of marking our new 'French Connection', and if this is a sign of things to come, then it's very encouraging! I am something of a Francophile. My family is of French descent, though admittedly a couple of centuries ago. My partner and I are thrilled to have this opportunity and will certainly make the most of our time in Paris, especially knowing what good use so many others could have made of the chance to go. As well as enjoying the sites, I plan to represent both Bute and Webhelp TSC in a few games of my favourite French pastime!"
Published On: 22nd May 2013 - Last modified: 22nd Mar 2017
Read more about - Archived Content
---