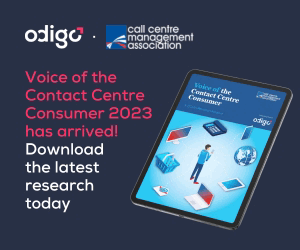 This article contains the extracted Customer Experience chapter of our 'What Contact Centres Are Doing Right Now' 2021 survey report, which was sponsored by Odigo.
What Do Your Customers Value Most?
Customers Demand Knowledgeable Advisors
According to the biggest percentage of survey participants (31.6%), knowledgeable contact centre advisors are what their customers crave the most.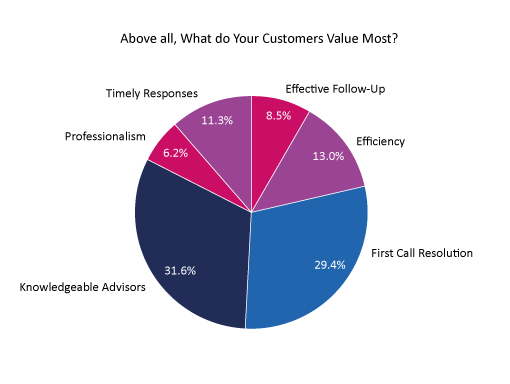 Coming in second was First Contact Resolution (FCR), with 29.4% of our contact centre professionals selecting this option.
There is an obvious overlap across these areas in terms of equipping advisors with the ability to combat queries as skilfully as possible.
Combining the two percentages, it can be concluded that six in every ten contact centres believe that customers care most about getting clear resolutions to their queries.
Response Times Ride on the Coat-Tails
An emphasis on meeting service levels has long been a significant strain on contact centres. So it was a surprise to see only 11.3% of our professionals select "timely responses".
Could this indicate that more contact centres are relaxing their service levels to prioritize resolution? Perhaps it's to overcome recruitment struggles or unexpected spikes in call volumes?
Maybe, but 13.0% of contact centres also selected "efficiency" as their top customer priority, so it's difficult to jump to such conclusions.
What Is the Most Important Element in Customer Experience Design?
Customer Feedback Drives Customer Experience Design
71.8% of our respondents believe that customer experience design should be led by customer feedback, making it by far the most popular response.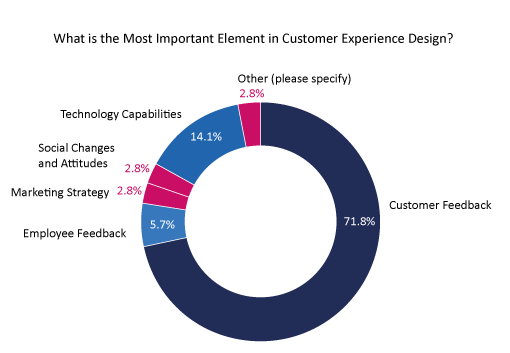 While each of the other considerations is undoubtedly important, feedback is key to understanding the existing journey and identifying pain points.
With this in hand, an organization can then create a vision for the future journey and use technology to bring it to life.
However, that isn't the only approach, as 14.1% of contact centres report "technology capabilities" to be the most important element in customer experience design. This made it the second most selected response.
How Do You Capture Customer Feedback?
Employees Are the Greatest Source of Customer Feedback
The most common method of collecting customer feedback in the contact centre is through talking to advisors, with 59.0% of operations doing so.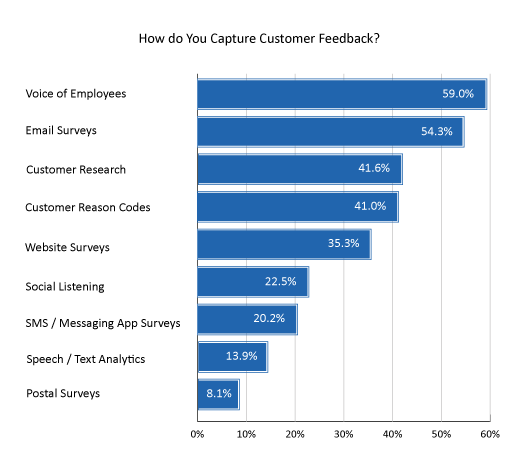 As they talk to customers all day, advisors know what frustrates them most. Organizing focus groups, running advisor surveys and even engaging in informal discussions can provide great insight. Employees will also enjoy giving you their thoughts, as it's nice to feel listened to.
So, although it topped our list, it's still a surprise to see 41.0% of contact centres shun this feedback method. It is, after all, free and effective.
Fewer Than a Quarter of Contact Centres Collect Feedback via Social Media
Social media platforms, such as Facebook and Twitter, have introduced their own analytics engines, which make social listening easier than ever.
There are also specialist social listening solutions that make it easy for companies to find out exactly what customers and non-customers are saying about them.
Taking all this into consideration, it was a surprise to see that only 22.5% of contact centres use social listening to gather feedback.
Another technique that placed lower than expected was call reason codes, with only 41.0% of our professionals selecting this option. This perhaps underlines a lack of trust across the industry in disposition data.
When Improving Customer Experience, Where Do You Think Organizations Can Get Maximum Value for Money?
Self-Service Is the Golden Goose of Customer Experience
Well over a third of respondents (36.2%) believe that advancing self-service capabilities within the customer experience will likely achieve the biggest return on investment (ROI).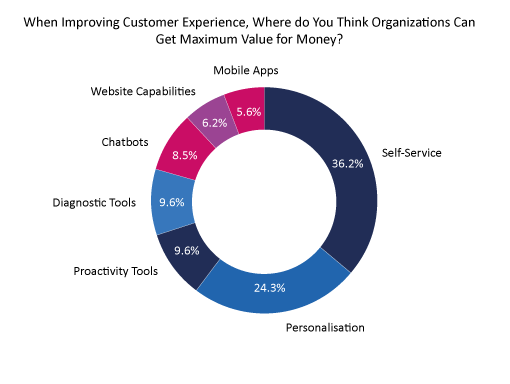 As the digital revolution takes hold of the contact centre industry, the option not to engage with an advisor appears to be the most attractive, as customers seek simplicity.
Alongside self-service, personalization seems to be another area that's delivering ROI, with 24.3% of contact centres stating that they believe this delivers maximum value for money.
Are Website Capabilities Being Undervalued?
Surprisingly, only 6.2% of contact centres believe that enhancing website capabilities drives the most value for their operation – especially as the smartphone is now most customers' channel of choice.
Of course, other answers – such as chatbots and self-service – do have other permutations for the company website, yet the percentage still seems low.
What Growth Channels Does Your Contact Centre See as Critical Growth Channels for Customer Experience?
Full Steam Ahead With Self-Service
Supporting our previous findings, self-service seems to be top of the priority list for most contact centres, with 62.2% of participants pinpointing it as a "critical growth channel".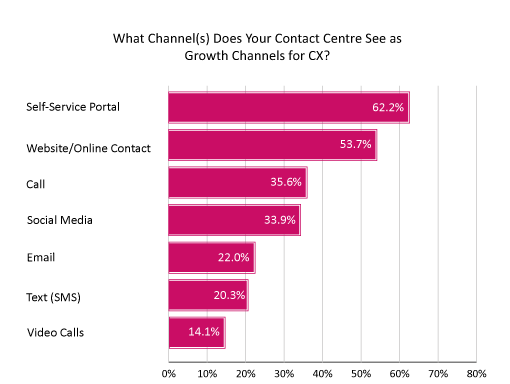 Also at the top of the list are online channels of contact, set on the company website (53.7%). This will likely include live chat, a channel that more and more operations are now implementing.
Finally, the third most "critical" channel was good old-fashioned phone calls (35.6%). After all, this channel will almost always be the go-to method of contact for emotional or complex problems.
Email Outscores Messaging
With the increased adoption of channels including Messenger, WhatsApp and WeChat, it's perhaps a surprise to see email above messaging.
In fact, only 20.3% of industry professionals underlined messaging as a critical growth channel. Email, on the other hand, was viewed as such by 22.0% of contact centres.
While the hype surrounding asynchronous messaging platforms has been strong, this research suggests that contact centres are yet to perceive great value from the technology.
Follow this link to view the full Call Centre Helper survey report 'What Contact Centres Are Doing Right Now'.
This survey was done in partnership with Akixi, NICE, Nuance, Odigo, Poly and ProcedureFlow.
Related Research
To download the full copies of our 'What Contact Centres Are Doing Right Now' survey reports follow the links below:
You can also download the full copies of our 'Is Your Contact Centre Delivering Exceptional Customer Service?' survey reports by following the links below:
For more great information, check out our other Contact Centre Research