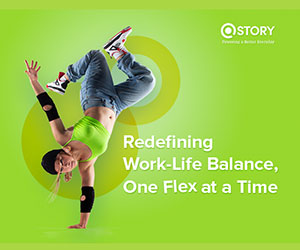 This article contains the extracted Workforce Management Chapter of the 2020 survey report 'What Contact Centres Are Doing Right Now', which was sponsored by Business Systems.
What Equipment Do You Use for Forecasting and Scheduling?
Spreadsheets Still Dominate WFM
Over two-thirds of contact centres (66.8%) are still using spreadsheets for WFM. Many will use these in combination with an Erlang calculator – a tool used by almost half of contact centre operations.
While many of these contact centres will be happy to continue using spreadsheets for WFM, it is very tricky for most to add flexibility to schedules, unlike in many modern WFM systems.
Perhaps most surprising is the old pen, paper and whiteboard combination, in use by 13.4% of contact centres. Old-fashioned methods do sometimes work remarkably well.
Many WFM Systems are Still On-Premise
While most agents have moved into remote working and the cloud, many WFM systems remain on- premise, indicating that many contact centres are still perfecting their work-from-home strategies.
In fact, almost half of contact centres with WFM systems have left their technology on-premise, perhaps highlighting that they plan to move back to the contact centre once the pandemic ceases, either in a hybrid or "full contact centre" environment.
How Far Off Were Your Contact Centre Forecasts in the Past Month?
Forecast Accuracy Has Recovered
Despite a hectic start to the year for contact centres, the industry on the whole is back on track in terms of how it is predicting contact volumes.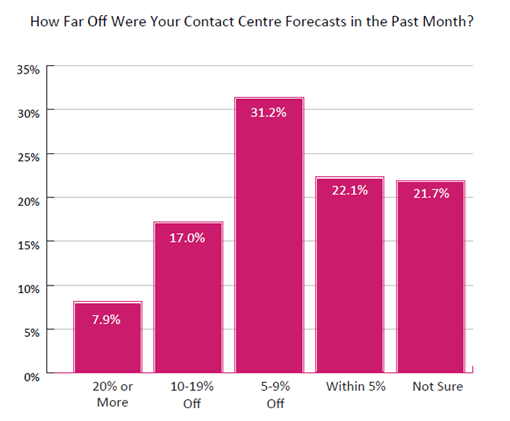 Over half of the industry professionals that we surveyed (53.3%) reported that their contact centre forecasts were accurate to within 10% over the past month.
Another positive finding from this poll is that only 7.9% of contact centres had a forecast accuracy that was more than 20% off.
As the future for many companies is very hard to predict due to the COVID-19 outbreak, this is a very positive result, although these 7.9% of contact centres will likely need to experiment more with other forecasting strategies or refine their existing model.
What is Your Biggest Scheduling Problem?
Forecast Volatility is Causing Scheduling Chaos
The biggest challenge facing the WFM team in terms of scheduling is forecast volatility and peaks in contact volumes.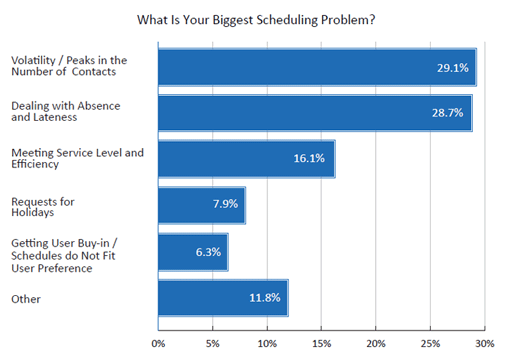 If you also consider, from the previous question, that 24.9% of contact centres recorded a forecast accuracy mismatch of above 10% last month, we can see the challenge that COVID-19 has posed to resource planners in certain organizations.
Absence and Lateness is Also a Key Problem
It seems as though the switch to remote working has not removed problems with absence and lateness in the contact centre industry.
In reality, this age-old problem is still causing headaches across the industry, including for planners, with it being the biggest problem for scheduling in 28.7% of contact centres.
What Strategies Have You Implemented to Improve Schedule Adherence?
Contact Centres are Using Multiple Methods to Improve Schedule Adherence
It is great to see contact centres adopting a wide range of measures to improve schedule adherence, with the most popular option being to set targets for the metric – as 48.2% of contact centres do.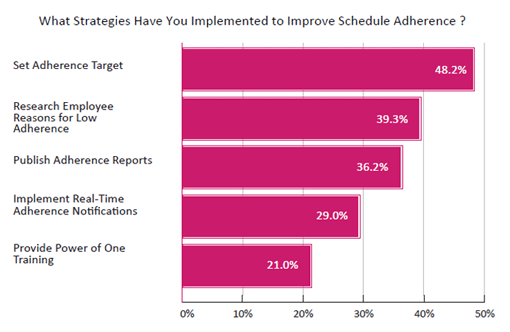 This is a classic strategy to help educate agents on the importance of being on time in the contact centre, as is publishing adherence reports – which a further 36.2% of contact centres do.
Yet arguably the most promising finding is that 39.3% of contact centres are researching what is causing low schedule adherence in their centre and acting on the results. This is a great way to move beyond generic advice to uncovering solutions unique to you.
But Power-of-One Training Seems Undervalued
Power-of-one training can be very effective in improving schedule adherence, but it is only being coached in just over one in every five contact centres (21.0%).
This training is often run by WFM professionals, who coach agents about the difference that one absent
agent has on everybody else's workload.
How Do Employees in Your Contact Centre Engage With Your Planning Team?
Email, Email and More Email
While we put this out to our survey participants as an open question, the same answer kept popping up time and time again: email.
However, there were also some other communication channels that were being used to connect agents with the WFM team. These included:
WhatsApp
Video communications
Slack channels
Communication platforms
Specialist HR systems
No one likes to get bogged down in email, so the option to video call or send an instant message to a planner can be a refreshing change.
Also, having a specialized Slack channel or communication platform can work well. Agents can use these to swap shifts with one another, and the WFM team can monitor them instead of responding to every individual request.
Team Leaders are Acting as Middle Men
A surprising number of contact centres reported that agents have no direct communication with the WFM team and that all of their requests go through the team leader.
The WFM team can learn a lot by trading places with leaders and taking on their task – so they can better communicate their key messages with the team. Or they could just automate the process…
There are Also Specialist WFM Systems, of Course
A few of our survey participants told us that their agents can engage with the WFM team through a specialist app, on both their desktops and mobile.
These sophisticated apps allow agents to easily trade shifts, update availability, call in late or sick and ask for holiday, all while seeing how this impacts the contact centre operations.
Follow this link to view the full Call Centre Helper survey report 'What Contact Centres Are Doing Right Now'.
Alternatively if you are interested in a specific chapter read one of these extracts next:
This survey was done in partnership with Business Systems, Jacada, Voci Technologies and Vonage.
Related Research
To download the full copies of our 'What Contact Centres Are Doing Right Now' survey reports follow the links below:
You can also download the full copies of our 'Is Your Contact Centre Delivering Exceptional Customer Service?' survey reports by following the links below:
For more great information check out our other Contact Centre Research