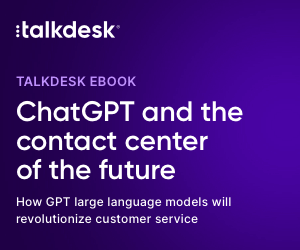 Celia Cerdeira at Talkdesk explores how fielding customer requests is an essential aspect of keeping clients happy. Unfortunately, this has become a much more difficult task over the years.
Technology has improved our ability to reach new customers, but in doing so, it has also increased the need for proper support. Trying to handle this manually can be a difficult endeavor, and that's why more organizations are opting for customer service software.
From simple tasks like maintaining accurate client data to functioning as a full-fledged support team even when your employees aren't on the clock, these software suites can take your customer experience game to the next level.
The customer service software as a service (SaaS) industry has exploded in recent years. At Talkdesk, we've remained at the forefront of this revolution by offering customer service software solutions to meet the needs of any organization.
Nearly two-thirds of consumers say they're willing to pay more for products and services if a brand is known for great support, and over 95% say that a helpful support team is a top priority when choosing who to do business with.
Customer service software can help you succeed in ways you never thought possible, and doing so is now easier and more affordable than ever.
This guide has all you need to know about customer service management software.
What Is Customer Service Software?
Providing great customer service has been a hallmark of successful businesses throughout history. Consumers typically have multiple options for everything they purchase, so it's not enough to just manufacture a product or provide a service.
People want to know that their issues will be handled efficiently, and a customer service team is the only way to accomplish this.
With the sheer amount of customer queries inundating modern companies via multiple channels, handling customer issues manually is simply no longer viable.
This is where customer service software comes into play. By using help desk software and other forms of service platforms, it's possible to queue requests on a ticketing system, consolidate messages, efficiently direct calls, and so much more without a human agent playing any role whatsoever.
There are a variety of customer service software tools available, but they're all geared toward optimizing the customer experience and boosting productivity among your support team.
This is done by giving clients intuitive automated systems to use and removing the need for customer service agents to handle repetitive and tedious tasks.
What Is Support Software?
Customer service software improves the customer experience. While support teams do benefit from these tools, they are built to improve customer interactions.
On the other hand, support software specifically focuses on the necessary tasks performed by live agents. These platforms were designed with technical assistance teams in mind, and they often offer features such as device monitoring, remote meetings, easy file transfers, and remote access.
It's important that support software is able to integrate with customer service tools. A lack of integration can interfere with functionality, and this can lead to negative client experiences. Unfortunately, it doesn't take many of those before client retention starts suffering.
Even worse, upset customers are very likely to spread the word to friends, family, social media and the Internet at large.
This can interfere with your ability to reach new customers. Integration between support software and customer service software solutions will ensure your employees and clients are both having fruitful experiences.
Types of Customer Support Software
Customer service solutions have come a long way over the years. From maintaining accurate customer data to handling issues using artificial intelligence (AI), these platforms can perform tasks that once occupied large portions of time by service agents.
One of the best things about customer service software is just how many types are available. Many of these come in the same software packages, and when they don't, choosing the right platforms will ensure smooth integration.
The best customer service software tools perform a variety of tasks, and they often fall into one of the following six categories:
1. Customer Relationship Management (CRM)
Many companies don't use any customer service software other than CRM tools. This doesn't mean they wouldn't be better off using additional resources, but it does indicate just how powerful CRM software can be. These platforms essentially track all relevant data and customer interactions with a company.
By providing support teams with the ability to access all customer data—including prior issues the client may have had and conversations they've had with other representatives—CRM programs make it easier to manage customer relationships and identify ways to enhance their experience.
Even more importantly, such data can also help improve outreach and customer communication with other clients and potential prospects.
2. Automated Phone Systems
Automated phone support is another increasingly essential customer service tool. From interactive voice response (IVR) systems to virtual agents, this technology offers an amazing support tool that enables customer self-service while leaving support teams free to handle more complex tasks.
As part of a customer service software suite, automated phone support can improve the customer experience.
There are lots of options out there that use machine learning and artificial intelligence technology. This means mundane and repetitive customer needs can be handled through the phone system, but the platform can also escalate issues to live agents through language recognition and keyword identification.
3. Messaging and chat tools
Messaging and chat tools have become some of the most popular types of customer service software in recent years. These resources offer support via a messaging system or live chat box.
Depending on the type of system used, such tools may only respond to common questions or even connect clients and prospects directly to a live person.
This resource—which often comes as a feature to customer service software suites—allows consumers to choose how they want to interact with a company.
4. Knowledge Bases
Some consumers prefer to handle simple issues on their own. An up-to-date knowledge base can help them do just that. These databases are typically composed of FAQs and instruction sets compiled by employees.
This offers two major benefits.
One, clients who don't feel like speaking with support can find the help they need on their own.
Two, it frees up employees to provide high levels of customer service quality to those who prefer one-on-one care.
5. Shared Inbox Software
Before implementing service desk software, many companies try shared inbox platforms. As part of a customer service software suite, this tool is a powerful resource.
Even on its own, though, it's able to improve customer satisfaction and foster a collaborative environment. This is because team members all have access to the same inbox and can work together to solve issues.
The fact is that customer requests are often complex, and they would frequently benefit from the shared experience of all team members.
Having access to the same messages also allows customer support teams to gather more information regarding a client's questions, complaints, and inquiries than they would in an individual workspace.
6. Help Desk Software
Help desk software creates a ticketing system that lets customers submit their issues and ensures the ticket is forwarded to the right support team member.
This is an improvement over CRM as a customer service software suite—mostly because it improves organization and simplifies responses for products that require a high degree of customer support.
Advantages of Customer Service Software
Customer service software enables businesses to do more than ever. Every tool in these programs focuses on improving client experiences.
The benefits of these platforms, however, go far beyond improvements to the customer journey. Here are just a few of the most important advantages you'll get—along with why they're essential for every successful business.
Boost Productivity and Performance
When your service agents are freed up from simple and tedious tasks, they can focus more on complex issues that software may be unable to handle.
Imagine a situation where three of your top agents are stuck on the phone updating customers with basic information or dealing with a task that a chatbot could handle in seconds.
Now imagine that a customer is stuck on hold with a complicated issue that could lead to significant problems for other clients.
It's best to have your top employees offering real customer support solutions rather than handling mundane tasks.
Improve Agent Experience
Happy employees are more productive and efficient. This is a fact that executives and managers often overlook when thinking of new ways to improve their bottom line. Fortunately, this is something that customer service software platforms can assist with.
By removing repetitive tasks from an employee's list of responsibilities—and providing the support software to simplify their jobs—you'll be able to keep workers motivated and improve their experience. This is good for the company, the client, and the support agents.
Reduce Costs
The best customer support solutions reduce overall costs to a company. That's because they free up resources and remove the need to pay employees for handling mundane and repetitive tasks.
And when a customer can handle their own issues through self-service software, that's money you're not paying to an employee for dealing with problems that have simple solutions.
Monitor Interactions Like Your Normal Customer Service Team
When clients call in or use messaging apps to speak with live agents, supervisors periodically monitor their conversations.
Even if this isn't done live, these interactions are frequently archived for possible future review. This shouldn't stop just because the automated system or virtual assistant in your customer service software is handling the issue.
By reviewing such interactions, you can ensure clients are getting what they need. And with human-in-the-loop technology that allows customer service agents to fine-tune the accuracy of AI models—with no need for coding knowledge or data scientists—to improve the customer experience.
Essential Factors to Consider When Choosing the Best Customer Service Software
There are plenty of customer service software platforms to choose from. As you can probably guess, though, they're not all created equally.
Even among the best customer service software options out there, there will be a better choice for your organization based on your unique needs.
Here are two of the most important considerations to account for—along with a list of features you should ensure your eventual choice in platform offers.
1. Types of Call Centre Software
Just like there are multiple types of customer service software, there are also different types of call centre software.
2. Technical Support
This entire guide focuses on the importance of providing superior support to clients, so why wouldn't you demand the same from the vendors that you're working with? A solution that offers exceptional tech support with features like:
Automatic call distributor (ACD)
Interactive voice response (IVR)
Automated workflows
Power and predictive dialer
Voice and screen recording
Workforce management tools
One single dashboard
Business intelligence
Customer service software enables businesses to better serve their clients. If you've been doing things a certain way for a long time, though, it's understandable that you may be hesitant. You've maintained customer loyalty over the years with the same platform.
This blog post has been re-published by kind permission of Talkdesk – View the
Original Article
For more information about Talkdesk - visit the
Talkdesk Website