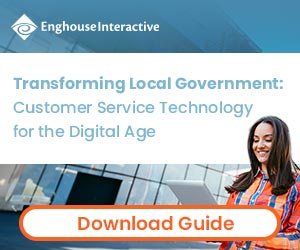 Helen Billingham of Enghouse Interactive explores some of the key trends that are expected to impact customer experience in the next year.
We have reached that time of the year when people review the highlights of the past 12 months and preview the next 12.
In customer service, one of the biggest trends of 2019 has been the evolution of self- and automated service models. But how will that change in 2020?
Here are four trends that may start to impact the contact centre industry in the year ahead.
Trend 1 – The Power of 5G
The power in people's pockets from the latest mobile phones – now capable of 5G data transfer and speed – has increased the ability of the customer to self-serve.
As we look ahead to 2020, that 5G-driven power will see customers increasingly using mobile as a primary channel for interaction with organisations.
Recent Salesforce research indicated that 51% of customer service teams use mobile apps, compared to 82% of customers who use mobile apps for communicating with a company.
To embrace the power of 5G we expect to see organisations look to get further up to speed in 2020 by making investments either in a new app or in functionality within an existing one.
An example might be a bank that already has its own mobile app but adds callback functionality into its webchat capability to improve the service customers receive over mobile.
Trend 2 – Driving Anywhere, Anytime Services Through UC
Unified communications (UC) environments will continue to gain more ground during 2020 and allow not just employees within the organisation but customers and also third-party partners, contractors and affiliates to be part of the customer service process.
With this backbone technology in place, agents will be able to roam free, work from home or from out in the field.
At Enghouse Interactive, we expect a big increase in this kind of working during 2020.
Organisations will be able to bring more people from different businesses into the conversation but also have that conversation anywhere at any time.
Trend 3 – A Connected Experience
Not many organisations can give customers a truly connected experience today, but capability will increase during 2020.
Historically, when customers have switched between agent, webchat and browsing the website, much of the contextual information has been lost every time they changed channel.
Over 2020, we will see more contact centres incorporating the ability for businesses to pull context with them as their customers toggle from one channel to the next.
In line with this, we will see contact centres more effectively using so-called 'escape hatches', enabling them to escalate the customer out of a digital journey and into more of a human one.
At the same time they need to ensure information gathered earlier in the journey is captured and used to enhance the interaction.
Trend 4 – Refining the Journey
In 2020, we should see more smart organisations mapping customer journeys, layering in bots, automation and AI but also bringing in specialist skills to support these journeys as required.
The technology behind the connected enterprise is to bring in people with specialist skills as needed, whether in technology, problem solving, negotiation or some specialist content area.
This is an evolution of the 'super-agent' concept which was a popular topic of conversation a few years ago.
Today, instead of individual agents being trained to deliver all these roles in one, the thinking is instead to bring in people across the wider ecosystem with specialist capabilities who can help where needed.
We expect to see many more examples of this being put into practice during 2020.
We anticipate all the above trends will create a real stir in customer service circles in 2020.
What is yet more certain is that customer service continues to evolve at breakneck speed.
New trends arise all the time and it is likely that some unheralded development will emerge to sit alongside these and steal at least some of the headlines next year.
This blog post has been re-published by kind permission of Enghouse Interactive – View the
Original Article
For more information about Enghouse Interactive - visit the
Enghouse Interactive Website