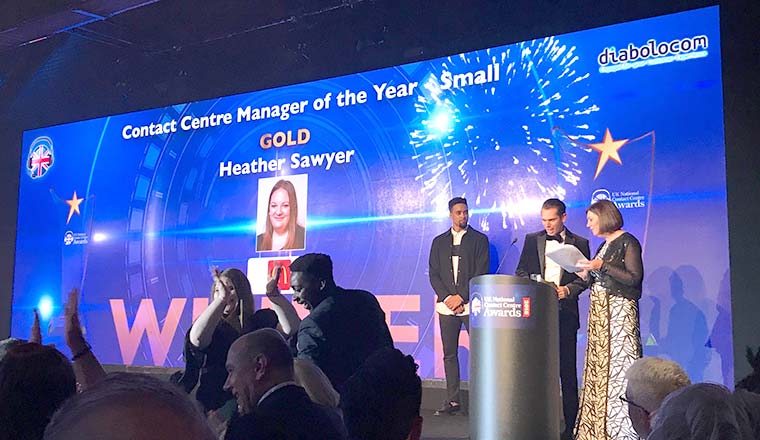 The recent Call Centre Management Association's (CCMA) UK National Contact Centre Awards were held in London on 15th May 2018.
The prestigious awards, now in their 23rd year, recognise not only organisations but also those individuals and teams working in UK contact centres who are leading the way in the industry.
Cloud contact centre solution provider and telecoms operator, Diabolocom was proud to attend the event and sponsor an award in the Contact Centre Manager of the year category.
Established in Paris in 2005, Diabolocom has recently launched operations in the UK, opening its first London-based office at the end of last year.
Diabolocom founder and CEO, Frederic Durand, who attended the ceremony and Gala Dinner, said of the event: "We were absolutely delighted to sponsor an award at the UK National Contact Centre Awards this year. The event is an important date in the UK contact centre diary and recognises a commitment to professionalism in the industry."
"The awards have an excellent reputation across the sector for recognising exceptional performance and service in UK contact centres, and the judges put entrants through a comprehensive process."
The awards Gala Dinner took place in the glamorous setting of The Brewery, London, with more than 700 guests in attendance, with finalists coming from organisations of all sizes, from all over the country.
The awards are the longest established in the UK contact centre sector and are aimed at recognising exceptional professionalism and standards in the industry.
"At Diabolocom, we firmly believe the calibre of staff and training in contact centres can have a huge impact on the service delivered to customers and businesses."
"It was a very enjoyable evening and we are extremely proud to have had an opportunity to be involved and support an event focused on enhancing the reputation of contact centres," concluded Durand.
To find out more about Diabolocom, visit: www.diabolocom.com
---