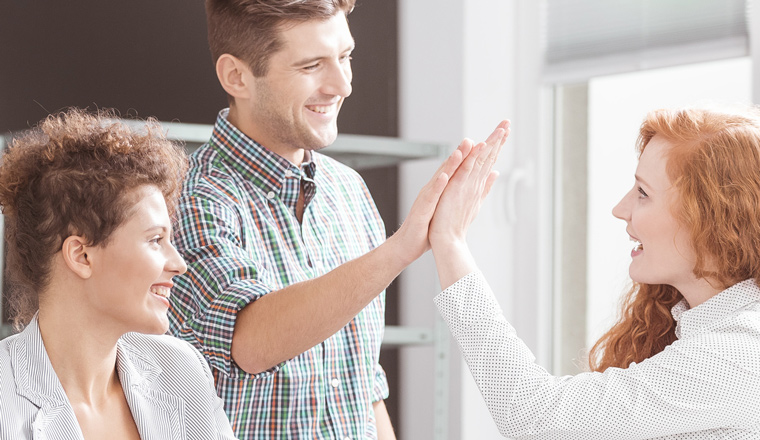 If your employees are satisfied with their jobs, you might be in trouble.
I realise that sounds wrong. It seems as if employee satisfaction would be one key performance indicators for your organisation.
But, in today's competitive job market and customer experience landscape, employee satisfaction just isn't enough.
What you need to hold on to your team and have them deliver on the brand promise you made to your customers are engaged employees.
Not only that, but also you need some champions of the employee experience, what we call in our global customer experience consultancy, Employee Ambassadors.
The Difference Between Satisfied Employees and Employee Ambassadors
Satisfied employees are excellent.
They do not complain. They do what they are supposed to when they are supposed to do it. They are pleasant and productive. They feel adequately compensated for the work they provide and are pleased with the work environment they inhabit.
Employee Ambassadors, however, are better than excellent; they are influential in their excellence.
They do not complain, and they gush about how much they love their job. They do what they are supposed to do when they are supposed to do it, and then they do even more, going above and beyond what you expect. They innovate. They further company goals. They are not only pleased with their work environment they inhabit, but they also celebrate it.
And, perhaps most importantly, Employee Ambassadors recruit other employees to feel as enthusiastic about work as the ambassadors are. Satisfied employees don't do any of these things.
For these reasons, identifying these Employee Ambassadors is vital for an organisation.
However, they are usually easy to spot; they are the most upbeat and active members of the team.
They typically comprise about 20% of your staff. They are also committed, in these three ways:
1. Committed to the Organisation –  Employee Ambassadors are enthusiastic about the company and the different aspects of the company culture.
2. Committed to the Value Proposition – They are also passionate about the mission and are willing to do whatever it takes to achieve its expressed goals.
3. Committed to Delighting the Customer – Ambassadors will do everything they can to deliver the brand promise to customers while delivering the highest values in product and services.
Why Employee Ambassadors Are Essential to Business Today
Last year, Millennials (individuals born in 1981 to 1997) officially became the biggest part of the workforce.
Millennials have surpassed both the Baby Boomer generation (people born in 1946 to 1963) and Generation X (individuals born in 1964 to 1980).
Millennials are also the least engaged generation at work. Gallup reported in 2016 that only 29% of the Millennials said they were engaged at their jobs, meaning the remaining 71% said they aren't.
This statistic means that nearly three-quarters of the youngest people in your organisation are just not that into you as an organisation, leaving management feeling like they just can't even.
It's clear. Employee satisfaction just isn't enough.
This statistic also foretells of an opportunity for organisations to identify and nurture the 29% of your young workers that are engaged.
If you can scoop up these potential employee ambassadors and harness their positive energy into a leadership-type position for their millennial counterparts – and any less-than-enthusiastic Baby Boomer or Generation X co-workers too, for that matter – you could have a fantastic employee experience.
And, fantastic employee experiences lead to fantastic Customer Experiences.
After all, why should your team only be satisfied with you when they can be enthusiastically engaged somewhere else?
This blog post has been re-published by kind permission of Colin Shaw – View the original post
Published On: 3rd Aug 2017 - Last modified: 22nd Sep 2017
Read more about - Archived Content
---