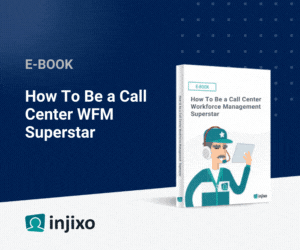 We look at how you can better adapt your plans for implementing WFM software, for a more successful implementation.
Getting the Best Out of Workforce Management Software
Call centre management would be so much easier if people had exactly the same working preferences and abilities, and took only pre-arranged time away from the business. But agents aren't identical. In this article, Simon Angove looks at how technology – in the form of workforce management (WFM) – can help.
Not so long ago, workforce management software should have been called 'forecasting and scheduling software'. At the time, it did little else. The label 'workforce management' was much too complex for the simple processes it carried out.
A quick search through Google will reveal hundreds of organisations claiming to offer workforce management solutions, but a more detailed look behind their offerings shows that many of them are little more than expensive automated spreadsheet systems.
A robust workforce management solution will put the right people in the right place at the right time, performing the right tasks and therefore enabling managers to focus on improving the customer experience and reducing costs.
Today when a contact centre organisation looks at starting a workforce management project, maintaining or enhancing control over staff with a view to fulfilling customer service goals inevitably lies at the heart of the decision.
Driven by escalating costs, more complex working practices and higher customer expectations, management want to eliminate risk, reduce costs and increase visibility to what staff are doing.
They also want to be sure that resources are spread in the most efficient way possible – a requirement that becomes more commonplace as contact centres grow and time-intensive spreadsheet processes become evermore complex.
So, what can a contact centre manager expect to find in a robust workforce management solution?
Automated and Accurate Demand Forecasting
Far beyond basic employee scheduling software, a workforce management solution needs to automate demand forecasting.
Accurate demand forecasting needs to consider more than just the average number of calls presented; day of week, week of month, seasonal variation, trending and conditional forecasting criteria are all critical elements of a robust workforce management solution. Also required is the ability to forecast for non-standard phone-related work – for example, emails, outbound and administrative workload.
Look for "forecast integration", 'workload generation', 'auto-scheduling' and 'managing exceptions' when buying your solution. Terminology such as this will help to ensure that you will be able to automate demand forecasting with ease.
Optimised Schedules
A workforce management solution will offer resource planners the capability to schedule staff based on their skill, proficiency, preferences and those business rules required in the contact centre, thus removing the requirement to move staff schedules around at short notice.
As unpredicted changes in demand occur, the solution needs to be flexible enough to allow managers to make real-time decisions and adjustments to protect service level goals.
These decisions need to be facilitated by tools that accurately highlight where the gaps are and simply identify staff to fill them.
With this in mind, look for "dynamic rescheduling", "schedule adherence" and "managing shrinkage".
Employee Empowerment
It is a natural consequence of any resource planning process that staff will need to interact with it. In a manual environment this is often a process of long email trails, endless personal visits to the planning team and lots of time away from the phones.
A good workforce management solution will incorporate the requirements of employees and so significantly reduce administrative time for resource planners and team leaders, while increasing the time agents spend on the phone delivering the business.
Look for 'capability to view schedules', "update availability", "request time off" and "manage individual performance".
For more on this topic, read our article: The Truth About Agent Empowerment (You Are Probably Getting It Wrong!)
Performance Management and Analytics
Most workforce management solutions will come with a reporting toolkit. The better solutions, however, will have a range of options to meet the needs of all types of users – from simple report viewing to powerful analytics that can be easily integrated in to your existing performance management and process improvement methodologies.
Seek out terminology such as: "customisable reporting", "scorecards", "benchmarking" and "analytics" when considering this particular facet.
For more on better managing performance, read our article: 10 Ways to Improve Call Centre Performance Management
Strategic Planning
Organisations grow and evolve over time, expanding in to new sites, taking on new areas of business and changing working practices. This can often be a time when usual business practices are tested and 'quick fix' reactive responses are made to manage unpredicted changes in performance and resource requirements.
A good workforce management solution will have advanced features that allow you to model changes ahead of time and make informed decisions about resourcing, costs and best actions during the planning stages of a change project.
Look for "budgeting", "scenario planning" and "process modelling" to help facilitate this.
Secrets to a Successful Project Implementation
Ultimately, a great workforce management system relies on the data held within it and many implementations fail as a result of organisations spending too little time at the development stage.
Before selecting a workforce management solution for the business, it is crucial to understand your business requirements fully and explore all scenarios to ensure that the software will deliver on these expectations. Some suggestions of what to consider may be:
Involve all aspects of the business during the early stages of the project – including resource planning teams, HR, marketing, staff associations, IT, employee focus groups, and the various levels of the management. It is imperative to understand the very different concepts held between different groups in order to truly understand the business requirements.
Identify the 'must have' and 'desirable' features based on your findings above. Re-confirm these with all of the various groups before moving forward. If you cannot agree, it is unlikely that you will find a solution that meets each set of expectations.
Do your homework. Research those companies that appear to have more than just a functional understanding of their solutions. Do they take time to learn about your business? Are they able to show how their solutions can meet your teams' concepts and expectations? Do they have a track record of satisfied customers? If they have to convince you that you need all or part of their solution, you probably do not.
Beware of solution providers offering huge discounts to win your business – it is a good sign that the price was 'not fair' to begin with. The best solution is not always the cheapest; it is the one that best suits your business requirements. When comparing pricing, ensure you understand exactly what is in and what is out for each vendor. What are the hidden costs? Consider and ask what happens to the discounting on licensing once you are a customer.
Do not be afraid to ask solution providers to evidence their claims, using data from your environment if necessary. If they claim to be the industry's most accurate forecasting tool, ask them to evidence their claim. If it is true, it will be easy for them to do.
Finally, once you have selected the right solution, invest your people and their time in implementing it successfully. A good solution provider will always support you through this process. They should be your 'arm on the elbow' as you integrate their solution in to your working environment. Above all, they should be able to share best practice ideas and specialist industry knowledge to ensure you meet your goals.
Evidence of Success
The impacts of a successful workforce management project will be visible across all areas of the organisation. Customer satisfaction will increase, costs will go down, performance will improve and staff will be happier.
Take West Midlands Police, for instance. It has delivered some impressive results since deploying its workforce management system and has facilitated the introduction of flexible working.
Now, demand is better understood and schedule fit has improved from 49% to a target of 85%, making a net saving of £94,000 in the first year alone.
Since implementation, the overtime budget has only been necessary to cover public holidays, with an approximate annual saving of £50,000 – an 80% reduction in overtime costs.
Staff turnover has improved from nearly 16% to less than 2%, and attendance is up to 96%. This has positively affected the service West Midlands Police provides to its customers and public satisfaction with call handling has increased from 85% to 96%.
Whatever the driving force behind a contact centre's decision to deploy a workforce management system, the investment will always be looking to increase company productivity and improve customer service.
As a result, it is vital to consider requirements carefully before selecting a system. If planned and resourced correctly, a workforce management system will help organisations to not only match demand with resources, but also provide flexible working options to staff and ensure that the contact centre meets its goals.
Thanks to Simon Angove for providing many of the insights that have been included in this article. 
For more advice on better utilizing Workforce Management (WFM) technology, read our articles: