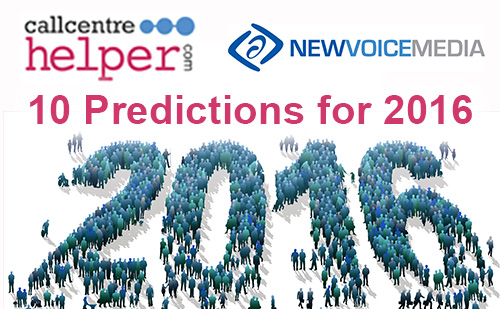 In this webinar, our expert panellists looked into the future and made their predictions.
Agenda
Introductions – Jonty Pearce – Call Centre Helper
Martin Hill-Wilson – Brainfood Extra and Tim Pickard – NewVoiceMedia
Topics to be discussed
What is likely to happen to contact centres
Predictions for the future
The growth of webchat
Generation Y, the Millennial Generation and Generation Z
What will be the channel mix in the future?
The possible changes in the use of metrics
Motivating and inspiring a future workforce
The latest innovations in technology
Top tips from the audience
Winning Predictions: "We will see more simulation / gaming training in the call centre (improving "transfer" of learning to job) as well as use of voice analytics to assess call quality (reducing the labour required to monitor calls for quality)."Thanks to Kathryn6.
Original Webinar date: Thursday 14th January 2016
---