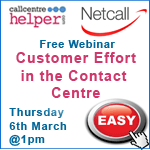 Customer Effort has become the latest metric of choice for the contact centre.  It is being used by many of the forward-thinking contact centres.
In this webinar we explored the concept of customer effort and how it can be best used within the contact centre.
Agenda
Introductions – Jonty Pearce, Call Centre Helper
Richard Snow, Ventana Research – Customer effort – what is it?
Richard Farrell, Netcall – 5 Steps to providing effort 'less' engagement
Richard Snow, Ventana Research – How to measure Customer Effort
Winning tip – "Maximize on customer survey feedback from various channels of communication. With regard to improvement, perhaps include a "You asked, We Did". Show the consumer that their opinion matters."  Jacob3
Interactive Q&A – Live questions from the audience
All tips from the webinar have now been written up into the following article "25 ways to reduce Customer Effort".
Topics to be discussed
Customer Loyalty
Customer Effort Scores
How it works, how best to use it
CSat vs NetPromoter vs Customer Effort
What is the best contact centre metric?
Common criticism of Customer Effort
Common pitfalls to avoid
NetEasy score
Your chance to share your own experiences and ideas
Original Webinar date: March 2014
---