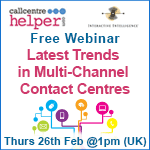 Click here to view the replay
In this webinar, we looked at what is happening in multi-channel contact and how best to deal with it.
Agenda
Introductions – Jonty Pearce, Call Centre Helper
Simon Foot – Ember Services
Mike Murphy – Interactive Intelligence
Topics discussed
The latest thinking in multi-channel customer contact
The difference between multi-channel and omni-channel
The rapid growth of webchat
The best service levels for multi-channel contact
How video is emerging as an exciting new channel
What will the channel mix look like in 5 years?
Creating a universal queue
Ways that technology can improve multi-channel contact
Top tips from the audience
Winning Tip: "Embrace the wolves! Keep watching them, listen to them, pretend to be them and build practical but adjustable routes for them to embrace you back".  Congratulations to Nerys5
Original Webinar date: February 2015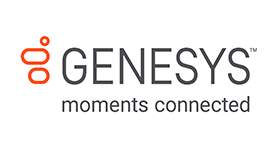 This webinar was brought to you by Call Centre Helper and is sponsored by Genesys.
Click here to view the replay.
---