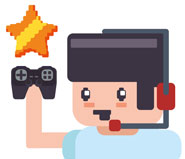 The latest version of Verint's WFO software features new gamification capabilities. 
This release comes at a time when market adoption of performance management software is projected to rise.
In a recent survey led by Saddletree Research, 22% of respondents identified performance management as the most likely solution to be replaced in 2016.
Verint Performance Management features a unified set of dashboards, scorecards, coaching, e-learning and gamification capabilities.
This latest release features a new user interface that supports visualisation, data exploration, and analysis of employee and company-wide performance, providing insights that support time-sensitive decision making and actions.
The solution also features scorecard workspaces that offer performance summaries and overviews, heat mapping, performance comparisons and multiple views of key performance indicators (KPIs).
Using these scorecard workspaces, users can identify answers to employee engagement questions, such as:
Which employees are meeting and exceeding goals and which areas need improvement?
Is the performance of employees consistent across time?
Where is performance improving and declining?
How do peer comparisons map and trend?
How does the performance of individual employees change over time?
Benefiting from Advanced Analytics
In addition, a new 'improvement opportunities' widget has been added, enabling organisations to automatically surface KPIs that represent opportunity and improvement areas based on user-definable criteria and data analysis. With this capability, managers can quickly identify the employees and KPIs that need attention based on their scores or recent trends.
Also embedded in this latest release is the ability to use Verint Gamification, a solution that applies game mechanics and behavioural science 'game thinking' in a business setting. Using gamification, organisations can engage employees and motivate them to improve skills and knowledge and solve problems, as well as enable them to take action and immediate control over their performance.
For more information about Verint, visit their website.
---