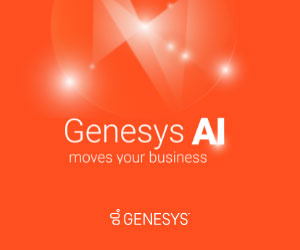 Genesys has announced that its omnichannel routing engine has been integrated with Salesforce Service Cloud Lightning to enable advanced customer routing capabilities.
Now through the omnichannel orchestration of Genesys, joint customers benefit from the capability to manage and automate the customer journey across phone, email, webchat and text.
This integration allows data to be shared easily across Genesys and Salesforce, ensuring customer interactions are managed with insights from both environments.
By doing so, the integration enables contact centres to remove blind spots and friction points in both the customer and employee experience, while preserving full context and interaction history along the way.
It offers a multitude of advantages across marketing, sales and service functions including:
Complete Customer Journey Management
The Genesys Customer Experience Platform can push data from an array of channels —a conversation happening online, in a messaging app, via SMS interaction, with interactive voice response or live with an agent — to the Salesforce Platform for a 360-degree view of the customer journey.
This two-way flow of information allows for customer life-cycle management, stronger attribution and better advertisement targeting. It also enables the Genesys orchestration engine to send the right information to the right agent at the right time.
Advanced Omnichannel Routing
Customers can use Genesys routing to orchestrate omnichannel customer engagement natively across digital, inbound, outbound and self-service channels, including live chat.
Joint customers are empowered with the flexibility to choose which channels to leverage from each platform.
Through Genesys orchestration, customers will gain confidence they're administering consistent experiences across all channels effectively.
Integrated User Experience
The integration enables a fast and efficient Salesforce Lightning Experience.
By producing one Service Cloud omnichannel agent console, it allows users to move away from the modular, frame-oriented computer-telephone integrations (CTI) of the past.
The integration capitalises on a framework that benefits customer service agents, mobile workers, and sales personnel at organisations of all sizes.
"We are thrilled Salesforce customers can now take advantage of our advanced, omnichannel routing capabilities," said Merijn te Booij, chief marketing officer at Genesys.
"Every day, we imagine and then deliver upon ways we can help businesses all over the world connect every moment with their customers.
"This new Salesforce integration is the latest example of how we strive to connect every touchpoint — staying true to our vision that there will never be a lost moment with customers as long as Genesys technology is at the helm."
The Salesforce integration with the Genesys Customer Experience Platform includes smart automation, asynchronous messaging, Internet of Things (IoT) and artificial intelligence capabilities.
Genesys is making the integration available immediately to customers of its PureEngage, PureConnect and PureCloud portfolio of customer experience solutions.