With the continuation of remote working and the potential for workers to be spread out geographically, how do you operate induction training?
Jake asked our LinkedIn Community of industry professionals this very question, stating that:
"We've recently revitalized our Learning & Development policy across our business and it got me thinking about trends with induction training across the contact centre Industry.
"We've been operating a hybrid approach to training for some time now, with training delivered either on-site or remotely based on the location of the employee.
"There are certainly benefits to in-person training that are difficult to fully overcome with remote training, but now that the initial dust of the rush to remote has settled, I wonder what the approach is across other centres?"
302 people responded to the poll, and we have collated the results for you here: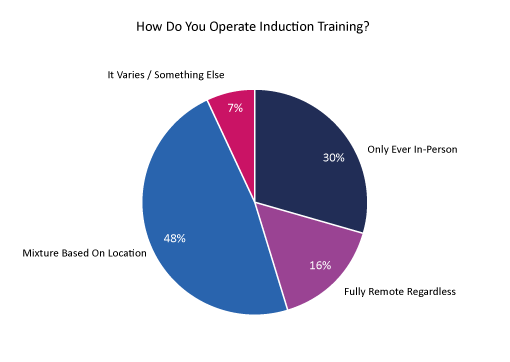 | Type of Induction Training | Response % |
| --- | --- |
| Only Ever In-Person | 30% |
| Fully Remote Regardless | 16% |
| Mixture Based On Location | 48% |
| It Varies / Something Else | 7% |
30% of respondents selected 'only ever in-person', meaning for these professionals face-to-face training is required.
This could, however, impact their recruitment and retention, as this choice could alienate potential workers from the business – as the distance from home to the office is too far to consider, even for a one-off training session.
There are, however, benefits to this as it ensures new starters feel part of the workforce from day one, and managers can easily gauge how they are performing.
The requirement for face-to-face training could also be part of the job, especially if there are complex elements or additional security is required, meaning that to ensure new starters get up to speed quickly and effectively they need the attention from an in-person training session.
Interestingly, 48% said their induction training is a 'mixture based on location' suggesting that a large proportion of respondents are offering flexibility to new starters, depending on the location of the company and/or personnel.
Surprisingly, despite the increasing prevalence of remote working, and workers wanting this to continue, only 16% of respondents stated their induction training was 'fully remote regardless'. A marked decline against those who selected in person or a mixture.
Does this mean remote working is on the way out? Or maybe companies are wanting to ensure that their people are sufficiently trained and bedded into the business culture before allowing staff to work from home? What do you think?
★★★★★
A number of respondents also added comments explaining their choices and outlining a few of their own thoughts, as seen below:
Implement a Blended Model
A blended learning model will always provide a holistic learning experience. Onboarding, induction, and skills development has taken on a far more immersive dimension with the advent of gamification and game-based learning.
The cost of training is always a bone of contention, especially when compared to loss of productivity.
That's why an adaptive, flexible, and tech-forward approach means I can learn from anywhere, anytime, on any device and track my learning, progress and growth in real time.
Thanks to Emrah
Fully Remote Allows for a More Consistent Training Experience
The ability to access training from anywhere is the most convenient for agents. I remember taking calls for a contact centre that onboarded new customers regularly, with little to no training on the floor due to time restraints.
The agents were going in blind for most new calls. I think fully remote allows for a more consistent training experience without geographical or time limitations.
Thanks to Braydon
If you are looking for ways to improve your remote onboarding, read our article: Simple Ways to Give Remote Workers a Warm 'Virtual' Welcome
Hybrid Is a Smart Move
The hybrid approach to training is a smart move, as it offers the best of both worlds and caters to the needs of all employees, regardless of their location. The shift to remote work has definitely changed the way we approach training and learning, but it has also opened up new possibilities and opportunities.
Thanks to Mindaugas
We Do 'All Virtual' Training
My team is fully remote so we do 'all virtual' training. We take full advantage of all the technology from sharing screens, call listening, Slack communication, Google products, etc.…
There isn't anything I have found I can't train someone on digitally. We also use AI assist technology "Abstrakt", which is very helpful for new agents and senior ones. Every industry is different, but this has worked well for our team.
Thanks to Shannon
Something Is Lost When Virtual
Tech can do a lot of great things for us with training, and the ability to train is certainly not lost when doing it remotely, but it does feel like something is lost compared to in-person.
That's not to say it isn't still as effective, but I would say it is definitely different!
Thanks to Jake
If you are looking for more advice on new starters, read these articles next: