Want to improve your virtual onboarding experience? Here are some ideas you can implement quickly and easily to help make a difference.
What Is Onboarding?
Onboarding is the process companies follow to integrate a new employee into the business. It generally includes activities that allow new starters to learn about the company, meet their team and co-workers, and acquire the necessary skills, knowledge and behaviours to perform in the role.
What's the Problem With Virtual Onboarding?
More people are working in virtual settings than ever before, and whilst this does offer many benefits, it also requires contact centres to review their traditional processes and policies.
It's easy for new starters to feel detached from the company if they're unable to regularly meet up with their colleagues in person.
When it comes to onboarding new starters, it's easy for them to feel detached from the company if they're unable to regularly meet up with their colleagues in person. This means you'll have to make a more conscious effort to make them feel welcome.
As reported in this remote working guide, only 12% of employees felt their company offered a great onboarding experience.
Fortunately, there are lots of simple things you can do to achieve a more favourable outcome for both parties.
★★★★★
Three Simple Ways to Provide a Great Virtual Onboarding Experience
Here are three simple ways you can help any new starter get their feet under the table:
1. Schedule Regular Formal Check-Ins
When working in an office setting, you will typically get a good sense of how well a new starter is settling into the role, just from conversations with the individual and their team members.
But when everyone's working remotely, these impromptu conversations and catch-ups happen less frequently, which is why it's so important to schedule regular formal check-ins.
Make it clear that these aren't designed to micromanage their progress. Instead, these conversations should simply centre around how they feel they're aligning themselves with the company's processes, and whether they need any extra support or guidance.
You also need to make sure your staff remain engaged. Read this article for some great staff engagement strategies: Remote Staff Engagement: 9 Strategies to Make Your Team Smile
2. Make Them Aware of Any Upcoming Social Events

Social events at a new company can feel daunting for anyone who has recently joined, especially for people working remotely much of the time.
But they're also a great way to meet other people that they otherwise wouldn't have the chance to interact face-to-face with in daily professional life.
As such, it's important that you make new starters aware of any upcoming socials that are taking place, whether they're virtual or in-person.
You may even choose to invite your new colleague to a smaller social event with just their team, to help make them feel welcome and get a little more familiar with the people they'll be working with most closely.
3. Consider Sending a Welcome Pack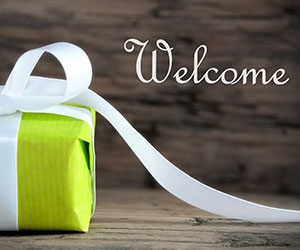 You don't need to throw an extravagant get-together to make a new starter feel welcome in their new virtual surroundings.
Often, small gestures can go a long way – particularly if they live further afield and aren't going to be touching base with the team in person very often. Sending a little welcome pack can help them to instantly feel like a valued member of the team.
It's completely up to you what you choose to send them, but one fun idea is gifting them some company-branded merchandise.
Whether that's clothing, a water bottle, or even some stationery, gifting them some basic branded items will help them to feel a part of the bigger picture from their very first day, or potentially even before they start.
Thanks to James Ritter for these great insights.
★★★★★
Top Tips to Make Virtual Onboarding More Welcoming
It doesn't stop there, as Stuart Aris, Head of Customer Support at ManyPets (operating with a remote-first model), adds:
Start Onboarding Activities BEFORE Their First Day
In a remote-working environment, it's not about 'the first day in the office' welcome. Instead, there should be activities prior to their first day – starting from the time they accept the job.
For example, meeting the team, setting up their IT, and completing a display screen equipment (DSE) assessment and making any necessary changes.
That way, when it gets to the first day of training, it won't be quite as formal as a first day in the office, as there will some familiarity already.
Meet the Whole Business on a Call
Our first day will see them meet our UK CEO, then join the company-wide call where our global CEO will discuss performance – plus introduce the new starter to the whole of the business. It's important for the Global Leadership team to feel they've met everyone within our business.
Create a Local Engagement Programme
We've then got a local engagement programme that each colleague will join, which brings them into the office, plus encourages them to join company events as and when they happen.
☆☆☆☆☆
Additional Views on Virtual Onboarding
To find out more, and to discover what businesses think are the most important, we asked our LinkedIn Community of industry professionals for their insights and suggestions on what works best when onboarding remote agents.
There were 272 responses to the poll, from a range of professionals, when asked about the onboarding options:
| Onboarding Option | Response % |
| --- | --- |
| Regular Virtual Meetings | 75% |
| Send a Welcome Pack | 14% |
| Meet the Business on a Call | 7% |
| Other | 4% |
By far, the industry professionals chose regular virtual meetings as the top choice, with 75% of responses for this option.
Sending a welcome pack came in second with 14% selecting this option, with the remaining 11% split between meeting the business on a call (7%) and other (4%).
The results do appear to suggest that one of the key elements of a successful virtual onboarding process is the connection with the team and management through regular virtual meetings.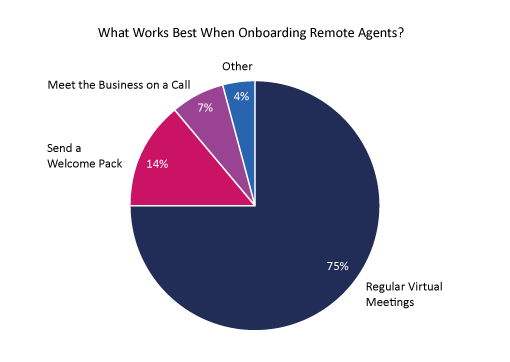 This is not altogether surprising as the social element of any job is important for new starters to feel integrated into the organization and the team.
Although it is interesting that sending a welcome pack and meeting the business on a call were seen to be significantly less effective for virtual onboarding.
Along with participating in the poll, several respondents also provided some great practical advice and suggestions:
Regular Meetings Should Be Mandatory
Everything works as long as we keep them involved and we don't forget about them.
Agents should receive 1-to-1 coaching and attend team meetings on weekly basis.
But regular meetings should be mandatory. Agents should receive 1-to-1 coaching and attend team meetings on weekly basis.
Thanks to Paulo
Occasional Office Attendance
I would highly recommend having them occasionally come to the office as well, if possible, for optimum engagement.
Thanks to Mohamed
Give Them a Remote Buddy
My group is across three geolocations and completely remote – 24×7 operation!
We give them a remote buddy from day 1 – that way they have a connection to their new team.
Thanks to Jason
Be Flexible in How Long Someone Needs to Feel 'Onboard'
Onboarding programmes are typically seen as a fixed period of time during which an employee learns about the business and role.
It's a completely outdated mindset of "let's teach everyone what they need to know within 4 weeks" (for example).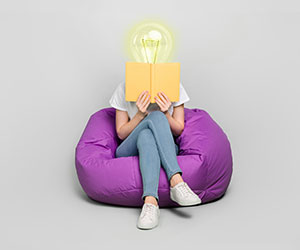 Some learn quicker, and some learn slower – it doesn't make them better or worse. It's especially true when onboarding remotely, as you can't benefit from learning through listening to others around you.
There's no silver bullet to this. Each part of the people-process-platforms model plays an equal part in making onboarding successful – but the starting point is to make sure the 'process' is designed as a continuous learning experience with regular knowledge refreshment that goes from the start to well beyond the 'go-live' of an agent.
Thanks to Nick
Don't Just Focus on the Connection Side of Things
Tools like conversational guidance can assist hugely with speed to competence, which helps boost their confidence and capabilities.
Lots of people focus just on the 'connection' side of things – but a lot of new starters struggle with getting up to speed and feel a lot less capable of asking for that support due to the remote nature of the role.
I think there also needs to be a mix of virtual meetings – some work, some not. And consideration should be given as to why some of the team members don't attend the non-work meetings.
(Potentially, it may be because they don't feel comfortable with attending personal gatherings due to personality style, but it can also be an indicator that they don't feel part of the team/business.)
There also needs to be a mix of virtual meetings – some work, some not. And consideration should be given as to why some of the team members don't attend the non-work meetings.
And importantly? Don't do ANY of the above as a 'tick box' exercise. Make sure everyone communicates behind the scenes, and concerns/challenges are raised, discussed, and dealt with.
Thanks to Paul
Voice of the Learner Programme (With a Graduation Celebration!)
We have a Voice of the Starter programme so the new learners can provide feedback on the learning experience, what's working and what's not working as well as providing an NPS score for our trainers! (e.g. Would you recommend your trainer to the next group of learners?).
It's built into our knowledge tool and is available to the learner as they move through their onboarding right up to Graduation. (Yes, we throw a huge Graduation virtual event to celebrate learners coming out the other side!)
Thanks to Jason
Start at the Top With a First-Line Management System
We have been using remote agents since 2002. What I found when I was managing them back then and what I tell my delivery leaders and executives now is to implement the following First-Line Management (FLM) System:
FLM1 – Roles & Responsibilities Management
In any organization, it is important to have a clear chain of command and delineation of roles and responsibilities. This helps to ensure that everyone knows who is responsible for what and that there is a clear hierarchy.
FLM2 – Processes & Procedures Management
In order to ensure that everyone follows the same steps, or to troubleshoot if something goes wrong, having documented processes is key.
Documenting the processes and procedures is important because it allows for a repeatable and consistent outcome.
In order to ensure that everyone follows the same steps, or to troubleshoot if something goes wrong, having documented processes is key. It also allows new employees to quickly get up to speed on what they need to do.
FLM3 – Technology & Tools Management
Technology and tools management is important for the success of any organization. It helps to manage and track technology and tools used by employees in an organization.
This system also provides a way to manage updates, new releases, and changes in technology and tools.
Employees can use this system to find the right tool for the job, which can help improve their productivity. Managers can use this technology and tools management system to make sure that their employees are using the most up-to-date technology and tools available.
FLM4 – Meetings Management
Meetings are an important part of the workplace. They provide a forum for managers to communicate with their employees, and for employees to give feedback to their managers.
However, if meetings are not managed effectively, they can be a waste of time and resources. A good meeting management system can help ensure that meetings are effective and productive.
FLM5 – Reporting & Measurements Management
Managers need to be able to establish a reporting and measurements management system in order to make sure that their employees are meeting the standards and goals that they have set.
This reporting system will also help to identify areas where employees need improvement, and will ultimately lead to better performance from everyone on the team.
For information on call centre metrics, read our article: Call Centre Metrics: Examples, Tips and Best Practices
FLM6 – Analytics & Optimization Management
Managers play a critical role in establishing analytics and optimization management systems within their organizations.
A well-run system can help to improve operational efficiency, optimize resources, and make better data-driven decisions. However, without the buy-in and support of managers, such an undertaking is likely to fail.
FLM7 – Continual Improvement Management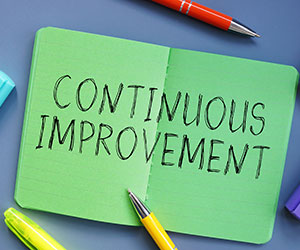 It is becoming increasingly important for managers to establish and maintain a continual service improvement management system in order to meet the ever-changing needs of their customers.
In a world where businesses can quickly become irrelevant if they do not keep up with the latest trends, it is essential for managers to be proactive in their approach to customer service.
A continual service improvement management system will help you to identify and address any areas of your business that need improvement, before your customers have a chance to take their business elsewhere.
Thanks to Imad
For more advice and insights about new starters and contact centre onboarding, read these articles next: