There are mixed views about the level of productivity a call centre manager expects from their outbound agents and how many calls an outbound agent can really make.
In our experience, there seems to be a general rule of thumb that is consistent across many different outbound operations and types of outbound campaigns. This is that, on average, an agent will only be able to handle and talk to customers from anything between 33 minutes to just over 40 minutes in a productive hour – or in talk-time percentage terms between 55% and 66% of their time is spent talking to a customer/prospect.
This means that the remaining time will be spent either waiting for the next call which the dialler will try to deliver (the better/more optimised the dialler, the quicker this will arrive), or they are in a state of wrap or unavailable.
As a simple calculation, you can divide this talk time by the average talk-time of an individual call to work out the number of calls that an agent can make.
There are, however, a number of factors that will affect this number of calls and remember, quantity is no substitute for quality.
Factors to consider
It is therefore important that you consider the following factors:
1. Quality and quantity of the data list
If the quality of your outbound calling list is poor, then you will probably hit higher volumes of calls, however, these will be shorter as you will find that many calls will result in no decision-maker contacts – i.e. wrong number.
2. Average talk time
You need to understand and then monitor what the optimum talk time is; you need to understand the talk time for non-decision maker contacts and for decision-maker contacts. This will enable you to apply a ratio i.e. 5 calls to 1 DMC and then apply the talk time on this ratio rather than attempting to work solely with averages. You also need to adjust the talk time for the type of calls you are making – service, survey, sales contact, etc.
3. Speed of Dialler
The way you optimise your dialler will also change the amount of time that an agent is available and waiting for their next call. Dialler parameters such as lines per agent, abandon rate, ring time and no answer settings will all influence this.
4. Calling Environment
Like with an inbound contact centre, agents are influenced/affected by their environment. A noisy environment may increase call lengths as agents have to speak slower and louder. A difficult environment dealing with stressful issues may result in agents taking longer to wrap up calls and catching their breath before returning to an available state.
All of the above will play a role in determining benchmarks and Key Performance Indicators (KPIs) for the outbound calling environment. Once all the above have been identified, a test period of two weeks' calling is needed to identify any trends in the data quality, data usage, average talk time and agent behaviour in terms of their logged-in hours, etc. These identifiable results will give you the foundation for creating the right KPIs with your agents, management team and, if you are an outsourcer, your clients.
Contact Rates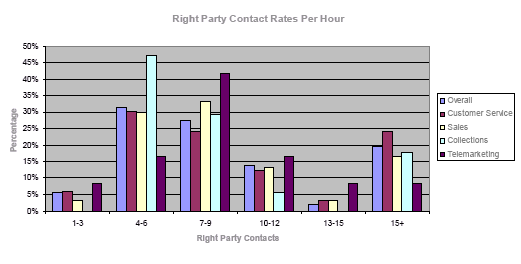 In a September 2009 survey by the Professional Planning Forum the number of right party contacts per hour varied quite considerably by call type.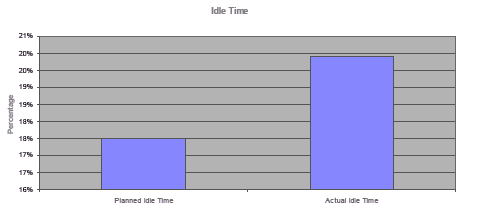 Idle time amounted to just over 20% with a planned target of 18%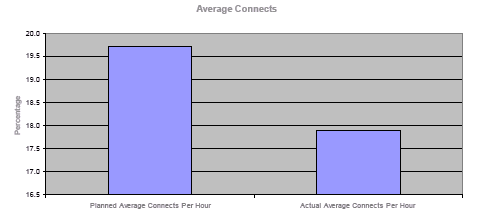 The average number of contacts per hour was just under 18, against a plan of just under 20.
Contributors
Carl Adkins, Managing Director at Infinity CCS