Martin Barber-Redmore explains the changes you can make to your contact centre environment to maintain a healthy and happy workforce.
1. Give your agents the best seats in the house
Giving your agents the best seats in the house means exactly that.
Invest in the best seating you can afford, because it can help to keep your people healthy and sitting at their desks longer.
There is also growing evidence to support the idea that when people sit by a window, with access to natural daylight and fresh air, they have improved concentration levels and focus, better morale, and consequently they perform better.
All too often, furniture is seen as an easy way to reduce costs when planning a project, where the real cost of absenteeism far outweighs what should be the biggest investment in your people.
It's worth reminding yourself that your staff are 80% of your operational business costs, and furniture is less than 2%.
2. Reduce background noise
Call centres create stress through their very nature of dealing with the general public on a day-to-day basis. If ignored, this can have a very negative effect on the morale and performance of your staff.
The last thing a call agent needs is for the customer experience to be affected by noise pollution. New online technology has added to this burden with video chat.
Integrating acoustic solutions into your call centre design can help to manage this issue and improve customer satisfaction.
There are a range of products to choose from. These include ceiling treatments, wall-cladding panels in every shape, size and colour, and acoustic carpet tiles using recycled materials.
There are also soft seating solutions that provide informal meeting spaces and add sound-absorbent vertical barriers.
The combination of some or all of these can reduce the impact of background noise on your agents.
3. Good planting schemes can add colour to an office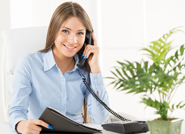 More recently, when people are asked to create a wish list for their ideal office, greenery and access to outside space or views, come top of most people's requirements.
Good planting schemes can add colour to an office. They can also improve air quality, act as a great sound absorber and generally improve any working environment.
4. On-site access to great coffee
The rise of the coffee culture has been self-evident. With the explosion of high-street coffee chains, employers find their vending provision competing with the high street to keep their staff in the office and at their desks.
The savvier have got an in-house coffee bar or canteen area. This may seem expensive, but it pays for itself when you take the cost of people leaving the building for a decent coffee into consideration.
One survey of staff showed the number one thing on top of the list of wow factors was that staff got great free coffee. They would tell their friends on social media about it!
What better way of attracting new talent to a growing organisation than low-cost self-promotional referrals from your own staff?
5. Facilities to support a healthy lifestyle
When we're not drinking coffee, we are cycling to work, going to the gym and generally trying to achieve a better work/life balance.
New generation, health-conscious employees are now demanding better facilities from their employers to support their healthy lifestyle.
Showers and changing facilities to support various activities, lunchtime exercise sessions, and team-based sports after hours are all more common today.
Such facilities can help to improve the welfare and health of everybody in the organisation.
6. Turn up the fun by adding in a pool table and jukebox
Having fun with your friends and colleagues is the best way to combat stress in the workplace.
Whether it's table football, swimming pool, or a pool table, these spaces can have real emotional attachment with staff. The high usage of these spaces as all-day meeting and team-gathering spaces also justifies their existence.
One client of ours incorporated a full bar for out-of-hours events, with a pinball machine and jukebox. It's used all day as a favourite meeting venue with their clients as well. It's cool and appeals directly to their brand. All work and no play, as the saying goes.
Managing your wage costs can be difficult, especially when people choose their employer by voting with their feet. But the workplace can give you a competitive advantage for attracting new high-quality staff and retaining your best performers.
Click here to find out if Your Contact Centre in Need of a Re-Design?
Find out Six Clever Ways to Design your Call Centre
With thanks to Martin Barber-Redmore at www.tskgroup.co.uk