Katie Stabler, CULTIVATE, delves deeper into how to design for sentiment by exploring emotional motivators and how these can be used to target the feelings that drive customer behaviours.
If you want to find out what else was discussed in this webinar, you should watch the Recorded Webinar: How to Transform CX next
How to Target the Feelings That Drive Customer Behaviours
In order to really pull sentiment out, you need to try and include emotional motivators.
The Harvard Business Review found that it was actually possible to measure and strategically target the feelings that drive customer behaviour.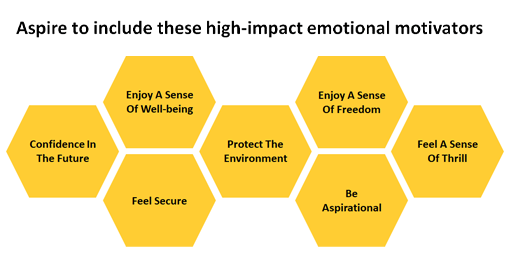 And they call these emotional motivators. And essentially if you can inspire all of these feelings in your customers, they are more likely to be emotionally connected with you.
So, for example, if you can inspire confidence in the future or enjoying a sense of well-being, these are all slightly more tricky things to do, but they're certainly within your remit.
Feeling secure. Feelings of security are fantastically demonstrated by being confident and being skillful. And if you can make that customer feel trusted, they're going to feel secure.
A protective environment. We're going slightly into CSR here, so your corporate social responsibility. 
But if you can bring these to the surface, and make them really visible and inspire customers to feel any one or all of – if you are reaching for the stars – all of these emotions, then they're going to be more emotionally connected to your brand.
The more likely they are to stay with you for a long time and spend more with you, so that customer value significantly increases.
This video was recorded when Katie Stabler was a panellist on our 2022 webinar '
How to Transform CX
' If you are looking for more great video insights from the experts, check these out these videos next: