In this video Alex Mead, Customer Service Experience Leadership & Transformation, discusses how to use customer personas to improve customer journey mapping.
If you want to find out what else was discussed in this webinar, you should watch the replay 'Making Customer Journey Mapping Easier' next.
Video Transcript
Too many customer journey maps are one-dimensional, and assume all customers undergo similar journeys and have similar preferences and needs.
As per many stats, four out of five brands think they have a very holistic understanding of their key customers. Yet only about one in five customers actually feel that the brands understand them at all.
There's a mismatch, as there often is, between what companies think and what customers think about CX. So how should we do it? This is based on what I've done, and I'll talk you through some examples.
First, consider all of your customer persona types. I went through the customer persona phase. I don't mean mapping demographics, I just mean do you have young children, do you have single mothers, do you have executives, etc.?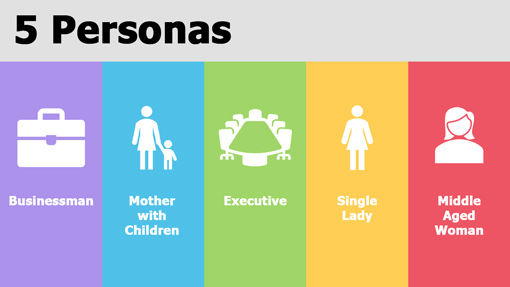 I'll talk about an airline example in a second – I've worked in other sectors, but we'll focus on airlines today. In this scenario we came up with five personas:
a businessman
a mother with children
an executive
a single woman
a middle-aged woman.
We came up with five personas, but whatever personas are relevant for your business, make sure you consider them.
Each persona will have a different expectation of their customer journey and their CX, but more importantly, you have to think of the context of each situation and persona.
When you consider that, what is the experience you should be giving this persona in this situation against that one?
Again, you can't capture that on a generic one-size-fits-all journey map. And finally, when you've considered this, how did you get that?
When you assess your business against this approach, you'll realize, "Oh my God, we are so far off, it's unbelievable." That's why I think most customer journey maps don't work.
An Example
Here's an example of a journey map, and this is the reason why you need to think about context and personas.
In this situation, there's a lost bag; they've arrived at the airport and the bag isn't with them.
What if the customer is a mother with children, and in that bag is a wedding dress or bridesmaids outfit? She doesn't care about compensation, she needs to find that bag, whatever happens, and she needs it to be easy for her to talk to the airline, not a generic call centre queue.
But if you're a young lad and you're on holiday with friends, you lost your bag and they offer you £500 compensation – great, that's perfect. So, this is a great example of situational context.
This video was recorded when Alex Mead was a panellist on our 2022 webinar 'Making Customer Journey Mapping Easier'
If you are looking for more great video insights from the experts, check these out these videos next: