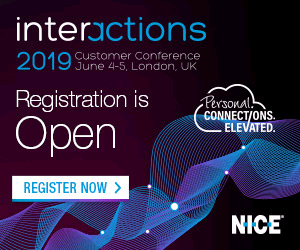 About the Event
There's no better conference for learning and sharing ideas about improving customer experience and operational efficiency and ensuring compliance than Interactions EMEA 2019, which has over 25 sessions, many of them led by industry experts and NICE customers. The conference features a rich array of breakout tracks dedicated to helping you and your organisation succeed in areas such as customer experience, operational efficiency and compliance. In addition, you will hear from visionary keynote speakers that will inform, challenge and inspire you.
3 June: Partners Day
If you're a new or established NICE business partner, join our top executives, market-leading solution experts and leverage our best practices for selling NICE, share your success stories and exchange information.
The Partners Day's fully loaded agenda will conclude with an exciting Business Partner awards dinner where we will recognise our top contributors from 2018 and raise the bar for 2019.
4 June: Interactions.edu Sessions
Learn from our experts about the various NICE solutions during the Interactions.edu sessions on 4 June, hosted by NICE Education services. Choose from the following five workshops which will feature hands-on training and demos on live systems and the sharing of best practice:
Automation
Contact Centre Recording, Compliance & Biometrics
Net Promoter Masterclass
Quality Management & Analytics
Trading Floor & Compliance
Workforce Management
5 June: Customer Conference Breakout Tracks
We are pleased to announce SIX great breakout tracks that will provide you with exciting insights into how to optimise your NICE solution and improve business performance
Track topics to include:
Making Smart Customer Connections with Analytics and Quality Management
Picture Customer Feedback Management
Innovations in RPA and AI
Driving Employee Engagement
CXone Omnichannel Experience
Financial Compliance
Registration Rates:
3 Days – Partners Days & Interactions Customer Conference 3-5 June – £399+VAT
2 Days – Interactions Customer Conference 4-5 June – £299+VAT
Early Bird £199+VAT (until 31 March 2019)
1 Day – Partners Day 3 June (For Partners Only) – £299+VAT
Buy Five for Four £1,196+VAT (until 31 March 2019)
Date and Time
Starting:
Monday 3rd June 2019

Ending:
Wednesday 5th June 2019
Date and Time
Starting:
Monday 3rd June 2019

Ending:
Wednesday 5th June 2019