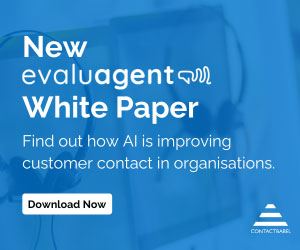 For years, contact centre software providers have promised to automate evaluations and improve efficiency in the quality management process, but many solutions still require costly and complex implementation processes resulting in the majority of contact centres being unable to successfully launch any form of automation, analytics or AI.
Today, EvaluAgent is proud to be the first QA and Improvement Platform to introduce SmartScore, a transformative feature powered by ChatGPT which will evaluate any conversation in seconds. Best of all – you can try it for free in April.
Acting as a co-pilot for any evaluator, SmartScore will revolutionize quality assurance in the contact centre by reducing the time it takes to evaluate a conversation and provide effective feedback.
With just the press of a button, SmartScore gets to work, summarizing the conversation for greater insight, automating the scoring of line items and providing AI-powered coaching tips to help get evaluators started when leaving agents with feedback on how to improve.
So How Does It Work?
It's simple. As long as your call recording or ticket management solution is integrated with EvaluAgent, just select SmartScore and at the press of a button our platform will:
Automatically transcribe the conversation (if it's a call),
Summarize the conversation
Assign insight-topics
Score your line items (with contextual reasons for each score)
Suggest coaching tips to address any underperformance.
Want to See and Test It Yourself for Free?
SmartScore is launching in April 2023, and we want everyone to be able to see how transformative this feature really is! We are offering 250 credits completely free as long as you sign up to the waiting list before April.
Don't miss out on the opportunity to revolutionize the way quality assurance is conducted in your contact center. Join the waiting list now and be among the first to experience SmartScore in action.
This blog post has been re-published by kind permission of EvaluAgent – View the
Original Article
For more information about EvaluAgent - visit the
EvaluAgent Website