Ladies and gentlemen, I would like for you all to clear your desks and walk out onto your call centre floor. Stand right in the middle of it and ask yourselves the question, what is the one item in your contact centre that, if it broke, or disappeared, you could not replace.The answer is your people, of course. But why is this one facet still overlooked in the majority of contact centres I visit? So many managers and directors are being brainwashed by colossal marketing messages promoting the benefits of new technology and whiz-bang gadgets, that we are forgetting about the one component which is not only expensive to replace, but will give you the competitive advantage. It is the people issue, which I believe will separate the men from the boys this year.
Too much technology
Enough with technology already! I've seen some glorious operations running on little more than tin cans and fishing wire. Anyone can crack open their wallets and buy some kit to route a call quicker or make a report easier to produce. The hardest challenge for a business is the investment in their people. This is despite the potential simplicity of it all. And there are so many ways to make a change.
Invest in your management
Let's face it, you have an open team leader position, and it is between the college graduate in business management who has been there for two months, or the ex-prison officer who has been there for three years. Who would you choose? Then ask yourself where the pressure would be for you to choose?
Our industry needs to accept the fact that we will have management issues, due to the inherent dynamics that exist, such as turnover of staff. From the call centre manager and above, it's not too much of a problem, but I have seen too many team leaders who simply were not correctly coached to manage a team of 20 personalities.
Yes, there is an investment involved. Yes, there is a risk that the team leader that you spent money on training could leave you in the next three months. But your operation will be better for it, and it will pave the way as to how to manage people, not only for your team leaders, but for your aspiring team leaders as well.
Balance financial controls and corporate pressure
However, always bear in mind that there will be a balance to be struck between financial controls and corporate pressure, the cost of deploying additional customer empathy and emotion and the processes and procedures required to keep the company moving. I am not advocating giving away the shop every time someone complains but, as with anything, each case needs to be evaluated and the decision of the agent supported by the business. In the end, there will be a historical trend you can work towards.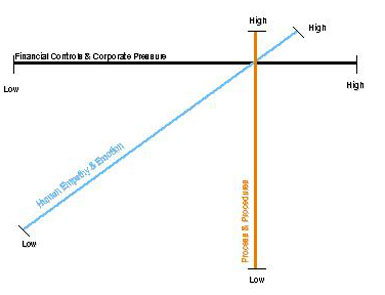 Keep it fun
Aim to make your environment fun. The same principle applies to work. Be driven to perform and achieve, yes. But if you become humourless and joyless in the process, customers and colleagues would rather be somewhere else. Your organisation can have a perfect system but a colourless personality. Even if you work in a serious business, you have no excuse: last year I heard the retiring chairman of the Inland Revenue in conversation with Jeremy Paxman. 'What's the one piece of advice you would give?' asked Paxman. 'If you're not having fun, you're not doing it right', answered the taxman. If you think your business and your people have to come over as serious and intense to be considered professional, you're really playing last century's game.
---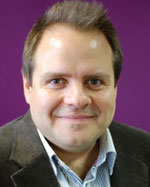 Gene Reynolds is a  Director at Blackchair