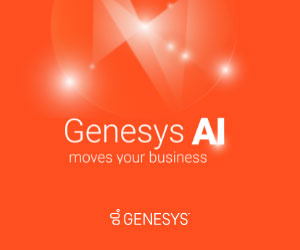 Lowell has benefited with flexibility, scalability and cost efficiencies since moving their communications centre in the DACH region to the Genesys Cloud platform.
Lowell adopted the leading Software as a Service (SaaS) solution from Genesys for its rich capability set, proven performance, scalability and continuous release of new features.
"At Lowell, we believe our customers are at the centre of everything we do," said Daniel Degen, head of communication centre at Lowell.
"In order to handle each customer as individually as possible, we needed a tool that could help us approach each person the way he or she wants to be approached. We have that solution in Genesys Cloud."
It will be used by up to 300 agents, providing Lowell in DACH with a system to connect all customer interactions from every channel.
In addition to improved customer service, Degen explained that migrating from the former system to Genesys Cloud software will also result in noticeable operational efficiencies.
Degen says: "The business case for Genesys Cloud was largely based on cost savings. It allows our agents to work more effectively by focusing on the needs of our customers and enables us to adopt new features more rapidly than our previous system."
"Our previous setup did not give us the capabilities we needed for successful work. Not only would this have been time-consuming, but we ultimately wanted a solution that was already proven so we could scale-up rapidly.
"Genesys Cloud met all of our requirements and allowed us to go live quicker than we would have been able to with our incumbent provider."
Seamless Migration to Genesys Cloud
Lowell migrated its first wave of agents in the DACH region to the platform in less than two months and plans to onboard more in the near future.
"Genesys Cloud allows agents to quickly and easily handle all of their core tasks. Our agents really appreciate how intuitive and easy to use Genesys Cloud is – they compare it to the simplicity of popular social media sites," says Degen.
Lowell also appreciates that the Genesys Cloud platform can be easily configured within its interface. This gives managers a clear and transparent overview of their relevant key performance indicators by the help of the Genesys API, which delivers data to their business intelligence tool automatically.
Another early benefit is Lowell's improved ability to detect answering machines by 98% because of the answering machine detection (AMD) and outbound dialler capabilities of the Genesys Cloud application.
"Typically, in our industry, many outbound calls are diverted to answering machines, which is not a good use of our agents time because we aren't reaching customers," Degen explains.
"However, thanks to the features built into Genesys Cloud, we are now able to identify any calls that are not answered by a human, which makes our agents more efficient and allows them to spend more time in calls with customers who need our help."
Ready to Meet Tomorrow's Customer Expectations
In the DACH region, Lowell anticipates expanding its use of Genesys Cloud to meet the evolving needs of its customers.
Already, the company is considering ways it can take advantage of artificial intelligence (AI) and improve service by adding touchpoints for customers.
According to Degen: "In the future, we want to expand channels. We recognize some customers may find it difficult to call, so we want to be able to offer more convenience through channels like SMS, chat and e-mail."
"For us, speed and innovation are not just buzzwords, but critical in delivering and meeting our customers' expectations – and with Genesys Cloud we can do just that. It is a platform that allows us to build for the future."