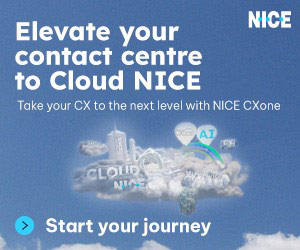 NICE has announced that TMC, a global, integrated media company, and Cloud Computing Magazine have awarded the market-leading NICE CXone cloud platform as a 2022 Cloud Computing Product of the Year.
The Cloud Computing Product of the Year Award honors vendors with the most innovative, useful, and beneficial cloud products and services that have been available to deploy within the past year.
Offering customer experience software built for the digital era, NICE CXone offers a smarter, digital-first solution for customer interactions.
NICE CXone also offers unparalleled security and reliability, deploying seamless customizations and pre-built integrations all through a secure and reliable cloud native platform with industry-leading uptime.
Contact centres of all sizes are increasingly turning to NICE CXone to transform customer experiences based on its proven scalability, reliability, flexibility and security.
Digitally transforming with the cloud enables businesses to leverage technological advances like AI-powered chatbots and agent next-best-actions, changing the way customers engage with companies by enabling anytime, anywhere and anyplace conveniences.
"Congratulations to the winners of the 2022 Cloud Computing Product of the Year Award," said Rich Tehrani, CEO, TMC. "These innovative products and services are leaders within the cloud computing space and deserve this recognition.
As the cloud market evolves and enables more and more powerful computing options, we look forward to seeing their future successes."
"NICE is committed to offering innovative products that reach customers across digital touchpoints, expanding beyond the traditional boundaries of the contact centre and driving positive business outcomes.
As customer demand for effortless service from every point of engagement intensifies, we help businesses deliver proactive, digitally fluent and agile experiences to their digital doorstep," said Paul Jarman, NICE CXone CEO.
NICE CXone's cloud-native customer experience platform enables CXone customers to self-select innovative products and extend the CXone solutions every day that will positively impact business outcomes.
NICE CXone offers comprehensive capabilities, including customer analytics, omnichannel routing, workforce engagement, open cloud foundation, AI, and automation, among others.
NICE CXone offers a holistic approach for improving both agent and customer experiences via its unified digital first omnichannel capabilities, workforce optimization, and real-time monitoring of digital channels to boost agent efficiency and foster customer relationships.
For more than 20 years, TMC has been honoring technology companies with awards in various categories. These awards are regarded as some of the most prestigious and respected honors in the communications and technology sector worldwide.
Winners represent prominent players in the market who consistently demonstrate the advancement of technologies. Each recipient is a verifiable leader in the marketplace.
This blog post has been re-published by kind permission of NICE CXone – View the
Original Article
For more information about NICE CXone - visit the
NICE CXone Website