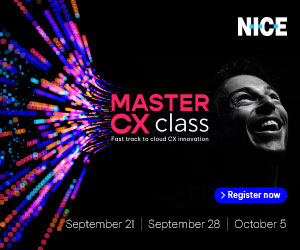 NICE has announced that it has been recognized as a leader in authentication, voice biometrics and fraud prevention by Opus Research.
NICE Real-Time Authentication (RTA) stood out among 13 vendors for innovation in the breadth of its offering and strong market positioning.
The latter was supported by robust capabilities and successful implementation, numerous partnerships and adoption by a long list of corporate customers.
Opus Research lauded NICE for being the market's only provider of a single voiceprint across all channels.
The analyst firm also commended RTA's advanced Passive Historical Enrollment capability, which ensures friction-free authentication of customers from the first day.
NICE RTA was noted for seamless integration with the IVR and contact centre software infrastructure, providing an end-to-end multi-factor authentication and fraud prevention solution.
NICE RTA's Proactive Fraudster Exposure capability was highlighted as a key differentiator in the report.
According to the report: "NICE RTA provides a proactive fraud prevention approach as well as real-time fraud detection using a watchlist. Based on unique machine learning technology, the new capability allows contact centres to automatically prevent fraud before it happens by identifying previously unknown fraudsters and blocking them from committing fraud."
"NICE's leadership position in the Intelliview report reflects their success in building an impressive roster of corporate customers along with a correspondingly large database of registered voiceprints," explains Dan Miller, Lead Analyst at Opus Research and the report's author.
"NICE also distinguishes itself with an integrated real-time authentication suite that combines voice biometrics with analytics and fraud detection solutions which responds to the recognized need for passive enrolment and authentication, combined with proactive fraudster detection in a single product."
"This report is a testament to the innovative capabilities of NICE RTA that enable our customers to protect themselves and their customers," Barry Cooper, President NICE Enterprise Group, said.
"Of particular note is its Proactive Fraudster Exposure capability, which reinvents the way companies fight fraud."
NICE RTA offers a robust, holistic solution that allows contact centres to prevent fraud while improving operational efficiency and customer experience."
This news story has been re-published by kind permission of NICE – View the original post