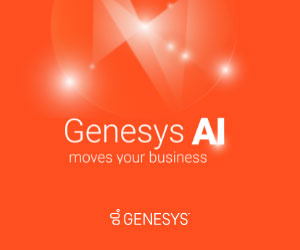 The Genesys and Nuance partnership has brought an amazing range of new innovations to our mutual customers – starting:
In 2001 by adding automated speech self-service to the IVR
In 2013 the first AI-powered digital virtual assistant for customer service
In 2018 AI biometrics to automate customer identification and verification
Delivered today is another innovation to enterprises worldwide – a cloud-native partnership that combines leading contact centre solutions from Genesys and Nuance AI-powered intelligent engagement capabilities.
Nuance AI-Powered Intelligent Engagement Cloud provides enterprises with a unique set of open, modular and cloud native services spanning Conversational AI, Engagement AI and Security AI solutions.
This empowers customers and partners to accelerate digital and AI transformation and self-service engagement strategies while also making it easier than ever to deploy our solutions in the way that best suits their business and strategic needs – on Nuance's Cloud, Public Cloud or Private Cloud.
Along with the advancements we have made within in our Intelligent Engagement solution portfolio, we have also focused on strengthening our global partner network to ensure more organizations have access to our industry-leading customer self-service capabilities.
In support of that focus, we are pleased to be a part of the announcement Genesys made today about the unveiling of the contact centre industry's first native multicloud architecture.
By integrating the Nuance Intelligent Engagement AI Cloud with Genesys Engage, organizations can deploy virtual assistants to increase levels of customer self-service, significantly reduce agent handle time through Agent AI, and leverage biometrics to automatically identify customers and detect fraud.
With the new architecture of Genesys Engage, organizations can choose to deploy their contact centre in a private cloud, public cloud, hybrid or on-premises model, and management can be through a broad set of partner organizations.
This type of flexibility mirrors Nuance's cloud-native Intelligent Engagement Cloud, resulting in a combination that puts the enterprise in control.
Genesys and Nuance are working together to provide enterprises the infrastructure and solutions that future proof enterprise customer engagement investments.