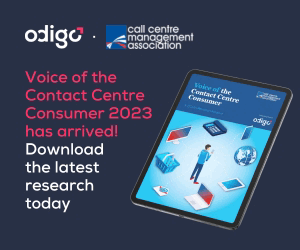 Hervé Leroux of Odigo discusses how your contact centre can maintain productivity, security and customer satisfaction even while switching to remote work.
In a time of crisis, or in the event of unforeseen circumstances, a contact centre may need to resort to remote work as part of a business continuity plan.
Is the transition to this mode of operation easy to implement?
Can agents truly provide from home the same quality customer experience as if they were physically present on site?
What about their performance?
Cloud contact centre solutions can help to allay these concerns, as discussed below.
Remote Work: A Cloud Solution Means Working From Home Has Never Been Easier
Contrary to popular belief, shifting your agents, your brand's best ambassadors, to remote work is effortless, even under extremely tight deadlines, if your Customer Relationship Centre (CRC) is equipped with a robust, flexible, and easily deployable cloud solution.
Indeed, cloud innovations make it easy to overcome hardware limitations: since solutions are accessible from anywhere as long as you have access to the Internet, so employees will be able to handle all of your customers' digital (e-mail, chat, social networks) and phone interactions without having to leave their homes.
Maintaining Enhanced Customer Experience While Working Remotely
Undoubtedly, contact centre employees are proving to be perfect candidates for the practice of remote work. Consider 3 arguments that show how teleworking, properly implemented, can ensure the productivity of your contact centre agents and the quality of the customer experience.
The Same Degree of Security Is Provided
In terms of security, it is undeniable that in the era of the GDPR, the use of the cloud raises a number of issues around storage, retention, portability and continuous accessibility, as well as data protection.
Cloud contact centre solutions that are based on private cloud, or at least hybrid cloud, have the advantage of offering improved security, whether your agents are working from the office or working remotely.
However, it is essential to ensure that your provider is ISO-27001 and ISO-9001 certified, as well as compliant with industry-specific standards (such as PCI DSS for credit card processing or HDS for medical data).
When information is stored in data centres and secure infrastructures that natively integrate resilience mechanisms, the risk of disruption is reduced. The result: you will achieve a level of security similar to, or even higher than, that of on-premise hosting.
Contact Centre Performance Is Guaranteed
The good news is that the advantage of a cloud solution means the tools don't change, whether or not employees are teleworking.
Equipped with the basics – a simple smartphone, laptop or desktop computer, as well as Internet access – your employees can telework from home without worrying about lost productivity or performance.
No need to worry about customer interaction management either as the move to teleworking does not impact existing routing rules, skills, or workforce management.
A high-performance cloud contact centre solution enables easy integration with the best Workforce Management, Quality Management and Speech Analytics tools.
You will be able to monitor remotely and in real time a large number of indicators such as:
First-contact resolution rates,
Net Promoter Score (NPS),
Number of calls handled vs. number of calls received,
Average communication and processing times,
Rates of additional sales, conversion, or retention,
And many more!
In addition to ensuring that objectives are being met, these indicators also make it possible to make specific adjustments where necessary.
Another advantage of home-based teleworking is that teams that are given responsibility and autonomy tend to be self-regulating and more self-reliant.
All Requirements Are Met to Maintain Customer Satisfaction
As we've just seen, when you switch to remote work, with a cloud solution, all the ingredients are in place to ensure that customer satisfaction is maintained at a level equivalent to what it would have been if your call centre agents were working on site.
In turbulent times, thanks to a cloud solution, your contact centre agents are in the best position to carry out their remote work effectively and seamlessly from home. Freed from all technical issues, their experience is fully supported so they can easily focus on customer requests. This contributes to maintaining or even increasing customer satisfaction levels, what we call a "symmetry of attentions".
This blog post has been re-published by kind permission of Odigo – View the
Original Article
For more information about Odigo - visit the
Odigo Website