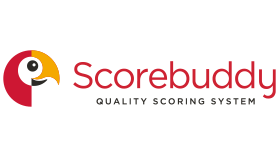 Scorebuddy is quality assurance solution for scoring customer service calls, emails and web chat. It is a dedicated, stand-alone staff scoring system based in the cloud, requiring no integration.
Contact Name: Dick Bourke
Tel No: +353 1 4100729
Contact Email: info@scorebuddyqa.com
Profile: Stop using spreadsheets, your CSAT scores are too important!
Design and build your own scorecards, collect results and share, collaborate and review with staff. The tool is designed to replace spreadsheets and static scoring systems. Scorebuddy saves time, increases accuracy, team leaders and agents love it.
All scores are stored in the one place for easy access and with a wide range of reporting and analytics available understanding the data made simple.
Scorebuddy offers agent and supervisor dashboards as well as the ability to self-score.
Our clients say: "Quality monitoring for Allianz is now streamlined and easy to manage allowing our supervisors to just focus on the actual monitoring, not on the technology used for monitoring. It allows us to focus on Quality assurance, on that call audit or the audits of the letters to ensure the quality that we offer our customers is the best. The fact that Scorebuddy can be quickly deployed and doesn't require IT or input from other departments made the solution very attractive.
The reporting tool has given Allianz a greater insight than they had previously and the presentation of information has made understanding easier. Previously we had to report manually with our access database.  Now we can quickly insert the reports into our own report, it's opened up a new world of reporting for us." – Nikki Woolgar, People, Performance and Development Manager, Allianz Global Assistance
The main benefits of Scorebuddy are:
Easy to use
Saves time
Identifies problem areas
Engages agents
Pay-as-you-Use
ROI x10 and more
We offer a free 30 Day Trial too!
Address: 101-104 The Masonry, 151- 156 Thomas St, The Liberties, Dublin 8, D08 PY5E, Ireland
Weblink: http://scorebuddyqa.com
Categories:
Performance Management and Quality Monitoring
Agent Coaching and Monitoring
Call Centre Software
Contact Centre Solutions
---