Spearline has launched the first edition of its magazine, Connect.
The technology company proactively monitors toll and toll-free (Freephone) numbers for connectivity and audio quality globally, and is headquartered in Ireland.
Speaking at the magazine launch, Kevin Buckley, Co-Founder and Chief Executive Officer (CEO) at Spearline, said: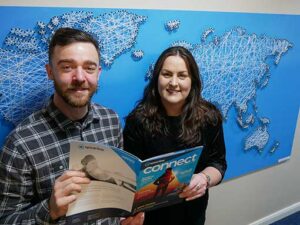 "The name Connect was chosen to reflect the essence of Spearline. Simply put, we connect people around the globe by making sure phone lines are up and running, for multinationals worldwide, with a growing team in four different locations."
Matthew Lawlor, Co-Founder and Chief Technical Officer (CTO), said: "Through the magazine, we communicate and connect with all of Spearline's stakeholders.
"Many readers will be interested in our new office openings, interviews with team members, awards we've won, or other company news and insights. More readers will enjoy articles about how we monitor issues that impact the telecoms industry."
"Every reader will have a shared interest in connecting with each other through global communications."
The news comes after Spearline won a Customer Contact Central award for one of its customer experience articles.
Spearline's article, "7 ways to improve your customers' experience on your voice channel", written by Senior Marketing Manager Caroline Leonard, has won third place in the 2019 Customer Contact Central Most Valuable Posts (MVP) Awards Contact Center as a Service category.
Customer Contact Central recognize the vendor blogs that provide value to industry professionals, providing either long-term or short-term value.
For further information about Spearline, visit www.spearline.com