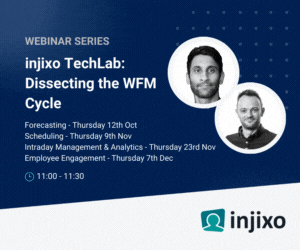 Lara Klinkenberg on behalf of injixo shares her advice for reducing agent attrition in the contact centre.
One of the currently most demanded industries is the service sector. Contact centres worldwide are experiencing increased service demand levels as customers exchange human touch with voice and digital contact in times of social distancing.
Call centre workers, although increasingly required to work-from-home, are facing higher workload and are on the front-line to cope with customer frustration, anxiety and anger. And obviously, even the most experienced agents are not immune to the rising pressure and stress that comes with it.
That is why managing agent attrition is critical and should be a topic on top of our minds. Companies have to be well aware of its causes, early signals, consequences. Creating a plan of prevention today will prepare your company for the future.
What Is Agent Attrition and Why Is It Important?
The contact centre industry is characterized by very high employee turnover and has one of the highest attrition rates in the world.
According to a study by ContactBabel, agent attrition is at an all-time high since 2013 and was reported to be at 30% in 2017.
Industry experts further argue that it greatly varies by country, industry and business size.
Research performed by the Global Call Centre Research Network found that countries such as India and the USA lead the agent attrition statistics, closely followed by Israel, South Africa and Brazil.
Furthermore, accommodation and travel industries as well as larger organizations tend to show the highest yearly turnover rates. But what does this actually mean?
Employee turnover is a common phenomenon. To a certain extent, turnover is fairly natural for every business as people resign to change jobs, get replaced by new talent or retire.
Yet it always comes with a cost. Depending on the rate, it can be extremely expensive for an organization to recruit and train new employees.
According to findings addressed in a Retention Report published by Work Institute in 2017, turnover costs businesses around 33% of a worker's annual salary or roughly $15k on average.
Don't just consider the hard and soft costs of turnover such as advertising, recruiting, onboarding and training.
There are costs and consequences such as missed business opportunities, poor service levels and decreasing operational productivity due to resulting staffing gaps. Not to mention how this may affect overall employee morale when jumping in to cover staff shortage with over hours.
High agent attrition in the contact centre space has slowly become a reality. Many organizations simply accept this phenomenon.
One may argue that they simply have surrendered to it as they don't seem to fix it and neither do they investigate why it's happening in the first place.
The Main Reasons for Agent Attrition
This brings us to the question: why are your contact centre staff leaving? It is essential to first understand the root causes for agent attrition in order to take action.
As a contact centre professional, there's no need to tell you that front-line staff have a hard time with a stressful job that often involves coping with customer frustrations and responding to complaints. But that's not really it. Many people in different positions, companies and industries also find themselves in a stressful work situation.
Many companies are already doing quite a lot to tackle turnover with employee satisfaction and engagement programs. So, why do these standard strategies not really strike in the contact centre?
DMG Consulting has studied agent turnover and found that the main driver is a considerable lack of development perspective due to missing coaching and training opportunities. Other factors include low wages, inflexible schedules and bad supervisor relationships that negatively affect agent morale and decrease loyalty.
Now taking all this and putting the puzzle pieces together, the root cause for agent attrition lies in a combination of these factors. And these happen to be part of the overall prevailing culture in many call centre businesses.
In fact, in a high-attrition culture, agents often feel disposable or easily replaceable like undervalued cogs in a machine. They may see little meaning in what they do or don't experience a sense of purpose. Consequently, they are unengaged and less attached to the organization and leave.
Strategies and Tactics to Reduce Agent Attrition
Until this point, you have asked yourself this question probably many times: how can we stop agent attrition? There are many strategies and tactics out there which you can find on the web.
Some are very obvious approaches which you are most likely considering already in your employee retention efforts.
For instance, it's common sense that you'd want to take a critical look at the working condition in your organization.
Some standard questions you may have heard numerous times: Are you offering agents the opportunity to work from home? Do you provide an environment that makes people feel comfortable, welcome and cared for?
Well, let me start this way: to tackle the attrition problem successfully, it is crucial to view and treat agents both as professionals and human beings. They have needs and emotions and also seek a greater purpose and sense of belonging.
Keeping this in mind is important when you go through the following set of proven and detailed strategies you need to know to really stop agent attrition:
1. Optimize Your Recruiting Efforts and Hiring Practices
A major mechanism to reduce agent attrition in your contact centre is tied to recruiting the right people for your organization. You would want to hire new qualified talent that does not only fulfill standard job requirements.
Instead, you would want to pay attention to soft skills. Moreover, you'd also want to consider culture, team fit, personality and overall attitude.
To do this, be sure to clearly define the job role, responsibilities and expectations. Also, don't forget to describe what a good candidate is worth to your business. This should go beyond extrinsic factors such as salary and other compensation means.
Describe what makes your business a good and fair employer, including what applicants can expect when employed.
Expectation setting is key! Your future relationship with a new hire should be based on respect and trust.
2. Provide and Develop Training Programs
Training should be a vital part of your company's culture, not only to retain talent but also to further develop it. Not everyone is on the same page. Many employees may require proper onboarding to unleash their full potential.
And it doesn't stop there! As your business develops and expands over time, so do your challenges and operational responsibilities to meet strategic goals.
Training should be an ongoing thing in your contact centre. It ensures your employees – your most valuable assets – can deepen and extend their skills to be more productive and provide a better contribution to business performance.
Furthermore, training can increase employee engagement. It allows people to improve their abilities to be good at their job, which can result in feelings of gratification and purpose. People feel valued and important to be able to actively have an impact on organizational success.
Training is also an opportunity to cultivate team and supervisor relationships, enhance collaboration and become acculturated to the values and principles of your company.
For the best training experience, think about tailoring training programs to individual agent training needs. Acknowledge the differences in skills and accordingly value what each employee brings to the company. Embrace and benefit from this diversity.
You can also start with designing skill development paths or dedicated growth programs that agents can pursue to master a certain competence or develop new ones.
Generally, you'd want to focus on further cultivating strengths to counterbalance weaknesses.
You and your training team may need to search for opportunities to build new competencies and skills on a person as well as a team-level. This will help you create an effective team that will help your contact centre thrive.
3. Allow for Clear and Transparent Communication
Communication is key in any business setting and so is establishing clear and easily accessible communication channels. This enables a great deal of transparency in both decision making and expectation setting.
Also, it creates a two-way flow of information to drive change, give feedback and ask questions.
An open communication culture is essential to increase agent engagement. It helps to make agents feel more included in business endeavours.
Likewise, it encourages them to speak up and make their voice heard. As agents are at the front line of speaking to your customers, they have the knowledge and experience which can inspire great ideas and smart questions that management cannot even think about.
Benefit from your agents' insights and utilize their customer intelligence to continuously improve your business. Give them the opportunity to drive change and inspire new business directions.
Also, this can improve their emotional connection to the organization by feeling more empowered and invested in business operations.
4. Regularly Show Appreciation and Recognition
Performance recognition and positive feedback can be a great motivation driver. It tells employees that their work is appreciated and is meaningful.
In a contact centre setting, this may fall by the wayside during a busy season or may simply be forgotten in the first place.
For agents who have a hard time dealing with customer complaints, a few nice words of appreciation can turn a bad day into a good one.
Managers and supervisors have a direct influence on providing performance feedback and rewards on a regular basis. Here is a list of a few things you can try:
Implement reward programs (e.g. providing bonus payments, vacation packages, gym memberships or conference visits).
Encourage peer recognition through awards and incentives (e.g. nominating the employee of the month).
Celebrate teamwork and individual achievements (e.g. organizing team events).
Establish a 'thank-you' culture (e.g. creating room for thanking each other in person and in written form).
Set up a mastery path for individual team members with learning and development goals, milestones and related marks of excellence.
All of these ideas can be a great source of showing appreciation and driving motivation.
While bonuses (i.e. monetary drivers) and promotion opportunities are standard extrinsic reward elements and motivators, you might also want to combine these with intrinsic rewards. The latter are psychological in nature and originate from the inner perception of doing meaningful work and doing it well.
To reward performance and engagement intrinsically, you can…
Give agents more autonomy in their job
Invest in their personal development
Promote social interaction
Give them a say in scheduling and organizing their work
No matter what you do, always remember: little things make a big difference!
For instance, leaving a sticky note with a few nice words at a team member's desk, a free coffee, a day off or the most popular shift that you give away in return for good performance can do the trick.
5. Improve Performance Monitoring and Agent Valuation
While recognizing and rewarding achievements is the cherry on top, you first need to bake the cake and create the very foundation to monitor individual and team performance.
Customer satisfaction-focused monitoring can be a good starting point as this is the very core of an agent's job – creating a personal but professional connection with your customers and resolving their issues in a satisfactory and timely manner.
In fact, the most successful agents are those who focus on the customer and his/her problems while representing your company in the best possible way.
To get a good picture of how your team and individual members are performing, you would want to focus on qualitative customer-centric metrics such as contact quality and customer satisfaction besides quantitative KPIs (such as first contact resolution and average handling time). This will not only increase quality of contact handling but may also reduce stress in the contact centre.
If you prioritize service quality over quantity, it can benefit the reputation of your organization by letting agents spend more time on making customers happy.
With an effective performance monitoring framework in place, you can start with frequent performance checks and regular feedback sessions.
A best practice would be to establish recurring 1:1 meetings where you discuss performance goals and identify performance blockers.
Additionally, you can set success milestones together with the agent. Then you may define an individual reward and incentive scheme tailored to the agent and his/her achievements.
6. Establish a Feedback and Coaching Culture
Missed feedback and coaching are among the top reasons why contact centre staff leave.
To keep agent attrition low, it's management's responsibility to ensure sufficient coaching and feedback opportunities are available.
Agents who receive constructive feedback through personal attention, frequent coaching and training sessions can improve their skill set. This makes them more effective at their job and likely to experience gratification from delivering good performance.
Agents will feel more included, recognized and, ultimately, committed to your organization's greater mission. Investing in people pays off. Your employees are likely to stay longer with the company and spread positive word-of-mouth.
Additionally, establishing an honest and respectful feedback culture in your contact centre also empowers your employees to express their wants and needs without fearing consequences. Open communication can improve working conditions, business processes and morale.
Feedback is not a one-way route! It should go both directions from manager or supervisor to agent and vice versa.
You would want to inquire for direct feedback on a regular basis in 1:1 sessions and run frequent employee surveys to give agents an opportunity to express their opinion. Besides standard employee net promoter score (eNPS) ratings, this can provide additional qualitative feedback.
Use these sources of information to detect early warning signals and get to the root cause when satisfaction drops. This is how you can derive and eventually implement valuable recommendations to improve schedule flexibility, general working conditions or entire operational processes to keep agents happy.
Be sure to not only seek agent feedback but act on it. Let your employees know that you've listened to their suggestions.
7. Offer Leadership Training to Your Supervisors and Managers
It is not only about your agents. Sometimes even management may require some training to contribute to a reduction in employee turnover. In fact, agent attrition is often caused by mismanagement and bad supervisor relationships.
This can easily be resolved when your organization embraces a culture of leadership and coaching rather than conventional management and delegation.
As a starting point, you can educate your management teams and supervisors about effective leadership. Next, you can offer coaching and training sessions to help them put theory into practice by focusing on how to:
Create a culture of trust, respect and empathy within their team.
Reduce frustration and stress by helping team members to resolve issues easier through collaboration and open communication.
Identify individual training needs and skill gaps and empower agents to address these.
Become a go-to-person for different matters that may affect employee morale.
Establish frequent constructive feedback and coaching sessions tailored to agent needs.
In the end, competent, empathetic and successful leaders will have a considerable impact on reducing agent frustration and dissatisfaction.
They can contribute to a healthy and fruitful work relationship, increased engagement and confidence as well as trust in the organization as a whole.
8. Use Technology That Engages Your Workforce and Makes Their Job Easier
Contact centres that embrace technology and use software solutions to simplify work, automate processes and reduce waste are more effective and efficient – so are the people who use these tools.
By giving your agents the right tools to spend their time doing the right things, they feel empowered and supported in their daily work.
Your agents are more productive and also likely to perform better when empowered by easy-to-use and smart solutions that help them do more with less effort.
Likewise, agents may experience more flexibility and/or less distractions from monkey work such as recurring administrative tasks.
With the right technology solutions, agents can dedicate more time to really meaningful activities like providing exceptional customer service.
Ultimately, this may lead to a higher sense of satisfaction and delight on the job. It can also positively affect agent morale and engagement.
There are many tools on the market that can make a difference for your agents in their daily work. We've compiled a list of the most impactful software tools that can help you in your quest to reduce agent frustration and tackle the attrition problem.
Conclusion
Agent attrition is an important topic that every contact centre must pay attention to. By testing and implementing the given strategies and tactics in your contact centre, you can make a difference for your employees.
Your goal should always be to retain and develop talent, but reaching your goal will come with a cost. Carefully evaluate what you can do to achieve the optimal result.
You may also want to consider implementing multiple tactics and see how they resonate with your employees. And don't forget, the easiest way to find out if these actually work is to talk to people and gather their honest feedback.
Lastly, be sure to learn from every employee exit and leverage that intelligence to improve your organization as a whole.
You can investigate the actual reasons for the departure of a person in an exit interview and learn about what the company could have done better or can do better next time to avoid it.
Also, make sure that there are no hard feelings between both parties. You don't want to be burning bridges in case of a come-back or word-of-mouth reference.
In the end, it's on your contact centre to decide how to cope with agent attrition. But be aware that the success and sustainability of your organization may depend on it.
This blog post has been re-published by kind permission of injixo – View the
Original Article
For more information about injixo - visit the
injixo Website