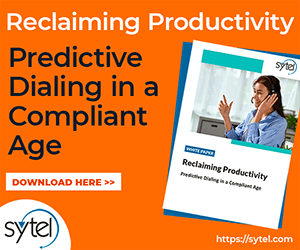 Looking to improve your outbound dialling?  Here are a number of tips to help it perform much better.

1.    Hire the right people
Ensure you hire the right people by being open and honest about what the role will entail and make sure you follow through,
2.    Increase the ring time for older people
If you have an older age group in your data, increase the ring times to 25-30 seconds as this gives them time to get the phone, reduces their concerns over unknown calls, and is less likely to lead to complaints.
Thanks to Paul
3.    Emotional intelligence is key
For me, the key tip is to always use 1 to 1s to stay in touch with your staff.  Emotional Intelligence is key. My team is mainly outbound with high sales targets, so it's important each member of staff isn't forgotten about.  This makes for higher individual self-motivation and a happier environment, which will then be reflected in the calls.
4.    Make good use of games
Here's a tip on motivation.  Make good use of games in the contact centre.  Make sure that the whole team can interact with the game.  You should have booby prizes, along with prizes up for grabs such as wine or free lunches.
5.    Balls of steel (a game)
Balls of steel is a game that is ideal for smaller teams.  Each agent has 5 balls, and when a sale is made, that agent gets to take another's ball. The agent with most balls at the end of the day gets a dip in the box and pulls out a booby prize or a winning prize. It is a great laugh and simple to keep everyone happy. This game is very popular and effective in my team.
Thanks to Samantha
6.    Involve agents in what you do
I like to involve the agents with what I do. I provide background info on what I am doing and why and what I think the benefits will be. They should feel involved as they are the most important part of the operation.
Thanks to Russell
7.    Get agents to buy in to the dialling strategy
Ensure agents are fully engaged and that they completely understand the dialling strategy and the reasons for call-backs, why and when we retry, etc.
Thanks to Scott
8.    Create a propensity model for AMD
Create a propensity model for the likelihood of the next outcome on an account being an Answer Machine and then leave those accounts out of the dialler file – AMD is not a panacea!
Thanks to James
9.    Embrace those Ofcom regulations
A nuisance call is a missed opportunity to sell.  For every dropped call is a bad experience on the customer journey, and that customer tells their friends… Embrace those Ofcom regulations!
Thanks to Jason
10.    Have a false positive line
Use a dedicated inbound false positive line.  This can reduce the risk of false positive results when using AMD. For example, a customer can hear a message to "please press 1" if AMD wrongly detects a customer as an answer phone.  This can then route the customer to an inbound agent, minimising the risk of customers receiving a silent call.
Thanks to Dai
11.    Lead by example
There's nothing more frustrating to agents when there are lots of calls to be made or answered. As a manager, get in there with them.  You'll also get a better understanding of the issues they face.
Thanks to Rhian
12.    Dashboard your dialler
Live dashboard your dialler and make sure that everyone can see what it's doing (e.g. silent calls, connects, rate, average idle time).  The biggest objection to a dialler is the agents' lack of control.
13.     Train your agents
The key is in the training of the agent. The more versatile the skillset of the agent, the more effective the overall success of the outbound campaign will be.
14.    Be prepared
Motivation and preparation makes for the best or top-level of agents. The more we can motivate or understand an agent, the better they will perform.  The organised agent is a far more productive agent.
Thanks to Mike
Do you have any tips for outbound dialling?  Please leave your tips in an email to Call Centre Helper