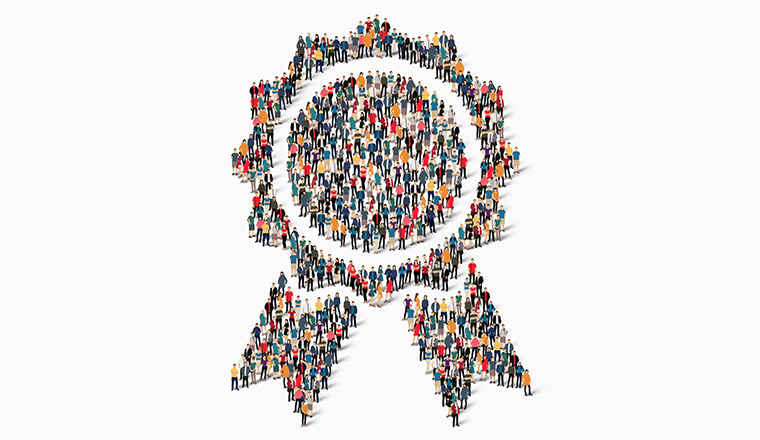 On Tuesday evening the winners of the UK National Contact Centre Awards were announced to a full house of over 700 industry professionals at The Brewery in London. Leaders from HMRC, Sky, Network Homes, and Parseq were crowned winners of the coveted Contact Centre Manager of the Year categories for large, medium, small, and outsourced centres respectively, and were delighted to receive their award from Spandau Ballet and Eastenders star, Martin Kemp.
"It was once again a night to remember!" said Ann-Marie Stagg, CEO at the CCMA (Call Centre Management Association) which organises the awards. "Seeing talented people get recognised for the incredible work they are doing to raise the standards in contact centre operations is exactly why we run this award programme."
Following two months of face-to-face interviews, panel presentations, and site visits up and down the country, 15 individuals won Gold awards including Catherine Lindsay from Hermes for Customer Experience Champion of the Year following her Silver win in 2016 for Contact Centre Manager of the Year – Medium. This year Catherine was recognised for influencing and improving Hermes' customer experience across the organisation.
Sarah Williams of Network Homes, winner of Contact Centre Manager of the Year – Small, picked up her award in front of 20 colleagues including her CEO. "It's such an honour – for me and my whole team – to be recognised by the industry for our hard work," she said. "This really has been the highlight of my career and one of the best nights of my life. I'm so excited to have been able to share it all with my team here."
Iain Gibson of Parseq, winner of Contact Centre Manager of the Year – Outsourced, was described as an inspirational manager by the judges. Iain himself commented, "I couldn't do what I do every day without the team I have behind me."
Nicola Sumner, Customer Operations Director, BGL Group commented: "I'm delighted that we've picked up three awards at the recent National Contact Centre Awards. It's not easy to achieve this level of success and it's testament to the team's hard work and dedication over the last year. We've made some great improvements to our contact centres to continue providing an exceptional level of service for our customers and we've got lots more in the pipeline."
The team at Sky UK walked away with two Golds including the award for Most Positive Impact on the Community for their Sky Academy Skills Studio contact centre operations, where thousands of young and vulnerable members of the local community have been helped to improve their confidence and communication skills. "It's a superbly-run programme backed up by caring people and dedicated resources," said Ann-Marie. "Competition was incredibly tough in that category and we were proud to see how all the nominees were giving back to their communities."
HIVE Connected Homes were ecstatic to win Overall CCMA Team of the Year which is nominated by all the judges on the basis of which organisation displayed the best team work during face-to-face judging and site visits. "As individuals, the HIVE team are each fantastic, but as a team they are a brilliant, high energy unit pulling together for common goals," said Ann-Marie Stagg. "Their enthusiasm simply blew us all away."
Commenting on the continued growth of the UK National Contact Centre Awards,
said, "With a two-month, rigorous, face-to-face judging process we've established a reputation as the blue-ribbon awards for our industry in the UK. It has been good to see that borne out by both the number and quality of entries this year, as well a record-breaking number of attendees at the Gala Dinner."
She went on to say, "I'd like to add my personal thanks to everyone who participated, including our sponsors and especially the judges who have committed a lot of time and effort. And of course, to all the winners, who have demonstrated they are making a positive impact in our industry."
The full list of winners along with a gallery of images from the evening is available online at http://www.ukcontactcentreawards.co.uk/2017-winners.
The UK National Contact Centre Awards 2018 will open for nominations in December, and the Gala Dinner will take place on 15 May 2018.
---