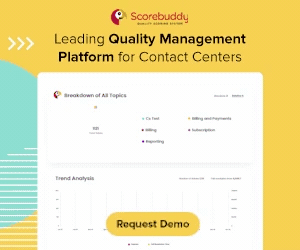 Live Webinar: The Analytics Advantage: Using Data to Improve Customer Satisfaction
In 2023, customer expectations are higher than ever. Customers want personalization, empathy, and quick resolutions—and they're ready to jump ship right away if these needs aren't met.
By leveraging contact center analytics you can gather data from agent-customer interactions, build bespoke analytics dashboards, and train agents to make data-driven decisions, delivering a truly personalized customer experience.
In this webinar, we will discuss how you can use Scorebuddy to:
Develop data-driven strategies for boosting customer satisfaction
Improve agent performance and customer experience with real-time analytics
Identify gaps in your customer service process and address issues before they escalate
Big challenges mean big opportunities—register now and take your customer service game to the next level.
Join us live on June 29, 2023, at 4:00 PM IST. If you can't make it, be sure to register so we can send you the recording.