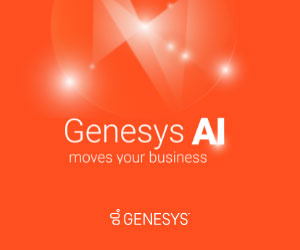 Rebecca Owens of Genesys shares her tips for implementing messaging bots in the contact centre.
In the Genesys State of Customer Experience report, it was found that 53% of respondents surveyed in 2017 prefer mobile messaging. That number was 43% higher than in 2014, demonstrating a trending shift in channel preference.
It probably comes as no surprise that millennials consistently ranked their preference for mobile messaging higher than other age groups did. But millennials also chose mobile messaging as their top channel of choice for a wide variety of use cases: purchases, order tracking, account access, appointment scheduling, and information gathering.
If you're not already offering this channel to your customers, you should at least be thinking about it.
Mobile messaging encompasses a wide range of tools including traditional SMS, social media channels, and an ever-growing group of apps like Signal and LINE. Supporting multiple channels adds complexity and cost to your business.
One way to alleviate that pressure is by introducing self-service capabilities in your messaging channels. Messaging bots can capture your customer's intent up front, reduce your agent handle time and even increase customer satisfaction. And consumer tolerance for bots is actually greater than you think.
In 2018, Genesys partnered with Amazon Web Services to bring PureCloud customers native voice bot capabilities in their IVR via Amazon Lex.
This year, the company enhanced the integration to include messaging bots for social channels, including SMS, Facebook, LINE and Twitter direct message. Customers can leverage their existing Lex voice bot and deploy it across these new channels, or they can create a brand-new bot experience for SMS and messaging apps.
Instead of routing every message straight to an agent for processing, you can now use upfront self-service to interact with a bot in a conversational way. These bots go beyond awkward menu messages that respond only to basic commands; instead, they are able to understand and communicate using natural language.
Behind the scenes, the system uses advanced natural language understanding (NLU) technologies to understand what the customer has said and to respond appropriately to further deduce their intent. If the customer needs to be passed to an agent, then this is done seamlessly so the conversation can continue uninterrupted.
Here are the five things you should be thinking about when implementing self-service bots for SMS and social messaging channels:
1. Make It Asynchronous
Customers want to use digital channels as they see it as more efficient use of their time. Rather than wasting precious minutes sitting on hold waiting for a representative to pick up their call, they can quickly resolve their issues by sending a few messages while sitting on a bus or getting their hair done.
To facilitate this, it is important that you configure appropriate time-outs to create the right balance between keeping the conversation open and saving resources.
2. Make It Conversational
Offering old-style menus ("Reply 1 for Yes or 2 for No…") for messaging platforms feels clunky and awkward and sets the wrong tone for what could be a customer's first impression of your business.
Using bots, you can give your customers a more friendly experience and show off your company's unique identity. Consider hiring a writer to give your bots their voice, setting the right tone and personality for your brand.
3. Get Personal
You can further personalise the customer experience by passing context about what you know about the customer or the interaction to the bot. This can then be used to prompt the customer in a personalised manner or to more quickly work out their intent.
4. Make It Consistent
You can build a voice or chatbot once in Amazon Lex and then deploy it across multiple channels or flows in PureCloud. So, it's possible to service voice, SMS and social messaging channels from a single bot. This enables you to provide your customers with a consistent experience and ensures brand continuity across channels.
5. Seamlessly Blend AI and Humans
Your new virtual customer assistant may be smart, but he isn't going to be able to handle every situation. There are times when he will need to pass the interaction on to his real-life colleagues. We call this blended AI. This transfer needs to happen smoothly and seamlessly so that you don't frustrate your customers.
You should ideally display both the conversation with the bot and any intents to the agent. This enables agents to pick the conversation up where the bot left off and ensures that the customer doesn't have to repeat himself.
The Amazon Lex for PureCloud Messaging integration has all these best practices built in, so it makes it simple for you to get up and running with an effective NLU bot.