Live chat and email conversations can be tricky. The delayed response and the difficulty to convey tone means that mistakes are easy to make.
These mistakes – which involve people, process and technology issues – are happening far too often.
In this webinar, we will discuss some of these mistakes and how you can avoid them, so you can improve digital conversations with your customers.
Agenda
Introductions – Jonty Pearce, Call Centre Helper
Leslie O'Flahavan, E-Write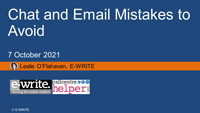 Neil Martin, The First Word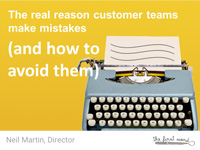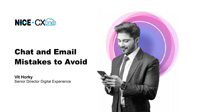 Topics Discussed
Classic chat and email mistakes
How to improve live chat
The keys to developing better customer service emails
Best practices for creating better customer conversations
How to manage performance on email and chat
Top tips from the audience
Winning tip – "#Tip – when selecting agents to work on live chat or direct messaging platforms, you need to be careful that they are comfortable with using the written word in the local language,
otherwise a simple request or question can quickly turn into a dissatisfied customer and potentially, a complaint " thanks to Ian42
Original Webinar date: 7th October 2021
Panellists

Leslie O'Flahavan
E-Write

Neil Martin
The First Word

Vit Horky
NICE CXone

Jonty Pearce
Call Centre Helper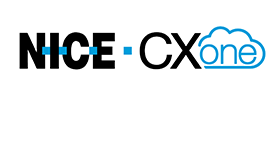 This webinar was brought to you by Call Centre Helper and is sponsored by NICE CXone